Several marching bands, military units and military support organizations participated in this year's Veteran's Day Parade in downtown Knoxville. KPD, KSO and various other first responders participated as well. The TN ANG fly over was a highlight as several Tusculum students and Alumni were in the parade.
The parade was followed by the annual ETMAC (East TN Military Affairs Council) lunch at the Convention Center where over 600 active duty military, veterans and veterans support personnel were in attendance. Tusculum College purchased a table for ten for the luncheon in honor of TMAG (Tusculum Military Assistance Group). Seven TMAG students, Ryan Otto, Michael Curry and Tom McKay represented Tusculum College at the event.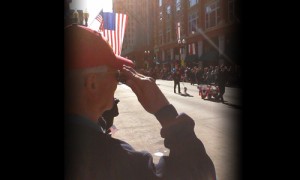 photo: Tom McKay, Assistant Director of Academic Support, Veteran's Advisor, and TC Adjunct Faculty member, salutes as the American flag flies over the parade.