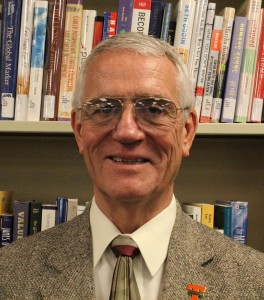 Tom McKay tmckay@tusculum.edu (865)693-1177, ext.5020
Education: BS, Engineering, U.S. Naval Academy 1965.MBA, George Washington University, 1970.
Birth Hometown:  Pruntytown, WV.I was born in the State Reform School for Boys. My Dad was Principal there.
Favorite Food:Anything that is not beets.
Favorite Music: EARLY 50s,60s Rock. Easy listening.
Hobbies/Interests: Fort Sanders Health and Fitness Center. Art Market Gallery.Church Choir.Geezer Day at Kroger (Wed).Dog walking at Pellisippi. Veteran's support..Loafing with The Lovely Erline, we aggressively pursue serenity.