Dr. Glenn Vicary '10 was back on campus in late January to visit with President Nancy B. Moody, Golf Coach Bob Dibble and Dr. Debra McGinn.
Vicary was in town visiting former classmates after recently completing his Ph.D. in pharmacology and toxicology at the University of Louisville. Dr. Vicary also holds a master's degree in pharmacology and toxicology from the University of Louisville. He graduated from Tusculum with a Bachelor of Arts in biology and chemistry with a business focus.
He is a pulmonary remodeling disease scientist, pharmacologist and consultant trained in clinical research. While at Tusculum he was also a member of the successful men's golf team. Dr. Vicary has been published in numerous scientific journals, including "Annals of American Thoracic Society," "Respiratory Research," "Thoracic Cancer" and "American Journal of Medical Sciences." He has also presented at several conferences including the American Thoracic Society and Research!Louisville.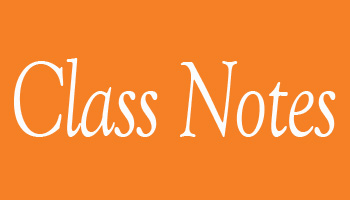 '80s
Sam (Marie) Trapp '81 of Nashville, TN, is teaching at Trevecca University as an adjunct professor. She is also teaching a First Communion class of second graders on Sunday and RCIC (Rite of Christian Initiation for Children) of second to fifth graders on Thursday at St. Stephen Catholic Community in Mount Juliet. Sam is also serving as a one-on-one mathematics tutor in Mount Juliet and Nashville schools.
'90s
Rodney "Chip" Walker, Jr. '94 has been named to new head football coach at Newnan (Ga.) High School. Walker's coaching resume' is loaded with success as he compiled a 127-20-1 record including three state titles at Sandy Creek High School.
'00s
Stephanie Ryan Sessum '03 has been named CEO of MPD (Metropolitan Police Department) Community Credit Union in Nashville, TN. Sessum has worked for the MPD Community Credit Union for nine years.
Leslie England '09 has been promoted to senior vice president of retail banking at TnBank. A 15-year banking industry veteran, Leslie most recently served as vice president of retail banking and has been instrumental in increasing retail deposits at the financial institution. She joined TnBank  in 2013.
'10s
Tammy Combs '12 has been named the new branch manager at the TVA Credit Union in Morristown, TN.

Kayla Marie (Jaynes) Hale '10 and Philip Eugene Jennings, Jr. were married January 9, 2017, in Greeneville, TN.

Lois A. Teague '41 of Greeneville, TN, passed away February 10, 2017. Ms. Teague taught in the Greene County and Greeneville school systems and worked for the Department of the Navy in Washington, D.C. She retired from The Austin Company in Greeneville. Ms. Teague was a member of Asbury United Methodist Church, where she was a member of the Susanna Wesley Sunday school class and the Bobbie Pierce Study Group. Her survivors include brother and Tusculum alumnus Dr. Dale A Teague '51.
William "Bill" H. Hurst '65 of Blountville, TN, passed away February 13, 2017. After graduating from Tusculum, Mr. Hurst went to work for Inter-Mountain Telephone in Greeneville. He retired in 2004 from Embarq after 40 years of service in the telecommunications industry. One of his favorite activities each year was making Christmas gifts for all the employees of the phone company. He also looked forward to his monthly luncheon with his former employees, "The Faithful Few." Mr. Hurst and his family had resided on Boone Lake since 1985, and he was known for his love for his neighbors and his willingness to help them if a need arose.  He was an avid woodworker.
Robert J. Berryhill '70 of Mosheim, TN, passed away January 31, 2017. Mr. Berryhill was retired from BASF and C-E Minerals. He was a member of St. Paul Presbyterian Church. Mr. Berryhill was an avid antique collector and part-time operator of Bank & Ellison Antique. He was also a history buff, enjoyed reading history books, loved flowers and dogs and looked forward to trips to flea markets.