Dr. Daryl Carter was the keynote speaker at Tusculum College in February as part of the college's celebration of Black History Month.
Dr. Carter, associate professor of history at East Tennessee State University, o spoke to a gathering of teachers, students and staff members about the topic of African-Americans and Politics in the 21st century.
"A lot of things are changing. The economy is changing, the way we live, the way we work, the way we connect," said Dr. Carter. "We forget we are all human beings, and become consumed with trivial, we want someone else to feel our pain."
Some of the focus of Dr. Carter's speech was about the subject of former President Barack Obama and newly-elected President Donald Trump. He provided his opinions of both sides of each candidate and explained the differences and similarities of the duo. Dr. Carter gave clear insight of the problems and issues Americans have been facing since the year 2004.
Dr. Carter's made the point that he was there to educate and make his audience ask themselves tough questions. He wanted to cast a critical eye on our society as it is now and on the people who hold enormous power in the United States.
"It's time we reconsider what it means to be American," said Dr. Carter. "It starts at home; teaching what is a fact to our kids is important."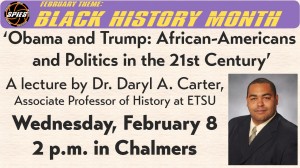 By Haley Klages, senior journalism and professional writing major from Franklin