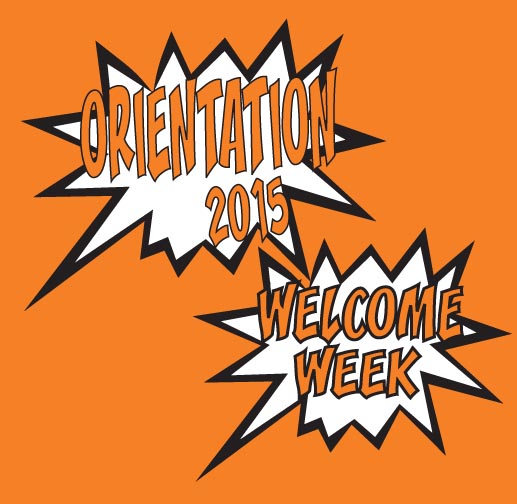 Final preparations are underway to welcome the incoming class of new students to campus.
Saturday, Aug. 15, will be a significant day for new students and their families. Students who have already been through advanced registration will be able to check-in and then move into their rooms between 9 a.m. and noon. Students will go first to Pioneer Arena to check in and get their room keys.
Lunch will be served from 11 a.m. to 1 p.m. in the cafeteria. At 2 p.m., students and families are invited to the Opening Ceremony of Orientation and Welcome Week. Tusculum College President Nancy B. Moody and members of the administration will welcome all to campus during the ceremony in the auditorium of the Annie Hogan Byrd Fine Arts Building.
Following the ceremony, new students will meet with the Campus Heroes, who will be their leaders through Orientation and Welcome Week, outside the Annie Hogan Byrd building to get further instructions about Orientation activities.
Some free time has been built into the schedule from 3:30 – 5:30 p.m. for families and students to spend a little time together and students to continue to settle into their rooms.
At 5:30, a picnic for new students, hosted by the administration and student organizations, will begin the Library Bowl.
Information about the Digital Scavenger Hunt will be shared at 7:45 p.m. at the steps of Library on the Bowl side. Students will have clues and tasks for the scavenger hunt both on campus and online. The hunt will continue throughout orientation and the prize for the winning team is a trip to Six Flags Over Georgia.
Students will have an opportunity to mingle and get to know each other better  (and show off their best dance moves) at the Foam Dance at 8 p.m., and then have a chance to rest and enjoy a showing of the "Avengers: Age of Ultron."
Orientation activities on Sunday, Monday and Tuesday will follow a similar pattern. There will be a mixture of fun activities and events to help students adjust well to college life. These activities are part of Tusculum's new Individual Wellness through Community Engagement Initiative, a campus-wide program with the primary purpose of encouraging the Tusculum community—including students, faculty, staff and alumni—to lead and maintain a healthy and balanced lifestyle. Activities will focus on social, physical, intellectual, emotional and/or spiritual (SPIES) health, and include such topics as staying healthy in college and academic activities available on campus. Students will also attend two class meetings of their Tusculum Experience course. Tusculum Experience is a required course for all new students that meets periodically over the course of the fall semester and is designed to help students learn time management and study skills, become more informed about the College's history and community and gain better awareness of the services provided by the College to help them succeed.
Fun events include roller skating, lawn games and giant games, zombie tag and a slip 'n slide. On Sunday and Monday, students will have an option of riding the shuttle to Wal-Mart. The Office of Student Affairs offers this service on a regular basis to students who may not have a car or feel more comfortable going to the store with a group of people.
Classes begin on Wednesday, but there are some special events planned to complete the Welcome Week. On Wednesday, students who receive work study as part of their financial aid will need to attend a Job Fair to make sure all their paperwork is complete and that they have made a choice of where to work on campus.
On Wednesday evening, all students, faculty, staff, alumni and parents are invited to attend an Interfaith Candlelight Prayer Service as part of the new Individual Wellness through Community Engagement Initiative. The service will begin at 8:30 p.m. at Pioneer Field and will be led by religious leaders reflecting religious traditions from around the world. The College will provide a candle to each person who enters field and those points of light will symbolize a commitment to our community and  to one another of our effort to maintain a healthy and balanced lifestyle.
Thursday and Friday events include a poster sale, a photo booth, festival food and the performance by a hypnotist.
Students will also be encouraged to flex their creative muscles and participate in a contest to name the newly renovated game room in Katherine Hall. The winner of this contest will be announced during a dedication ceremony on Wednesday, Aug. 26.