For the seventh year in a row, Tusculum College has been named to the Military Friendly Schools® list. The 2017 list honors the top 20 percent of colleges, universities and trade schools that are doing the most to embrace America's military service members, veterans and dependents and to ensure their academic success. Schools on the list earn the right to use the Military Friendly School logo.
Schools on the list range from state universities and private colleges to community colleges and trade schools. The common bond is their shared priority of recruiting students with military experience.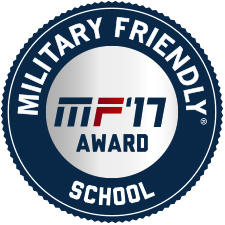 "Tusculum College strives to help our veterans find the right program and format to best suit them in completing their college degree in both our residential and Graduate and Professional Studies programs," said Melissa , interim vice president for enrollment management and marketing at Tusculum College.
She added, "It is a priority of Tusculum College to provide access to any veteran who is seeking higher education opportunities and to make that access as simple and affordable as possible. We are pleased with the number of veterans who choose Tusculum College because of the personalized program that helps them every step along the path to graduation."
The Military Friendly Schools list is a key resource in letting veterans know which schools will offer them the greatest opportunity, flexibility and overall experience. Ripley added that this is especially important now with so many schools competing for military students.
Tusculum College started participating in the Yellow Ribbon program in August 2009. Under the program, the school matches dollars put in by the Veterans Administration so veterans or their spouse or dependents can work toward their advanced degree, as well as qualify for money to help with housing. There are more than 44 students enrolled in Tusculum degree programs who are receiving the Yellow Ribbon benefits.
"Through the Yellow Ribbon program the college acknowledges the commitment of those who have served our country by providing them with financial support to complete their education," said Tusculum College President Nancy B. Moody. "With the variety of locations, programs, majors, degrees and scheduling options offered at Tusculum College, we are uniquely suited to serve those whose educational path was interrupted or who are considering beginning or continuing their higher education."
The Yellow Ribbon program is applicable towards all Tusculum College degree programs, which include traditional undergraduate programs, as well as the Graduate and Professional Studies programs. Tuition benefits under the program are also available to both full and part-time students.
In addition, Tusculum College has a long standing relationship with the United States Navy through its partnership with the U.S.S. Greeneville submarine. Since its christening, Tusculum College has partnered with the crew members, offering an annual scholarship to crewmen and/or members of their family. To date, four people benefiting from that relationship have become Tusculum College alumni and there are currently four students receiving this scholarship in the residential program.
Tusculum College has long offered assistance to veterans returning to higher education and Veterans Affairs Coordinator Pat Simons is available to specifically support veterans with their admissions and financial aid questions. For more information on the Yellow Ribbon program or other assistance provided by the college, contact Simons at 423-636-7300.
Additionally, Jerry Sullivan serves as Tusculum College's enrollment representative military liaison. He is responsible for the recruitment and marketing of Tusculum College to active duty military, veterans and their dependents. He serves as a point of contact for all military personnel, coordinating with other departments to provide academic and financial advice for current and prospective students. Sullivan may be contacted at 800-729-0116.
Criteria for making the Military Friendly Schools list included efforts to recruit and retain military and veteran students, results in recruiting military and veteran students and academic accreditations.