Tusculum College has been honored by the Corporation for National and Community Service and the U.S. Department of Education with a place on the President's Higher Education Community Service Honor Roll for the tenth year in a row. This year, Tusculum received an additional recognition: Honor Roll with Distinction, for the first time since 2007.
The designation recognizes colleges and universities for exemplary service efforts and service to America's communities.
Tusculum College was selected for the Honor Roll for its work in education, hunger, homelessness, environmental stewardship, economic empowerment and youth development in the East Tennessee region. Students have worked with Rural Resources, Greene County Habitat for Humanity, the Greeneville and Greene County school systems, the Boys and Girls Club, Opportunity House, the United Way of Greene County, the Davy Crockett Birthplace State Park and many other groups.
"Since 1794 Tusculum College has desired to teach its students to serve their communities and to develop strong values that included service to humankind," said Tusculum College President Nancy B. Moody.
According to Dr. Ronda Gentry, director of the Tusculum College Center for Civic Advancement, 172,301.5 hours were recorded by members of the Tusculum College community during 2015. This included community service through service learning courses, the Bonner Leader program, student athletes, Nettie McCormick Fowler Service Day, Upward Bound and many other groups associated with Tusculum College.
"The vast majority of our service hours are contributed by our students," said Dr. Gentry. "However, the idea of service and giving back to the community is prevalent among everyone associated with the college."
Dr. Gentry added that the hours recorded for 2015 were contributed by 2,644 volunteers.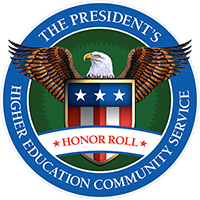 "We calculate the average value of an hour of service at $23.07 per hour, making our contribution in 2015 a total value to the community of $3,974,995.60.
Launched in 2006, the Community Service Honor Roll is the highest federal recognition a school can achieve for its commitment to service-learning and civic engagement. Honorees for the award were chosen based on a series of selection factors including scope and innovation of service projects, percentage of student participation in service activities, incentives for service and the extent to which the school offers academic service-learning courses.
The Honor Roll is a program of the Corporation for National and Community Service, in collaboration with the Department of Education, the Department of Housing and Urban Development and the President's Council on Service and Civic Participation. The President's Higher Education Community Service Honor Roll is presented during the annual conference of the American Council on Education.
The complete list of schools recognized is at http://www.nationalservice.gov/special-initiatives/honor-roll.