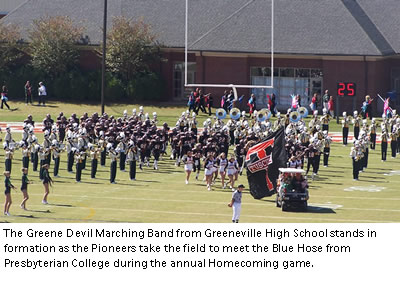 Two area Tusculum College educators received major honors from the college's Alumni Association during Homecoming events on Oct. 14, as did a local TC staff member who is herself a Tusculum College alumna. Professor of Psychology and Associate Vice President for Academic Affairs Dr. Melinda Dukes of Johnson City received the National Alumni Recognition Award from the TC Alumni Association during its annual meeting Saturday morning on the campus.
Professor of Education Dr. Jim Fields of Chuckey received the National Living Faculty Award, honoring him for outstanding contributions to Tusculum College and the field of education. Director of Development and Alumni Relations Susan Vance of Greeneville, a 1991 Tusculum College graduate, received the Alumni Association's Frontier Award, presented each year to an alumnus or alumna in recognition of outstanding or meritorious advancement in his or her career.
The awards were made in the Chalmers Conference Center of the Niswonger Commons on Saturday morning at an annual meeting of the Tusculum College Alumni Association.
Presenting Dr. Dukes' award was Bob Riser of the class of 1962, a member of the Alumni Executive Board. He praised Dr. Dukes, who joined Tusculum College in 1989, for her ability to combine academic theory with "civic engagement." She has led her students in working in several notable community projects, including one that helped a regional non-profit organization secure a sizable grant.
She received the Teaching Excellence and Campus Leadership Award in 2001 from her fellow faculty members. During 2006 she served as interim Provost for the college until the arrival of Provost Dr. Kim Estep. Dr. Dukes is now Associate Vice President for Academic Affairs, working closely with Dr. Estep.
Presenting Dr. Fields' award was Paige Mengel, a class of 1988 alumna and member of the Alumni Executive Board. Dr. Fields, she said, came to Tusculum in 1993, and has taught in both the undergraduate and graduate level program. He holds a doctorate in educational leadership from East Tennessee State University, and has approximately 11 years of collegiate teaching experience.
He has been extensively involved in the Tusculum College governance process and has worked with the Fellowship of Christian Athletes.
Also receiving a major alumni award was Peggy Brewer, a former two-year president of the Tusculum College Alumni Association. Brewer received the Pioneer Award, the highest honor given by the Alumni Association. Tusculum College President Dr. Dolphus E. Henry presented the award.
Brewer, of Morristown, retired from TVA to become president of a family business, Twi-Lite, Inc.
Presenting Vance's award was Tusculum College Vice President for Institutional Advancement Mark A. Stokes, who is Vance's current supervisor and also was her supervisor when she was a TC work-study student in the early 1990s.
Vance is well known in Greeneville for her earlier work on the staff of the Greene County Partnership and as Marketing and Corporate Development Manager at Freewill Baptist Family Ministries, a nonprofit Christian child and family care ministry in Greene County. She has been a successful fundraiser both at Family Ministries and at Tusculum College.
Highlighting Homecoming activities was the Saturday afternoon football game between the Pioneers and the Blue Hose of Presbyterian College. The final score was 30-21 in favor of Presbyterian.
Halftime was marked by the annual crowning of the Homecoming Queen and King and the presentation of the Queen's Court. Seniors Anup Kaphle of Nepal, an English major, and Angel Connell of Waynesville,Ga., a political science major, were named King and Queen, and crowned by President and Mrs. Dolphus Henry.
Representing the Freshman class were Alex Smith and Ashley Shoults. Sophomores were represented by Erin Moore, Randi Williams and Caitlin Castainca.
Representing the Junior class were Octavious Love and Jessica Love, and Cody Greene and Sudipa Shrestha. Representing the Senior class in addition to Kaphle and Connell were Rodney Peebles and Melina Villarreal, Glen Black and Amy Carlson, and Justin Higgins and Maureen Cathers.
A Homecoming Parade featuring antique vehicles provided by the Ridgerunners antique car club and music from the award-winning Greeneville High School Greene Devils Marching Band preceded the football game. The band also played a pregame program in the stadium.
The parade's grand marshals were members of the Class of 1956, this year's "Golden Pioneers." They and other alumni were hosted in a Friday night alumni dinner at Link Hills Country Club, a Friday afternoon tea at the residence of President and Mrs. Henry, and a Saturday evening dinner and dance at the General Morgan Inn and Conference Center.
Other Homecoming activities included campus tours and a Sports Hall of Fame/All-Alumni Breakfast on Saturday morning, where three former Tusculum College student-athletes and coaches were inducted into Tusculum Sports Hall of Fame: the late Tusculum basketball coach George "Folly" Malone and former Pioneer baseball players Chad Busch and Anthony Mercurio.
A golf tournament, round-robin tennis event, oral history workshop, and a memorial service for alumni who died within the past year were also part of the weekend. Other activities included a trip to Myers Pumpkin Patch and Corn Maze, storytelling at the Doak House Museum, a "Century of Style" architecture exhibit at the President Andrew Johnson Museum and Library.
More than 200 alumni participated in the event, with many more friends of Tusculum College also taking part in at least part of the weekend festivities. The theme of the weekend was "Explore the Past, Experience the Present."