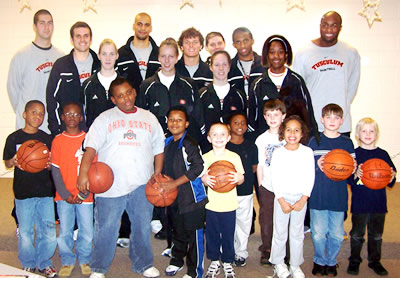 Tusculum College varsity basketball players recently visited with students at Hal Henard Elementary School in Greeneville to give support to a reading program several of the elementary students are taking part in. Tusculum College players told the pupils about the value of reading in their own lives and its importance to career success in any field. Pictured are, front row from left: Hal Henard students Mack Mathis, Desmond Dabbs, Spencer Anderson, Matthew Bestman, Matthew Bentley, Jacob Hamilton, Charlie Boss, Katlyn Garber and Eian Hurd. In the second row, from left, are Pioneers Carlie Lake, Emily French, Chassity Martin and Kathryn Spears. In the back, from left, are Pioneers Jordan Lear, Eric Williams, Serge Poppe, Tyler White, Nora Ramsey, Corey Poindexter and Gabe Story.
Students in grades two through five who achieve a certain level in the point-based "Slam Dunk Reading" program will earn a party for their school class and attendance and recognition at a Pioneer basketball game. Students receive scores based on reading books and answering questions about those books.
Several Pioneer players visited with the pupils to give support to the reading program and describe the importance of reading skills in their own college careers and life in general. Several players autographed Pioneer basketball posters for the Hal Henard students.
Also present at the event along with their teams were Head Coaches Jim Boone and Missy Tiber of the Pioneers, and several assistant coaches, plus staff members from Tusculum College Institutional Advancement.