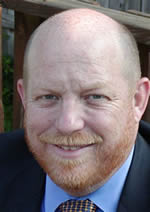 The 2007 Theologian-in-Residence series at Tusculum College will take place in February, featuring an examination of the doctrine of the Trinity from the viewpoint of a Reformed theologian, Dr. Charles Aden Wiley, III, associate for theology in the Office of Theology and Worship of the General Assembly Council of the Presbyterian Church U.S.A. in Louisville, Ky.
Dr. Wiley will make his presentations each Tuesday in February in the Chalmers Conference Center of the Niswonger Commons on the Tusculum College campus at Greeneville, Tenn. The lectures, sponsored by Tusculum College and the Holston Presbytery of the Presbyterian Church, U.S.A., are free and open to the public.
Presentations begin at 10 a.m. each Tuesday, with a midday lunch break followed by a brief afternoon wrap-up session.
Free lunch in the Tusculum College Dining Hall is available for all participants. Reservations for attendance are requested so that preparation may be made for the appropriate number of attendees each week. To make reservations, call the Tusculum College Office of Church Relations at 423-636-7303.
Dr. Charles Wiley was born in Surinam, South America, the son of Pilgrim Holiness missionaries. His movement toward the Reformed side of the Church began when he entered Davidson College. Dr. Wiley graduated from Davidson College, Duke University Divinity School (M.Div.), and Princeton Theological Seminary (Ph.D.).
A member of New Hope Presbytery, Dr. Wiley's duties as Associate for Theology involve working with the General Assembly regarding theological issues and issues of science and faith.
Dr. Wiley is married to Betsy Wiley. They have two children. Dr. Wiley lists his loves as Duke basketball, Bruce Springsteen music, cooking, kayaking, and fly-fishing.
The overall title of Dr. Wiley's presentations is "God for Us: Reflections on Trinity and Gospel."
Below are individual session titles and descriptions as provided by Dr. Wiley:
Session 1, Feb. 6: Proclaiming the Triune God: The Sum of the Gospel
"The topic of the Trinity is sometimes considered as a problem to be explained or avoided … we will explore the Trinity as a gift, building on the conviction that to speak of the Trinity is to proclaim the gospel, and to proclaim the gospel one must speak of the Trinity."
Session 2, Feb. 13: Worshiping the Triune God: An invitation to "Come and Join Us."
"The Triune God invites us into a life of divine worship. In worship we are drawn in to the embrace of God. Sometimes the language we use to describe worship betrays a sense that we are doing something 'for' God or that God is doing something 'for' us. A Trinitarian understanding of worship is invitational—the triune God invites us and calls us into God's own overflowing love."
Session 3, Feb. 20: Identifying the Triune God: Sitting at Table in the Kingdom of God.
"What do we believe about God? Who is God? In our increasingly pluralistic context, these questions are pressed upon us with increasing frequency. We will explore how our celebration around the table of the Lord makes clear for us the identity of the Triune God and the nature of the Gospel."
Session 4, Feb. 27: Baptized in the Name of the Triune God: How the Trinity Shapes our Lives Together
"Christians have one basic call in life: a vocation, formed in baptism in the name of the Father, Son, and Holy Spirit. In the waters of baptism, in the midst of the worshiping community, we are formed toward a lifelong journey of faith. This Christian life is marked by gratitude for the work of the Triune God, reception of the law as a gift, and dependence on the continuing work of the Holy Spirit."