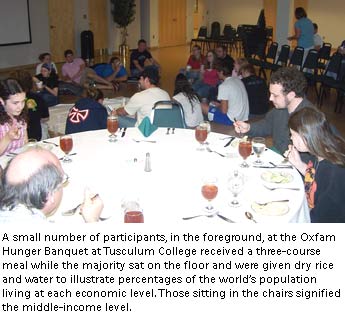 What is a normal meal for the majority of people around the world?
The answer to that question was provided at the Oxfam Hunger Banquet on Wednesday (April 18) at Tusculum College.
For admittance to the banquet, individuals were asked to bring a canned food item or make a donation of at least $1. The canned food items are being donated to the Mission Soup Kitchen at Tabernacle Presbyterian Church in Greeneville and a majority of the donations will be given to local charities with a smaller percentage sent to Oxfam to support the organization's international efforts to combat hunger.
The Hunger Banquet is designed to inform participants about the daily reality of the world's population in terms of food resources, which finds a majority living on subsistence or less amounts of food. The event was sponsored by Sodexho, the Bonner Leaders Program, the Women's Leadership House and the Center for Civic Advancement.
During the Hunger Banquet, participants were divided into three groups to illustrate the percentages of people living at different economic levels. The largest group represented the low income group. These sat on the floor and were given dry rice and water from a bucket with no utensils.
A much smaller group represented the middle income level, who served themselves beans and rice with water, but had utensils and sat in chairs. Another small group, representing the high income level, were seated at a neatly decorated table and served a three-course meal.
The event is part of "Poverty Awareness Week" on campus, which was student-organized to include activities each day to bring awareness of issues related to poverty, including homelessness and hunger.
On Monday evening, the college hosted a panel discussion about homelessness. Participating on the panel were Donald Minor, vice president and "Point-in-Time" chair of the Appalachian Regional Coalition on Homelessness (ARCH); Andrew Hicks, a homeless veterans outreach clinician for the Mountain Home Veterans Administration Center; and Steve Edwards, a resident of Manna House, a transitional recovery home in Johnson City.
Minor described the activities of ARCH, a volunteer organization that works with more than 60 agencies that provide services to the homeless. Agencies that provide service to the homeless apply through ARCH to receive grant funding for programs from the U.S. Department of Housing and Urban Development (HUD). ARCH also conducts HUD-mandated "point-in-time" surveys of the homeless, which students at Tusculum have helped conduct in past years.
He also commented that ARCH itself receives none of the funding HUD provides for direct service to the homeless and depends on private donations for much of its activities. ARCH is having a fundraising dinner and silent auction on Friday, May 4, at 6:30 p.m. in the Millennium Center in Johnson City. Tickets for the dinner are $50 with a special price of $35 for college students. ARCH needs to raise thousands of dollars in matching funds to receive its grant or it may face ceasing its activities at the end of May.
There are a variety of reasons that people are homeless, such as health problems, mental illness, substance abuse, and financial problems that all have to be addressed in helping people become established in a home for the long term, Minor said.
Hicks discussed his work with veterans, going out to such places as homeless camps to try to locate veterans and then link them to services they may need.
Edwards told the students about his substance abuse problem that had resulted in his loss of his home and business. A veteran, he was treated in programs at Mountain Home, but relapsed after his return to the community. Edwards said Manna House had given him another chance to rebuild his life, and now he has maintained his sobriety and joined its staff.
Minor said that cases like Edwards' point to the fact that ARCH is in the "restoration business" in trying to address people's issues before they become homeless, noting that many are "one drink, one drug, one bill" away from homelessness.
Also as part of Poverty Awareness Week, informational displays have been set up in the Niswonger Commons highlighting organizations that fight poverty, and a canned food drive has been conducted.
Poverty Awareness Week activities end on Friday night with a "Sleep Out for Homelessness," in which students will experience the homeless condition by sleeping outside overnight.