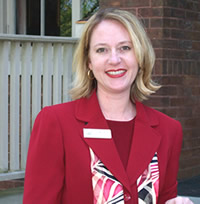 Kelley Simpson, Director of Enrollment and Marketing for Tusculum College, Graduate and Professional Studies Programs, was recently nominated as President of the East Tennessee College Alliance. She has accepted the position and will serve the alliance during the 2007-2008 academic year.
Founded in 1992, the East Tennessee College Alliance (ETCA) is a consortium of colleges and universities committed to the presentation and delivery of post-secondary educational programs to employees of area businesses and industries.
Defined as non-profit colleges and universities that provide programs specific to adult students, hold regional accreditation, and have main campuses within a 13-county area proximate to Knox County, the members of ETCA are dedicated to promoting higher education opportunities for adults.
For additional information on ETCA, visit the website at http://www.discoveret.org/etca