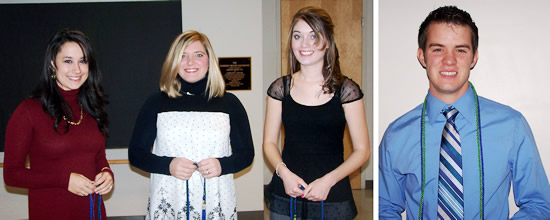 Sancia Warren, Virginia Swaggerty, Ashley Sinks, and Justin Higgins from left, graduating seniors and members of the Alpha Chi National Honor Society at Tusculum College, were recognized during a reception prior to commencement exercises on Dec. 15.
Juniors or seniors in the top 10 percent of their classes are invited to become members of the honor society.
Graduating seniors receive blue and green cords to wear during graduation to signify their membership in the honor society.
Warren of Hamilton, Va.; Swaggerty and Sinks, both of Afton; and Higgins of Pelzer, S.C., were recognized by Dr. Nancy Thomas, advisor for the honor society, and presented their cords by Dr. Kimberly K. Estep, provost and academic vice president at the college.