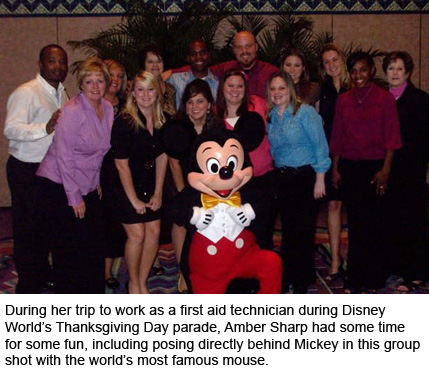 Tusculum College student Amber Sharp has had the opportunity to see Disney World's Thanksgiving Day parade and national cheerleading events from an insider's point view – all resulting from a summer job.
Sharp, a sophomore majoring in athletic training, was a first aid technician for cheerleader troupes participating in the Disney parade and at the National High School Cheerleading Competition and the All-Stars National Competition earlier this month. She was offered these opportunities by Varsity Sport Corporation, a company she worked for last summer as a camp manager and first aid technician.
Sharp says her experiences have "allowed me to be more confident in what I do and work with amazing people that take the time to explain their knowledge and how their program does things as well.  It has also helped me to network with people from all over and keep in touch with those that work for the company.  Overall I couldn't be happier to have such an amazing time with these opportunities and making friends that last a lifetime while I'm doing what I enjoy!"
Working in the Thanksgiving parade also gave Sharp an opportunity for some other firsts in her life – her first commercial airline trip and her first visit to Disney World. She then followed this experience up with working at the two national cheerleading competitions.
At the cheerleading competitions, Sharp worked with registration and checking in the cheerleaders. On competition days, she worked in the rehearsal area before the squads went on the stage, taping lots of ankles and wrists to make sure they didn't severely injure themselves before they actually got onto the competition mat.
These opportunities came to Sharp, who is from Claiborne County, through her work experience with Varsity Sport Corporation last summer. She spent most of the summer in Panama City Beach, Fla., where the company holds cheerleading camps. Sharp served in two capacities in the camps – she put her knowledge from her athletic training courses to practice as a first aid provider and she received experience in coordinating and managing each of the events as she was the only staff person from Varsity Sport working each of the camps.
The individual camps lasted four days, Sharp explains, but each was five days of work for her as she spent a day beforehand making preparations to ensure that everything needed for a camp was in place.
"I learned a lot in managing the camps," she said. "I had to mature and definitely had to learn better time management skills. On many of the camp days, I began at 7 a.m. and finished at 10 p.m. with breaks only for lunch and dinner."
During some of the camps that included some time at the beach for the participants, Sharp did get a chance to enjoy a few hours a day enjoying the coastal locale.
In addition to the Panama City Beach camps, Sharp also worked at camps in such places as the University of Tennessee, University of Kentucky, Mississippi State University and the University of South Florida.
In addition to the first-hand experience in her career choice, Sharp said her work has allowed her to meet a variety of people in the profession and network. She has kept in touch with several of the people she met over the summer and hopes those ties will help her professionally.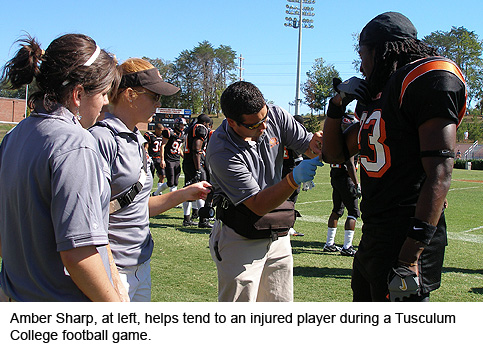 After graduation, Sharp plans to go to graduate school and then work for a professional sports organization. Her ultimate ambition is to be an athletic trainer for a professional football team. "There are no female athletic trainers in the NFL, and I would like to be involved in breaking that door down," she said. "Females can do the position and gain the respect of the athletes, which is what an athletic trainer must have in any sport."
Realizing that this is a lofty goal, Sharp said it is beneficial to have such an ambition. "It drives me to take the next step and do things the right way," she said.
For now, Sharp is back in class and is busy with her many activities on campus. In addition to her studies, Sharp is a member of the Student Government Association and the Athletic Training Student Society. She works as a tutor with Student Support Services. She is also a member of the President's Society, a select group of students who serve as ambassadors for the college, and a member of the Bonner Leader service organization, a group of students committed to providing at least 100 hours of service per semester in the community. As part of her Bonner efforts, Sharp is coordinating a fashion show to benefit the Greene County Chapter of Habitat for Humanity.
Next summer, Sharp will return to work with the cheerleader camps for Varsity Sport Corporation and more opportunities for new professional experiences.