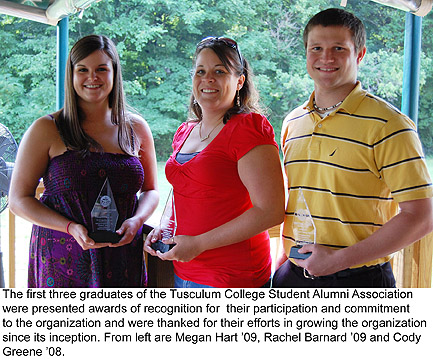 The first three graduates from the Tusculum College Student Alumni Association were recognized recently when the group met to discuss plans for the organization in 2009-2010 school year.
Cody Greene '08, Megan Hart '09 and Rachel Barnard '09 were each given token of appreciation for the work they have done in growing the organization since its inception in 2006.
Greene is still shepherding the program in his role as coordinator of development for the Office of Institutional Advancement, while Hart and Barnard are still involved in providing guidance to the group as it continues to grow.
"It has been very fulfilling to watch as the Student Alumni Association at Tusculum College grows, and the involvement of our initial group of students was a key factor in the success of the new organization," said Susan Vance, interim vice president for institutional advancement.
"Our first graduates of the program are now out in the world and continuing to serve, not only their Alma Mater, but also the community in which they live and work."
The purpose of the Student Alumni Association is to build a body of servant leaders who upon graduation will advance the interests and connectivity of alumni and Tusculum College; establish, foster and promote the development of beneficial relationships among and between the college's students, alumni, staff, faculty and the college community; and furthering the quality of Tusculum College as an institution of higher education.
The group has been active in a variety of service projects, including the recent "clean-up" of the Tusculum Arch, a landmark on the National Historic Register. Last year's Student Alumni Association members also implemented the Pioneering Mentoring Program which works on two levels, allowing the college students the opportunity to work with young people, while helping the elementary students develop their ideas of what college is about and what it can mean for their futures.
"The goal of the Pioneering Mentoring Program is to motivate youth to achieve their potential by fostering inspiration to transform lives, education to change attitudes and connections to increase opportunities by pairing elementary students with Tusculum College students for weekly activities that expose the youth to the opportunities of higher education," said Greene.
The Tusculum College Student Alumni Association is coordinated by the Department of Alumni and Parent Relations in the Office of Institutional Advancement. Students are selected to participate in the program based on their academic work, involvement in campus activities and desire to give back to the College and the community.