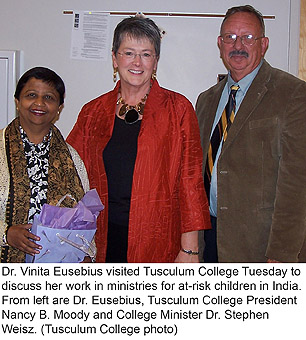 A group of Tusculum College students, faculty and administrators had the chance to learn about service to others from an international perspective Tuesday evening.
Dr. Vinita Eusebius, a professor of zoology in India who coordinates children's ministries in her dioceses, visited the campus as part of the Peacemaking Program of the Presbyterian Church (U.S.A.). This program connects Presbyterian churches and colleges affiliated with the denomination with individuals who have been involved in peacemaking, social justice and service to others from across the globe. Tusculum is the oldest co-educational institution affiliated with the denomination.
Dr. Eusebius met with a small group of students, faculty and administrators to discuss her work in the ministries for children at risk, which she describes as her passion. The event was hosted by the College's Witherspoon Society, which regularly sponsors programs for students and faculty to discuss religion-related issues and topics.
Working in the Churches of North India ecumenical efforts, Dr. Eusebius plans programs for children at risk using a rights-based approach. She explained that human rights are an issue in India because many there define human rights as rights for men, but not for women or children.
In India, there are 44 million children living on the streets, Dr. Eusebius said. The children are categorized in three different ways, she continued. "Children of the street" are those who are part of homeless families. "Children on the street" are those who have come to urban areas to work and have occasional contact with their families. "Children in the street" are those who have been abandoned by their families, in many cases because their family does not have the resources to care for them.
Children are sometime left at train stations and some have been left outside churches. "People know that Christians know how to take care of these children," she said.
With the needs of these at-risk children, the churches decided to bring children to center stage in their ministries, she said. "We respond to the needs of the children," she said. "The children are outside the church. The children are everywhere."
Dr. Eusebius has been trained in children's rights issues and is one of a team that travels to churches to train their members about children's rights and empower them to address needs in their community. She explained that the team members help the churches identify the main issues facing children at risk in their community. These issues vary according to the community and can range from child prostitution to child bonded labor in factories to beggar communities in which street children are organized to beg and give what they receive to the adult organizers.
After a congregation decides what issue should be addressed, she helps the congregation decide what program or programs it is going to undertake to help at-risk children.
The congregations work together in a cooperative effort with members of the Student Christian Movement, another organization in which Dr. Eusebius is involved. The Student Christian Movement has about 20,000 to 30,000 college students as members in India. Students study the Bible and provide service to their communities.
Working collaboratively, churches and the college students have established shelters and community centers for street children and other programs, she said.
Dr. Eusebius also spoke briefly about some of the other social issues facing India, which college students in the Student Christian Movement are involved in addressing. These include discrimination due to the caste system, privatization of water resources, religious intolerance and gender issues.
Tusculum was Dr. Eusebius's first stop in her month-long visit to the United States as part of the program this year. She will also be visiting Nebraska and Wisconsin before returning to India. This is the second year that Dr. Eusebius has been involved in the program.
Dr. Eusebius has been involved in peacemaking efforts for 32 years and has been active more than 25 in the Student Christian Movement. She teaches at Ewing Christian College in Allahabad, which was established by a Presbyterian missionary. Her husband also teaches there and is head of the chemistry department.