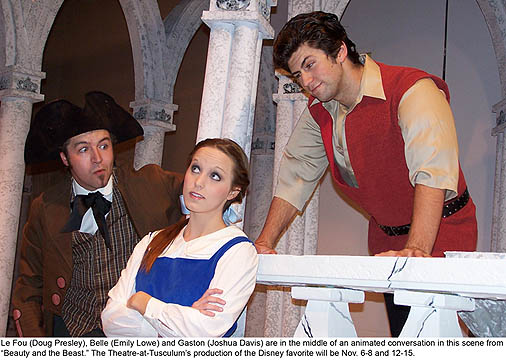 Theatre-at-Tusculum will bring a world full of whimsy and romance to the stage in November in its production of Disney's "Beauty and the Beast."
The beloved musical will be performed at 7 p.m. on Nov. 6, 7, 12, 13 and 14 with two Sunday matinees at 2 p.m. on Nov. 8 and 15. All performances will be in the auditorium of the Annie Hogan Byrd Fine Arts Building on the Tusculum College campus.
A cast of more than 100 brings to the stage the story of the young prince (the Beast) and his household, who are under an enchantress' curse until the prince learns to truly love, and how he discovers true love from the beautiful Belle. As with any love story, there are complications such as the village's hunter and local hero's pursuit of Belle as a suitor.
Certain to be audience pleasers are the musical's numerous show-stopping tunes such as "Be Our Guest," choreographed by Kim Berry featuring a stage full of dancing napkins, plates and silverware, and "The Wolves," featuring choreography by Ben Sparks and Elizabeth Ruggiero that creates an exciting mix of classical ballet with martial arts.
Audiences will notice one difference to the popular Disney film and other stage productions as the show begins not with actors but with puppets created by Greenevillian Judith Flohr, which allows the introduction of village children and the enchantress.
Director Marilyn duBrisk has brought together a cast of many of the most well known acting talent in Greeneville and the region as well as some newcomers in roles such as Emily Lowe as Belle and Dan Burkey as the Beast/Prince. The cast includes actors from the region, such as Morristown and the Tri-Cities, and one cast member from North Carolina is crossing the mountain to be involved. Eighteen different schools are represented among the cast including Tusculum College, Walters State Community College and East Tennessee State University and 15 public schools.
Angie Clendenon is serving as musical director and coordinating the show's orchestral accompaniment.
An army of volunteers have been hard at work preparing creative, colorful costumes under the direction of Barbara Holt and building the fantastical world of Belle and the Beast under the direction of Frank Mengel, stage and technical director. Garry Renfro, who has designed the production's distinctive marketing pieces, has also shared his artistic talents in creating the village and town sets.
Tickets are now on sale for the production. Admission is $12 for adults, $10 for seniors (60 and over) and $5 for children 12 and under. Tickets may be reserved prior to the performances, and individuals with tickets are guaranteed a seat. However, please note that the auditorium has open seating, thus the doors will open one hour prior to the performance.
For more information about the performance, contact Tusculum College Arts Outreach at 423-798-1620, e-mail jhollowell@tusculum.edu or visit http://arts.tusculum.edu.