Countless hours spent studying textbooks, writing papers and doing research came to fruition Saturday for 315 individuals who received degrees during Tusculum College's winter commencement ceremonies on Saturday.
One hundred and seventy four earned Bachelor of Science degrees in organizational management during a morning ceremony. During an afternoon ceremony 49 earned Master of Arts degrees in education and 92 received Bachelor of Arts degrees.
The new graduates were addressed by Dr. Nancy B. Moody, participating in her first commencement ceremony at Tusculum College. Moody encouraged the students "to keep the College in your heart and in your mind."  Adding, "You have made a commitment and stuck with it to the point that you have forever changed the direction of your life."
Tammy Meadows of Bristol and Leslie England of Oliver Springs, who both earned Bachelor of Science degrees in organizational management (BSOM), were chosen by the faculty as speakers to represent their classmates in the morning ceremony.
England focused on her classmates, calling them "profound, memorable and inspirational."  She added, "Tusculum is a good program, and excellent College and gave us the opportunity if we worked hard. We have a degree we can be proud of and that is respected by the business community."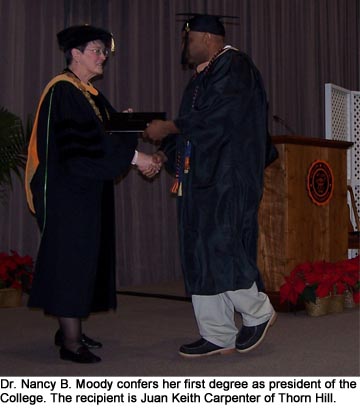 Meadows recognized her fellow graduates as "hard-working adults who endeavored to make their lives better. She spoke of the various reasons many of them returned to school – to improve their job position, to open doors of opportunity or to serve as an inspiring example to others. She encouraged them to continue their journey and to "recognize their accomplishment as one that no one can ever take away from them."
In the afternoon ceremony, Robbie Mitchell of Greeneville, who earned her Masters of Arts degree in education, encouraged her classmates to "remember who you are." Mitchell told her fellow graduates that they now bear another name – Tusculum College graduate. "Spend some time reflecting on who you are and recognize that you have a sphere of influence that is unique to you."
Brian Hand of Morristown thanked his classmate for their support and encouragement. "We have worked together to accomplish our goals." He also thanked the faculty and staff who helped him to reach this point. After a career in law enforcement and service as a United States Marine, Hand plans to begin a new life as a teacher in Hamblen County. "It's a chance for me to inspire and influence the future."
Jarrell NeSmith of Russellville, Ala. was selected to speak as the representative of the Tusculum College residential college.  As one of the most decorated scholar-athletes in the College's history, the pre-med major talked about the difficulties he found starting out and the tremendous support he found at Tusculum that helped him succeed.
"The faculty and staff here truly cared about their students," he said. "We leave here equipped with the necessary skills to enter society and make a difference."
Also speaking was Dr. Stephen R. Weisz, chaplain and associate professor of religious studies. Weisz presented a sermon titled, "The Heartlessness of Greed." Weisz said that "wealth in and of its self is not evil. It's what you do with it." He encouraged the graduates to be successful, but to think of others and not just accumulate possessions and wealth for oneself."