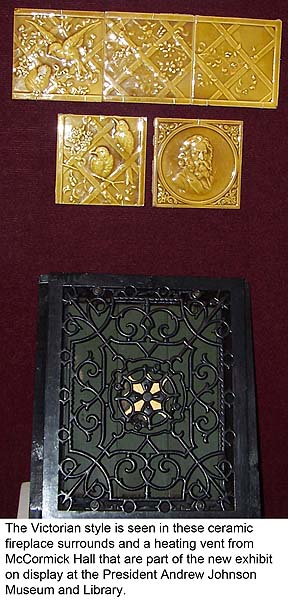 From Richardson Romanesque to Colonial Revival, the variety of architectural styles found on the Tusculum College campus are the focus of a new exhibit at the President Andrew Johnson Museum and Library.
"Century of Style: The Historic Buildings of Tusculum College" exhibit is now on display in the entrance hall of the museum, located on the Tusculum College campus. "Century of Style" explores the buildings through the creative eye of architectural photographer Ron Chory and provides glimpses into their creation and early days through architectural drawings and photos.
Structures featured in the exhibit include the Arch, Doak House, Thomas J. Garland Library, Haynes Hall, McCormick Hall, Rankin Hall, Tredway Hall, Virginia Hall, Welty-Craig Hall and "Old College," the building that houses the museum itself. All of the buildings are part of the National Historic District on campus.
Featuring structures constructed between 1830 and 1930, the exhibit reflects a century of style in American architecture with the examples of Neoclassical and Federal as well as the aforementioned Richardson Romanesque and Colonial Revival.
Chory's photography provides perspectives of the buildings that even those who are familiar with campus may not have ever noticed. His colorful, artistic photographs include close-ups of the intricate brickwork of the Georgian-influenced Doak House and the Federal block-style Old College to rounded arches and the tower of the Richardson Romanesque style of McCormick Hall to the minimalist, modern look of Sullivan's Virginia Hall to the Neoclassical columns of Tredway Hall.
Virginia Hall is believed to be the only building in the South designed by noted Chicago architect Louis Sullivan. The display includes architectural blueprints by Sullivan in designing the striking four-story building.
Some original decorative features of McCormick Hall are part of the exhibit. On display are several ceramic tiles from a fireplace surround and a heating vent illustrating the style of the Victorian period. A rendering by architect A. Page Brown provides a glimpse of the plans for the building, completed in 1887, and how an initial design can be changed in the finished project.

How some of the buildings appeared once completed are revealed in old photographs that show the campus in earlier, less tree-lined days.
The exhibit has been made possible through the support of the Office of the Secretary of State of the State of Tennessee, the Niswonger Foundation, Andrew Johnson Memorial Association and Copies Unlimited.
Please call (423) 636-7348 for more information about the exhibit and to check the hours of the museum on the Tusculum campus. The museum is generally open from 9 a.m. to 5 p.m. on weekdays, but observes college holidays and block breaks.
The President Andrew Johnson Museum and Library and the Doak House Museum are operated by the Department of Museum Program and Studies of Tusculum College. In addition to the museums, the department is responsible for the College Archives and offers one of the few undergraduate Museum Studies degree programs in the country.