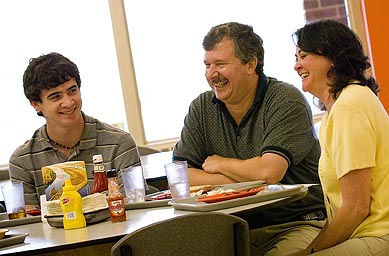 Parents will be Tusculum College's special guests for the weekend of October 29 and 30. The College is inviting all parents to visit campus for Parent Weekend 2010.
On Friday, October 29, parents are invited to enjoy dinner with your son(s) or daughter(s) at a favorite local restaurant. Parents who pre-register will receive discount coupons to favorite local restaurants for dinner on Friday and Saturday.  Coupons are available from such restaurants as Applebee's, Stan's Bar-B-Q, Ella's, the Creamy Cup, the Tusculum Eatery and Brumley's, the restaurant at the General Morgan Inn.
On Saturday, October 30, activities begin with registration between 7:30 – 8 a.m. in the Hurley Room, which is located inside the cafeteria in the Niswonger Commons. Breakfast will follow at 8 a.m. in the Hurley Room. Cost is $5 per person. Students can attend at no charge with their parents.
Representatives from Student Affairs and the Academic Resource Center as well as current students will share information about the academic resources available on campus, how students can get involved in campus activities and other information about life at Tusculum during a panel discussion, beginning at 8:30 a.m. in the Hurley Room.
Enjoy some friendly competition as part of the Cornhole Tournament, which will start at 10 a.m. in the quad area between Niswonger Commons and McCormick Hall. Registration for the tournament begins at 9:45 a.m. The cost is $5 per two-man team. The winning team will receive a $50 Applebee's gift certificate.
Meet Tusculum President Nancy B. Moody and join other parents, alumni and supporters of the College at a Tailgate Party prior to the football game. The tailgate party begins at 11:30 a.m. on the concourse of Pioneer Park (the baseball stadium). Cost is $10 per person. Students can attend at no charge with their parents.
Cheer on the Pioneers as they take on the Brevard College Tornados in a football game at 1:30 p.m. at Pioneer Field. Tickets are $10 per person and may be purchased at the tailgate or the stadium.
In addition to the discount coupons to local restaurants, parents who pre-register will receive a 20 percent discount card to the Tusculum College bookstore for Saturday, October 30, only.
To register, please call 800.729.0256 ext. 5303, e-mail bsell@tusculum.edu or register online.