More than 70 alumni and friends of Tusculum College gathered on Saturday, September 25, in Princeton, N.J., to celebrate Tusculum's connection to the area and reconnect those ties to the college.
The reception was held at "Tusculum House," at the generous hospitality of its current owner, Ms. Avril Moore. This regal home is significant in both the histories of Tusculum College and Princeton University.
Among those attending were Tusculum President Nancy B. Moody, Mr. Tom Moody and Susan D. Vance, interim vice president for Institutional Advancement, who served as host and hostesses along with Moore.
During a brief program in which Dr. Moody updated the group on progress and future plans for the college, she presented Moore with a Tusculum gift basket and Tusculum afghan as a thank you for her invitation to host the event and for her wonderful hospitality.
The event, hosted on the back patio of the Tusculum House featured a variety of foods, beverages, including a whiskey tasting event, and a band. Historic tours of the home were given and the Witherspoon Barn, which dawned handmade quilts, and the Witherspoon Cellar were open for visitation.
"This was one of our most successful alumni events," said Dr. Moody. "The combination of the opportunity to visit the historic location and the active alumni we have in the Princeton area came together for a one-of-a-kind event that was truly memorable for all."
"We had about 70 people in attendance including two current Board members and three prior members of the Board," said Moody. "We had many alumni, two representatives from the Charlotte Newcombe Foundation and an entrepreneur from Princeton who is contemplating starting a business in Greeneville."
"One of the highlights was the tour, in which so much history was shared, and we learned so much about Rev. John Witherspoon," said Vance.
Moody added, "We received a true history lesson from both Avril and her father, Thomas H. Barton, whose ancestry go back to Tennessee."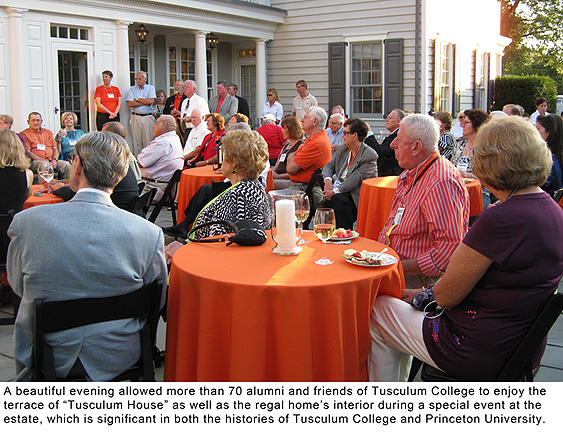 Comments Off