Family and friends of more than 250 new graduates celebrated as they watched family members walk across the stage to receive their degrees during Tusculum College's winter commencement ceremonies on Saturday.
One hundred and eighteen earned Bachelor of Science degrees in organizational management during a morning ceremony. During an afternoon ceremony 60 earned Master of Arts degrees in education and 73 received Bachelor of Arts degrees.
The new graduates were addressed by Dr. Nancy B. Moody, the 27th president of the college. Moody encouraged the students "to keep Tusculum College in your thoughts, prayers and in your heart."  Adding, "You have forever changed the direction of your lives."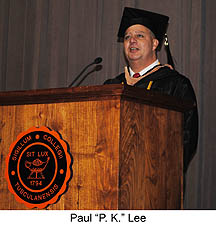 Paul K. "P.K." Lee of Newport and Ethan Brewer of Knoxville, who both earned bachelor of science degrees in organizational management, were chosen by the faculty as speakers to represent their classmates in the morning ceremony.
Lee talked about how he excelled as an adult student when he could not have as a young adult. He said that while he matured through work, "he was stuck in my career path because of a lack of a college degree."
Lee said that returning to school not only developed his business acumen, but also gave him confidence and improved him as a person.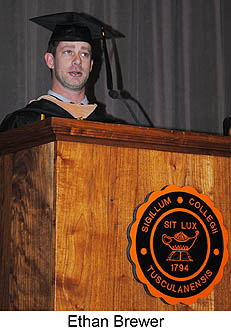 Brewer talked to the group about how his need for a degree became more apparent when he opened and began running his own business. He realized he needed tools to be able manage and lead his employees.
"The change in me is subtle, but even I can't deny the boost in my own sense of self-esteem. My business is running more smoothly, and I have more confidence to meet the challenges that come my way, like speaking to you all here today."
In the afternoon ceremony, Carolyn Tallman of Limestone, who received her master's of arts in education, spoke about her decision to return to school despite being well into her career as an educator.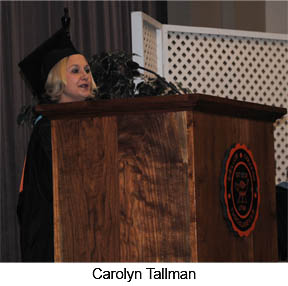 "The thoughts that plagued me were what if some family crisis occurs, and I can't finish. I took the plunge, and I faced some my worst fears," said Tallman. "My family dealt with several family crises. I struggled with emotions that I have never had to deal with before. What I feared the most had happened, but what I did not expect was that the masters program would be what pulled me through. The battles I faced were long-term, and knowing that I had class every Tuesday night and had homework before then kept me focused and moving forward."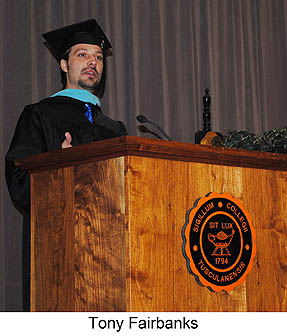 Tony Fairbanks of Oak Ridge, who received a bachelor's of arts in education, encouraged his peers to be more than teachers in the classroom, to be a mentor "all day, every day."  In addition, he encouraged continued unity as he had found in the Tusculum College program. "As educators, we need to rely on one another."
Zach Smith of Granville, Ohio, was selected to speak as the representative of the Tusculum College residential college.  He spoke to his peers about their shared experiences on campus and set out a challenge to them to do more and be more as is expected of a Tusculum graduate.
"I want to take this opportunity to implore you invest in the lives of others," said Smith. "Wherever you may end up in the next few years, there will be high schools, middle schools and elementary schools teeming with children who need our help and teachers who want them to take that help. Tutor, mentor, inspire. Become the influence for another young life like the ones we have had on ours. Perpetuate the investment in others."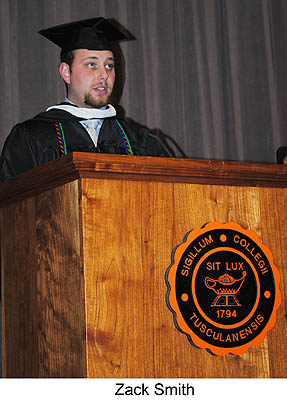 Also speaking was Mr. Mark Stokes, director of religious life, church and community relations at Tusculum College. Stokes presented a sermon titled, "Trail Mix." Stokes said that while trail mix is nourishment that strengthens the body, we also need nourishment for the soul and that comes from God.
"Time with God is soul food. God provides our spiritual nourishment."
He added that that nourishment can come from any time with God, through worship, prayer life, study of the Word or through creating a strategy for quiet time and reflection.