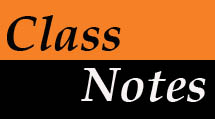 '60s
Douglas P. MacKechnie '66 of St. Albans, VT, has written to thank Tusculum "for allowing me to be a student. My time on campus really gave to me the realization that I had what it took to better myself in life.  My only concern was that at times I felt isolated because of my life experiences in the U.S. Air Force, really did not dovetail into the actions and thinking of the majority of my fellow students.I think I was the only veteran on campus and there were no available programs for returning veterans. Remember, I was a 'Cold War Veteran' and I was just returning from a world wide 'Cold War.' Today I understand that you have fine programs for returning veterans, and I thank you for reaching out to them. MacKechnie recalls that after serving in the Air Force between 1958-62, his bus stopped in front of Tusculum on his third day after leaving the service. It was his first visit and he arrived just in time to start classes. "Tusculum College was professional enough to accept me as a freshman while I was still in the USAF in the Middle East and Europe. Well as you can imagine it was an adjustment." After returning for his second year, he wanted to move off campus. However, he was told he could not by administration, which led to him leaving the College. He continued his studies elsewhere earning a bachelor's and master's degree as well as Post Master Advance Certificate in geronological practice. At his retirement, he was a nursing home administrator for a 381-bed facility. He is moving to West Virginia in the near future and hopes to visit campus soon.
'80s
Kyle Cavanaugh '80 of Durham, NC, vice president for administration at Duke University, has been appointed a TIAA-CREF Institute Fellow. Cavanaugh, who joined Duke in 2009, will be one of 61 Institute Fellows, joining others who are considered to be thought leaders in the topics of higher education, financial planning and retirement. The TIAA-CREF Institute brings these individuals together to examine strategic issues, conduct objective research and help inform decision-making relevant to lifelong financial security and the business of higher education. Membership in the TIAA-CREF Institute Fellows Program is by invitation and limited to prominent scholars and senior higher education leaders. Fellows, who have interests in research and policy issues, conduct research and share expertise and help the TIAA-CREF Institute identify issues and opportunities in areas such as retirement patterns and retirement planning, saving, attitudes and behaviors. Fellows serve a minimum of two years. As vice president for administration, Cavanaugh oversees human resources, parking and transportation, disability management and the Duke Police. He also serves as the university's emergency coordinator. Before coming to Duke, he held positions in human resources at the University of Florida, the University of Texas at Austin, Rice University and Vanderbilt University.
Stuart Hirstein '87 will be the new head of the University School of Jackson in Jackson, TN, beginning July 1. He was selected following a result of a national search by the school and was one of 18 individuals interviewed for the position. Hirstein has been serving as associate headmaster at Island Pacific Academy, an independent, pre-kindergarten through 12th grade school located in Kapolei, HI. Hirstein began his career as a high school teacher and then decided to join the U.S. Army, serving in both Desert Shield and Desert Storm. Before joining Island Pacific Academy, he was a product manager at Bank of Hawaii and manager of secondary marketing for Lehman Brothers in New York City. He and his wife, Mimi, have four children.
'00s
Brad Hawks '05 of Galax, VA, has been named the 2012-2013 Southwest District Coach of the Year as well as the Region 4 Division 4 Coach of the Year as the head coach at Carroll County High School in Hillsville VA. The Cavaliers tied a school record with a 24-3 overall record and made the state playoffs for the first time in 22 years.

Tracy England '05 married Joshua Treece of Middlesboro, KY on September 10, 2011. They welcomed their first son, Ryan Andrew Treece, on September 29, 2011.

Nancy Cox-Mitchell '52 of Greeneville, TN, passed away on March 8, 2013. Mrs. Cox-Mitchell was a retired educator and member of the Greene County Education Association, Tennessee Education Association and National Education Association. She was a member of Asbury United Methodist Church and a faithful member of the United Methodist Women, serving as unit president. An accomplished musician, she served as the pianist for the Men's Bible Class for many years in that capacity and on occasion substituted as a pianist for the LaRue Bible Class. She was a faithful member of the Reflections Choir of Asbury UMC. Her survivors include son-in-law and Tusculum alumnus Tim Harrison '82
Bill Cook '87 of Johnson City, TN, passed away March 7, 2013. Mr. Cook has served his Alma Mater as an adjunct faculty member. He was a behavioral health assessment counselor with Mountain States Health Alliance.