The Tusculum College football team will kick off its 2014 campaign this Thursday night when the Pioneers host the College of Faith for a 7 p.m. contest at the Niswonger Sports Complex and Pioneer Field.
The Pioneers 46 lettermen, including 17 starters from last year's 4-7 squad that finished sixth in the South Atlantic Conference.
Head coach Frankie DeBusk, who is entering his 17th season at the helm of the Pioneer program, brings back a strong nucleus of experience and leadership, but will have to replace NCAA Division II's all-time leading passer and the program's all-time tackles leader.
Bo Cordell, who passed for a DII-record 16,265 yards and completed a SAC-record 112 touchdowns passes, has graduated.  The two-time Harlon Hill Trophy national finalist re-wrote the NCAA and league record books and leaves a huge void on the offensive side of the ball for the Pioneers.
On defense, All-American linebacker Brian Alexander has graduated after amassing a school-record 366 tackles in his career, including 126 stops in 2013.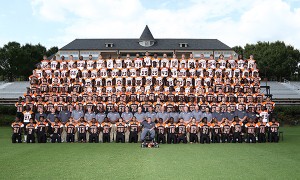 The Pioneers will have added depth at every position as the Black and Orange broke camp with nearly 170 players on the TC roster.  It was an intense and spirited camp and Tusculum's winningest football coach has been pleased overall with the results.
"We have had a very, very physical camp. I feel we have pushed our players to the limit, from a conditioning standpoint," said DeBusk.  "A lot of times when you do those things, you get negative vibes from your team.  But our team has been very positive and I feel they do anything and everything we ask them to do and that is a great feeling for a coach.  Our players are showing hustle and effort and that is a tribute to our captains and the veterans of our football team.  I like where we are as a team right now."
On offense, over 91 percent of last year's receiving yardage returns for the Pioneers, including their top five receivers, highlighted by 2013 All-American Justin Houston.  Houston, a 5-8, 190-pound junior from Cleveland, Tennessee, established TC single-season records in receptions (110 – 2nd in SAC history), receiving yards (1,347 – 4th in SAC history) and all-purpose yards (1,914).  The Bradley Central High School graduate accounted for seven touchdown catches and scored once on special teams.
Houston, who was also a member of the Capital One Academic All-District first team, enters his third TC campaign sixth all-time with 150 career receptions and eighth with 1,740 career receiving yards.  He finished second in the country in receptions per game (11.0 rpg) and fourth in NCAA II in receiving yards per contest (134.7 ypg).  Houston posted over 100 receiving yards in nine of his 10 outings in 2013.
Senior Deon Hicks is back after garnering All-South Atlantic Conference second team honors in his first TC season.  Hicks, a 6-3, 225-pound senior from Fresno, California (Fresno City College/Fresno HS), finished second on the team with 43 receptions for 784 yards and tied for the team lead with seven TD grabs (T10th in TC history).
All-America tight end Wesley Powell is back for his final collegiate campaign.  The 6-10, 265-pound senior from Titus, Alabama (Elmore County HS) finished third on the team with 38 receptions for 520 receiving yards (8th in SAC) and four TD catches.  In his 31 career contests, Powell has made 81 grabs for 853 yards and is looking to become only the second tight end in school history with over 1,000-receiving yards to his credit.
Lexington, Kentucky senior Johnathan Diliberto (5-10, 185, Tates Creek HS) returns following a 2013 season where he posted 29 receptions for 515 yards and six touchdowns.  Junior Ken Funnye (6-0, 165, Georgetown, S.C./Andrews HS) finished fifth on the roster with his 27 catches for 254 yards and a touchdown, while senior Matt Levine (6-0, 180, Anderson, S.C./Westside HS) added 13 grabs for 189 yards.
"We have a very talented group of receivers coming back for us, led by Justin Houston and Wesley Powell," added DeBusk.  "I have been most impressed with the play of Johnathan Diliberto during fall camp.  This group has accepted the challenge before them and are looking for great things from them."
Also returning to receiver corps are junior CJ Dawson (5-11, 175, Lithonia, Ga./Arabia Mountain HS), sophomore Neil Lee (5-10, 165, Clinton, S.C./Clinton HS) and redshirt freshmen Dalton Barrier (5-9, 175, Lynchburg, Tenn./Moore County HS), Rian Hall (5-10, 155, Oak Ridge, Tenn./Oak Ridge HS) and Thomas Barnett (5-9, 175, Knoxville, Tenn./Farragut HS).
Sophomore Caleb McCormick (6-2, 210, Freeport, Fla./Freeport HS) and the redshirt freshmen duo of Drew Schreder (6-3, 225, Cosby, Tenn./Cosby HS) and Jaylynn Kesterson (6-2, 245, Mosheim, Tenn./West Greene HS) will be looking to make contributions at tight end.
With all the offensive weapons, the big question is who will get the football into the hands of this talented group.   Four returners will be vying for the starting quarterback position, as well as some talented newcomers.
Redshirt freshman Malcolm Pendergrass, a 6-3, 185-pound native of Royal Palm Beach, Florida, is slated to get the start under center against the College of Faith in the season opener.  In Tusculum's final fall scrimmage, he passed for 232 yards and three touchdowns.  Pendergrass saw significant playing time during the Tusculum spring game as he passed for 171 yards and accounted for a pair of touchdowns (1 pass, 1 rush).
Senior Kyle Dickey has nine career games under his belt as Tusculum's signal caller, including a pair of starts, but those came in 2011.  The 6-3, 205-pound McDonough, Georgia (Luella HS) product has completed 60 percent of his passes for 469 yards and a pair of touchdowns.
Junior Cameron Tallent, a 6-2, 200-pound native of Dayton, Tennessee, has played in 13 contests in a TC uniform, while posting a completion percentage of 75 percent.  At the 2014 spring game, Tallent threw for 212 yards and a pair of touchdowns.
Redshirt freshman Eric Lynch, a 6-4, 200-pounder from Matthews, North Carolina, did not play in the spring game in April due to injury.  He earned All-State and All-Conference honors in his senior year at the Charlotte Christian School, where he led his prep squad to a 2012 state title.  He passed for over 4,800 yards and 54 touchdowns.
True freshmen Romario Atkinson (6-2, 185, Jonesboro, Ga./Jonesboro HS) and Luke Manning (6-0, 185, Sevierville, Tenn./Sevier County HS) are also competing for the quarterback position.
Sophomore Fernando Smith is the only running back returning with significant reps in the offensive backfield for the Pioneers.  Smith, a 5-10, 220-pound product from Baltimore, Maryland, led Tusculum with nine rushing touchdowns (4th in SAC) as he played in all 11 games, including two starts as a true freshman.  Smith averaged four yards per carry, while rushing for 353 yards.  The Sherwood High School alum also made 10 receptions for 66 yards.
Last year's starting running back Isaac Robinson (5-11, 205, Soph., Palmyra, Va./Monticello HS) is anticipated to be lost for the entire 2014 campaign due to injury.
Redshirt freshman Justin Ware (5-11, 180, Cleveland, Tenn./Walker Valley HS) will be in the mix for playing times as will true freshmen Dalton Brown (5-8, 160, Limestone, Tenn./David Crockett HS), Trevonte Emmons (5-9, 215, Fayetteville, Tenn./Fayetteville HS), D.J. Haney (5-10, 235, Greeneville, Tenn./Greeneville HS), Joe Ledet (6-2, 210, Ragley, La./South Beauregard HS), Cameron Lusk (6-0, 235, Morrison, Tenn./Warren County HS), DJ Samuels (5-11, 195, Decherd, Tenn./Franklin County HS), and Nick Sandstrom (5-9, 160, Greeneville, Tenn./Chuckey-Doak HS).
Freshmen receivers Evan Altizer (6-2, 185, Waxhaw, N.C./Weddington HS), Jordan Barnes 6-2, 175, Goose Creek, S.C/Goose Creek HS), Ryan Booker (6-1, 180, Greenwood, S.C./Ninety-Six HS), Rodnell Cruell (6-0, 175, New Orleans, La./McDonough Senior HS), Ken Drummond (5-9, 165, Woodruff, S.C./Woodruff HS), Desmond Geter (5-10, 185, Spartanburg, S.C./Dorman HS), Layson Giles (6-5, 180, Pedergrass, Ga./Jackson County HS), Gregory McHam (5-9, 180, Duncan, S.C./Byrnes HS), Hunter Mullican (6-0, 205, McMinnville, Tenn./Warren County HS), Myles Neils (6-0, 180, Concord, N.C./Concord HS), Derrick Parks (6-1, 190, Knoxville, Tenn./Karns HS), Tyrique Robinson (6-4, 175, Little River, S.C./North Myrtle Beach HS), Deion Sims (6-1, 185, Spring Hill, Tenn./Independence HS), Michael Stampfel (6-3 ,185, Dacula, Ga./Dalton HS) and Qua Stocks (6-1, 175, Taylorsville, Ga./North Paulding HS) are competing for playing time.
Newcomers at tight end include the trio of Drew Davidson (6-1, 190, McMinnville, Tenn./Warren County HS), Austin Hoyle (6-2, 180, Greeneville, Tenn./South Greene HS) and Zack Jones (6-4, 230, Mt. Juliet, Tenn./Mt. Juliet HS).
Junior Billy Munker will be anchoring the Tusculum offensive line this season.  The 6-4, 300-pound product of West Palm Beach, Fla. (Royal Palm Beach HS) earned Preseason All-South Atlantic Conference second team honors after starting in all 11 games last season, while grading out above 88 percent in every outing.  Joining Munker in the trenches are returning offensive line starters Jake Bridwell (Sr., 6-1, 275, Duncan, S.C./Byrnes HS), Jeremy Wagner (Sr., 6-6, 325, Gulfport, Miss./Volunteer (TN) HS) and Max Gaubert (So., 6-3, 305, Bogart, Ga./North Oconee HS).
Also returning are senior Jay Roberts (Sr., 6-0, 300, Anderson, S.C./Greenville Tech/T.L. Hanna HS), sophomores Rictrell Harris (6-3, 285, Memphis, Tenn./Whitehaven HS), Patrick Benson (6-4, 320, Cleveland, Tenn./Bradley Central HS) and Nick Wasylyk (6-3, 300, Mississauga, Ontario, Canada/Duluth (GA) HS), and redshirt freshmen Cody Armstrong (6-4, 340, Greenville, S.C./Riverside HS), Seth Betsel (6-3, 295, Franklin, Tenn./Page HS) and Zach Bradbury (6-2, 280, Cumming, Ga./West Forsyth HS).
"We are as strong at offensive line then we have been in the past," DeBusk commented.  "We have eight or nine players that we feel very confident about, which should give us a boost, offensively.  We are expecting some great things from our men up front."
New to the offensive front are freshmen Kory Gilliam (6-6, 320, Atlanta, Ga./Riverwood HS), Michael Khoury (6-4, 260, Old Hickory, Tenn./Mt Juliet HS), Landon Ramey (6-1, 290, Smyrna, Tenn./Smyrna HS) and Cody Santmyers (6-5, 305, Flowery Branch, Tenn./Flowery Branch HS).
Senior free safety LiRonta Archie will lead the Tusculum defense in 2014.  The Preseason All-America and All-SAC choice finished second on the team with 76 tackles a year ago, along with two interceptions, two fumble recoveries and four passes defended.  The Fairburn, Georgia (North Atlanta HS) product enters his final collegiate campaign ranked in the top-10 in school history, including second in fumble recoveries (6), fourth in fumbles forced (6), fourth in interception return yards (107) and eighth in career interceptions (5).  The North Atlanta High School alum has totaled 185 tackles and 13 passes defended during his Pioneer career.
Joining him in the defensive secondary are 2013 starters Irim Aiken and Evan Dansby.  Aiken, a 6-0, 175-pound junior cornerback from Hanahan, South Carolina, finished sixth on the team with 51 tackles, including 30 solo stops which were third-most on the roster.  The Hanahan High School graduate tied for the team-lead with seven pass break-ups.  Dansby, a 6-0, 180-pound senior cornerback from Augusta, Georgia (Richmond Academy), led the Pioneers with nine passes defended to go along with his 36 tackles, including two for loss.
Sophomore Cameron Thomas (6-0, 190, Nicholasville, Ky./East Jessamine HS) saw significant playing time last year, mostly in a reserve role at strong safety where he amassed 38 tackles, including 22 solos and two pass break-ups.
"Our secondary is as talented from top-to-bottom as it has been in a while," DeBusk added.  "They are physical, fast and we have some depth at those positions.  We have several players who have made plays from there during fall camp and right now they are the best part of our defensive football team."
Despite sitting out last season, sophomore Deres Benn brings experience to the defensive back position as the Chattanooga, Tennessee native totaled 67 tackles in 2012, which were the third most on the team.  In his rookie season, the 6-2, 190-pound Red Bank High School product accounted for 10 or more tackles on four occasions.
Also back in the TC secondary are junior Mike Mosah (6-0, 200, Memphis, Tenn./Whitehaven HS), sophomores Cole Waddell (5-10, 170, Macon, Ga./Tattnall Square Academy), Brandon Thompson (6-1, 185, Bartow, Ga./Woodland HS), Chris Jackson (5-10, 185, Alachua, Fla./Sante Fe HS), Rashad Bennett (5-11, 175, Taylors, S.C./Blue Ridge HS) and redshirt freshmen Jason Ware (5-10, 165, Cleveland, Tenn./Walker Valley HS) and Akeem Peoples (6-0, 190, Lamar, S.C./Lamar HS).
Several new faces are in the defensive backfield for the Pioneers this fall, including: Dominic Alexander (5-11, 170, Jonesboro, Ga./Jonesboro HS), Jailyn Allen (5-9, 170, Acworth, Ga./Woodland HS), Quadre Allen (5-11, 180, Jonesboro, Ga./Jonesboro HS), Bryce Bartlett (5-10, 180, Dacula, Ga./Dacula HS), Tyriek Bell (6-2, 180, Columbia, S.C./Westwood HS), Quentavious Byrd (6-0, 180, Ellenwood, Ga./Cedar Grove HS), Chris Childs (6-0, 180, Dalton, Ga./Dalton HS), Devonte Davis (5-10, 170, Dalton, Ga./Dalton HS), Wan'ye Davis (6-1, 185, Cary, N.C./Cary HS), Kendall Davis-Brister (6-1, 180, Douglasville, Ga./Hiram HS), James Dees (6-1, 180, Charlotte, N.C./Cox Mill HS), Christopher Franklin (5-7, 165, Covington, Ga./Newton HS), Evan Gates (6-1, 210, Charlotte, N.C./Davidson Day HS), JaQuan Jackson (5-9, 180, Fort Washington, Md./Friendly HS), Octavius McKinney (5-9, 180, Memphis, Tenn./Frayser HS), Quincy Nelson (6-0, 185, Powder Springs, Ga./Hillgrove HS), Rahmoi Parsons (5-10, 175, Hiram, Ga./McEachern HS), Eric Tate (6-1, 205, Riverdale, Ga./Mundys Mill HS), LaBrock Thomas (5-11, 190, Murfreesboro, Tenn./Siegel HS), Martez Thompkins (5-10, 165, Atlanta, Ga./Booker T. Washington HS) and Devin Williamson (6-1, 175, Raleigh, N.C./Leesville Road HS).
Three starters are gone at linebacker including two-time All-SAC standout Brian Alexander.
"I'm a little concerned about the depth at linebacker," said DeBusk.  "We lost some very good players at that position, but I think we are so much faster then we have been.  We have moved some personnel around that will help us there."
Riverside, California senior Wayne Soliai (6-0, 225) moves to linebacker after playing last season at strong safety for the Pioneers in his first TC campaign.  The 2014 Preseason All-SAC second team choice finished fourth on the team with his 63 tackles, including 27 solo hits and three tackles behind the line of scrimmage.  The San Bernardino Valley College transfer also posted an interception, three passes defended and forced a fumble in his 11 starts.
Senior Darien Crank (Fort Campbell, Ky./Fort Campbell HS) recorded 26 tackles, including three for loss last season.  The 5-10, 180-pound linebacker added a pair of interceptions, including one he returned for a 44-yard touchdown in last year's season-opener.
Dominic James is back for his senior year after his 21-tackle performance from a season ago.  The 5-9, 200-pound St. Petersburg, Florida native (St. Petersburg HS) has made 89 tackles for his TC career.
Also returning are linebackers Ahlija Blake (RFr., 6-0, 205, Clover, S.C./Clover HS), L'Keith Brown (RFr., 6-0, 210, Athens, Ga./Cedar Shoals HS), Zack Lane (So., 5-11, 210, Atlanta, Ga./Sandy Creek HS), Austin Raynor (RFr., 6-2, 200, Benson, N.C./South Johnston HS), Devin Starnes (5-11, 220, Rock Hill, S.C/South Pointe HS) and Quez Gaines (So., 6-0, 215, Anderson, S.C./Westside HS).
Looking to make their mark at linebacker are newcomers Brandyn Bartlett (Jr., 6-1, 215, Dacula, Ga./Dacula HS), Glenn Frazier (5-10, 230, Powder Springs, Ga./McEachern HS), Michael Guidry (5-11, 225, Ragley, La./South Beauregard HS), Christopher Hill (6-1, 185, Oliver Springs, Tenn./Coalfield HS), Payton Holbrooks (6-0, 210, Gainesville, Ga./Forsyth HS), Malek Holman (6-1, 185, Murfreesboro, Tenn./Oakland HS), Brett Larkin (6-0, 220, Alpharetta, Ga./South Forsyth HS), Stetson Mayes (6-2, 205, Atlanta, Ga./Riverwood HS), Dustin Mcabee (5-11, 185, Nashville, Tenn./McGavock HS), Chad McClanahan (6-2, 220, Kennesaw, Ga./North Cobb HS), Anthony Patrick (6-1, 205, Nashville, Tenn./Pearl-Cohn HS), Brigham Powell (6-2, 245, Mt. Juliet, Tenn./Mt. Juliet HS), Jacob Quillen (5-10, 215, Chuckey, Tenn./Chuckey-Doak HS), Robert Ramsey (6-1, 210, Mount Caramel, Tenn./Volunteer HS), Tristian Ramsey (5-11, 185, Newport, Tenn./Cosby HS), Matt Simon (6-1, 200, Lithonia, Ga./Chamblee HS), Elijah Stidmon (6-2, 180, Dalton, Ga./Dalton HS), Dwayne Taylor (6-2, 230, Decatur, Ga./Martin Luther King HS), Travis Thomas (6-0, 230, Duncan, S.C./Byrnes HS) and Brandon Williams (6-3, 225, Morrow, Ga./Forest Park HS).
Senior tackle Caushaud Lyons and sophomore nose guard Marlon Joyner are returning starters from the defensive front for the Pioneers a year ago.
Lyons, a 6-5, 295-pound native of Ellenwood, Georgia, finished seventh on the team and second amongst defensive linemen with 44 tackles.  His six tackles for loss were tied for second-most on the roster, including three sacks.   The Woodland High School graduate also broke up two passes and forced a fumble.  He enters his final collegiate season with 92 career tackles, including nine for loss, four sacks and an interception.
Joyner, a 6-2, 330-pounder from Decatur, Georgia (Decatur HS), recorded 11 tackles, including eight solo hits as he played in 10 outings, including the last four in a starting role.
Senior Rocky Jones will be looked too for leadership as he moves to the defensive end spot after playing the last three seasons at linebacker, including last season, posting 44 tackles.  Jones, a 6-3, 235-pound native of Anderson, South Carolina (Westside HS) also contributed an interception and a fumble recovery while starting in all 11 games at the linebacker slot.
Senior Chaz Moulder (6-1, 345, Atlanta, Ga./North Atlanta HS) enjoyed in his best Tusculum campaign last year after his 28-tackle performance, which including two tackles for loss and a fumble recovery.
Greeneville, Tennessee senior Chaz Story moves to the defensive front after playing his three previous TC campaigns at linebacker.  The 5-11, 260-pound Greeneville High School alumnus recorded 29 tackles, including 14 solo hits in his 11 outings.
Back in the defensive trenches are D'Andre Johnson (So., 6-1, 265, Memphis, Tenn./Ridgeway HS), Matthew Jean-Gilles (5-11, 225, Concord, N.C./Cox Mill HS), DJ King (RFr., 6-3, 270, Cleveland, Tenn.), Troy Owens (So., 6-3, 260, Newnan, Ga./Decatur HS) and Malik Brewer (RFr., 6-4, 330, Chattanooga, Tenn./Boyd Buchanan HS).
New to the program this season are incoming defensive linemen: Jaquinton Alston-Thompson (6-4, 220, Marietta, Ga./Robert Lee Osborne HS), Paul Bain (6-3, 260, Powder Springs, Ga./Hillgrove HS), Tyler Brown (6-0, 260, Rockwood, Tenn./Rockwood HS), Justin Campbell (6-1, 245, Winchester, Tenn./Franklin County HS), Cooper Chaplin (6-0, 250, Marathon, Fla./Marathon HS), Trevor Ellis (6-3, 220, Cary, N.C./Cary HS), Emmanuel Gbunblee (Jr., 6-2, 250, Salisbury, N.C./Eastern Arizona/West Rowan HS), Tyler Josey (6-3, 260, Knoxville, Tenn./South Doyle HS), Montel Lipscomb (6-1, 270, Boiling Springs, S.C./Boiling Springs HS), Matt Roos (6-3, 240, Port Orange, Fla./Spruce Creek HS), Dominick Rowdy (6-1, 275, Winston-Salem, N.C./West Forsyth HS), Andrew Thomas (6-3, 210, Marietta, Ga./Marietta HS), Beze Uzoma (6-2, 240, Wake Forest, N.C./Heritage HS), Dechey Williams (6-4, 260, Jr., Laurel, Miss./Mississippi Gulf Coast/West Jones HS) and LJ Young (5-10, 210, Raleigh, N.C./Ravenscroft HS).
Almost the entire corps of Tusculum's special teams personnel return, including senior placekicker Logan Cornelius and senior punter Logan Haynes.
Cornelius, a 6-0, 190-pound native of Chattanooga, Tennessee, enters his senior campaign listed in the top-10 in eight statistical categories, including his 165 career points, which are second-most amongst TC kickers and fourth all-time.  The East Hamilton High School graduate was the Pioneers' leading scorer in 2013 with his 55 points, including 5-of-7 on field goals and 40-of-46 on his extra point efforts.
Haynes, a 5-11, 190-pound Dublin, Virginia (Livingstone College/Pulaski HS) product averaged 35.94 yards per punt last season, and pinned the opposition inside its 20-yard line on 12 occasions.
Returning for the Pioneers are specialists sophomore punter Austin Bennett (6-1, 200, Woodstock, Ga./River Ridge HS) and redshirt placekicker Jose Esparza (5-9, 235, Dandridge, Tenn./Jefferson County HS).
Redshirt freshman Ian O'Grady is the early favorite to earn his starting long snapper position back.  The 6-1, 200-pound Orlando, Florida native (Dr. Phillips HS) saw action in his first three outings, but was injured in the third contest and sidelining him for the remainder of the year.
Justin Houston was Tusculum's primary kickoff return threat last year, averaging 21.7 yards per return which was the eighth-best average in the league in 2013, including a school single-game record 99-yard TD return against Wingate University.  Also seeing action on kickoffs were Evan Dansby (4-45, 11.2 ypr), Neil Lee (4-51, 12.8 ypr), Ken Funnye (3-33, 11.0 ypr), Fernando Smith (2-13, 6.5 ypr) and Johnathan Diliberto.
Deon Hicks also saw playing time on Tusculum's punt return unit (9-44, 4.9 ypr), while Irim Aiken (2-27, 13.5 ypr) also saw action for the Pioneers.
Newcomers joining Tusculum's specialty unit are: William Arrington (LS, 5-11, 195, Dacula, Ga./Dacula HS),  Corey Cantrell (PK, 6-0, 235, Goodlettsville, Tenn./White House HS), Hunter Cantrell (P, 6-2, 220, Sparta, Tenn./White County HS), Dennis Dominiquez (PK, 6-0, 175, Powder Springs, Ga./McEachern HS), Kelly Donnelly (P/LS, 6-3, 200, Pulaski, Tenn./Giles County HS), Drake Dormann (PK, 5-7, 160, Thompsons Station, Tenn./Independence HS), Scott Mode (PK, 5-9, 175, Easley, S.C./Easley HS) and Chris Watts (P, 6-0, 170, Ringgold, Ga./Ringgold HS).
The Pioneers will play an 11-game regular-season schedule and will host six home games for a second straight season.  The 2014 slate will also include four night games, including three at the Niswonger Sports Complex and Pioneer Field.
Tusculum will kick-off the gridiron campaign on Thursday, Sept. 4 when they host the College of Faith.  The Pioneers posted a 63-0 win over the Saints in last year's inaugural meeting.  It will be the first of two Thursday night battles that the Pioneers will host this year.
The Pioneers will hit the road for the first time in 2014 when they make the 484-mile trek to Elizabeth City, N.C. to take on Elizabeth City State University.  Tusculum amassed a school-single game record 782 offensive yards in TC's 54-41 win over the Vikings last year.
North Greenville visits Pioneer Field on Sept. 20 for a Saturday night clash with Tusculum.  The Crusaders won its first four games of 2013, including a home win over the Pioneers. But NGU would drop six of its last seven games to end the season at 5-6.  The Sept. 20 meeting will be the sixth installment of the series that began in 1995.
The Pioneers will kick-off its 16th season in the South Atlantic Conference when they take on three-time defending league champion Lenoir-Rhyne University in Hickory, N.C.  The Bears are coming off one the best seasons in their history.  L-R dropped its season opener, only to rattle off 13 straight wins, while advancing to the NCAA II national championship game, where they lost to Northwest Missouri State University.  Tusculum is 10-7 all-time against L-R in a series that started 90 years ago (1924).
The Pioneers will remain in North Carolina to take on SAC foe Catawba College on Oct. 4.  Tusculum defeated Catawba 43-25 at Pioneer Field last fall to record its sixth win in the series that started in 1996 (Catawba leads 12-6).
Tusculum returns home on Oct. 11 to face Newberry College as the Pioneers will play four of its next five contests at Pioneer Field.  The Wolves went 9-3 last season and tied for second place in the SAC.  Newberry punched its ticket for the NCAA Playoffs where they were eliminated in the opening round.  The Wolves opened 2013 with six straight victories, including a homecoming victory over the Pioneers.
Tusculum will host arch-rival Carson-Newman University on Oct. 18 at Pioneer Field for Homecoming.  It will mark only the second time the Pioneers have faced the Eagles for its annual Homecoming contest and first since 1937.  This year will mark the 44th encounter between TC and Carson-Newman in the second oldest collegiate gridiron rivalry in the State of Tennessee.
The Oct. 18 game will also be Sports Hall of Fame weekend as members of the 2014 induction class will honored at the game.
The Pioneers travel to Wingate University on Oct. 25 to take on the Bulldogs at Irwin Belk Stadium.  Wingate has won five in a row against TC, including a 41-33 decision in 2013 at Pioneer Field.
Tusculum returns home on Nov. 1 to face UNC Pembroke for Senior Day.  The Braves went 9-2 last year, and earned a berth to the NCAA Playoffs, where they were eliminated in the opening round.
The Pioneers will host Brevard College on Nov. 6, in a rare Thursday night game late in the season.
Tusculum will wrap up the regular season on Nov. 15 as the Pioneers travel over Sam's Gap to face cross-mountain rival Mars Hill University.  Tusculum scored 21 unanswered points en route to a 49-42 win over Mars Hill in last year's season finale.
The 2014 NCAA Division II Playoffs will begin Nov. 22 and will culminate with the DII National Championship Game on Dec. 20 and will be held in Kansas City, Missouri.