Dollie Boyd, director of Museum Program and Studies of Tusculum College, has been elected vice president of the Tennessee Association of Museums for East Tennessee.
Boyd's duties at the college include overseeing the operations of the museums, the Doak House Museum and President Andrew Johnson Museum and Library and the College Archives. She is also responsible for the development and implementation of on-site and outreach curriculum-based school programs offered through the Doak House Museum.
"I am honored to represent East Tennessee in our state organization. TAM does great work supporting and facilitating the work of wonderful museums state-wide. I am looking forward to working with the TAM board in this new role," said Boyd.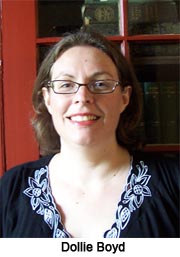 Boyd joined the Tusculum College staff in September 2009 as the manager of school programs. In this position, she developed several new curriculum-based offerings for the public and home-school audiences. A native of Franklin County, Tenn., Boyd taught grades 9-12 from 1994 to 2007, served as a graduate research assistant at the Albert Gore Research Center and was an interpretive ranger at Tims Ford State Park.
She earned her bachelor's degree in speech and theater with minors in education and history from Middle Tennessee State University and earned her master's in history/public history in 2013. Boyd has also made several professional presentations at the National Council of Public History, the Southeast Museums Conference, the Tennessee Association of Museums, and Phi Alpha Theta Regional Conference.
She has also conducted research and an oral history project on three lost communities in Franklin County, which were inundated through the creation of a Tennessee Valley Authority lake.
The Tennessee Association of Museums was founded in 1960 and fosters communication and cooperation between museums, cultural societies, and other members of common interests. The goal of the association is to inform the public on the importance of understanding and preserving Tennessee's cultural, historical, and scientific heritage.