Homecoming 2015 is coming very soon, and  many exciting events planned. A schedule for Homecoming weekend is below.
Register online today and be sure to let us  know where you are staying!
Thursday, October 8

All Day – Alumni Care Package Deliveries – Bring a goody basket or snacks to deliver to the current student(s) living in your old dorm room or apartment.  Call the Office of Alumni Relations at 423-636-7303 for details prior to October 2.
Hotel Crawl – College staff will be stopping by the local hotels to welcome alumni back to Greeneville.
Noon – General Morgan Inn
12:30 – Days Inn
1:00 – Econo Lodge
1:30 – Hampton Inn
2:00 – Quality Inn
2:30 – Knight's Inn (formerly  Charray Inn)
*Be sure to let us know where you are staying.
6:00 pm – 1960's Alumni Party – Hosted by Ann 'Butch' Van Buskirk '61 at her home.  For address and directions, please contact the Alumni Office at 423-636-7303.
Friday, October 9
8 am – 4 pm – Registration – Living Room of Niswonger Commons

9:00 am – 4:30 pm – Memory Lane  – Living Room of Niswonger Commons – Take a walk down memory lane as the staff of the Museums of Tusculum display outfits, slide shows, pictures from TC's past, yearbooks and newspapers.
10 am – Bright's Zoo – $30 – Located in Limestone, TN, Bright's Zoo is home to many rare species.  Transportation will be provided.  To learn more, visit www.brightszoo.com.   A boxed lunch will be provided.
11:30 am  – Lunch with students – $10 – Enjoy lunch with students on the terrace of the Thomas J. Garland Library.  Reservations required.
1 pm – Campus Tours – Revisit and Rediscover.  The tour will showcase our growing and changing campus, and offer you the chance to experience Tusculum with the President's Society, a group of elite residential college students.  Tours will depart from Garland Library lobby.
1 pm – Golf Tournament – $50 – Enjoy some friendly competition on the Link Hills Golf Course.  Scramble format will be used with handicap system for a net division and gross division.  Registration is at noon pm with shotgun start at 1 pm.  Alumni, spouses, faculty, staff and friends are invited to participate.  Dinner will be provided for participants in the golf tournament as well as those who may want to join them following the tournament.  The cost for dinner will be $20 for those not participating in the tournament.  Reservations are required.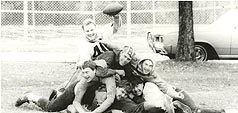 2 pm – Keeping your Keepsakes – no charge – Will take place in the Perk.  Fun make and take workshop.  Learn to care for family photographs, documents, and old books like family Bibles. Participants will take home an archival acid-free box for safe storage of family keepsakes.
6 pm – Dinner at Link Hills – $20 – Join us for a buffet dinner.  Reservations are required.
Evening – Individual Class Gatherings
8:30 pm – Bonfire – Enjoy the annual Homecoming Bonfire with current students.
Saturday, October 10
8 am – 10 am – Registration – Living Room of Niswonger Commons
8 am – Memorial Service – Garland Library Lobby – Join us in remembering alumni who have passed away since Homecoming 2014.
8:30 am – Alumni Breakfast – $15 –Chalmers Conference Center – Come enjoy breakfast with alumni and friends.
9:00 am –Sports Hall of Fame Induction – no charge – Chalmers – Come celebrate the newest sports hall of fame award honorees.
10 am – Alumni Awards and Alumni Meeting – Old Gym –no charge Celebrate the newest alumni, learn the latest about the alumni association, and hear an update on the College.
11 am – Class Photos – $10 – In front of Niswonger Commons
11 am – Student Support Services Luncheon – $3 – Alumni who were in the Student Support Services program or ARCHES are invited to a cookout and other festivities at the Patton House.
Noon – Homecoming Parade – Watch the 12th Annual Homecoming Parade along the route between the Charles Oliver Gray Complex and Pioneer Park.  The Golden Pioneers will serve as Grand Marshals.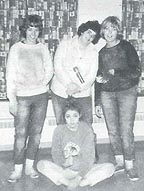 12:30 pm – Tailgate – $10 – Enjoy a Tusculum College Pioneer Tailgate Party.
2:30 – Tusculum Pioneer Football vs. Wingate – Cheer on the Pioneers as they take on Wingate at Pioneer Field.  Tickets can be purchased at the ticket booth preceding the game.
6 pm – Alumni and Friends Social Hour – General Morgan Inn
7 pm – Alumni and Friends Dinner – General Morgan Inn – $40 – Join us at the General Morgan Inn for dinner.  A cash bar will be available throughout the evening.
8 pm – Alumni and Friends Music and Fellowship – $10 (no dinner) DJ Donnie Bunch will provide music.
Sunday, October 11
Attend the church of your choice.  First Presbyterian Church of Greeneville (110 N. Main Street) is the mother church of the College.  Early service at 8:30 am, Sunday School at 9:30 am, the traditional service at 10:45 am.  Learn more at www.firstpresgreeneville.org.
1 pm – Tusculum Women's Soccer hosts Coker at Pioneer Field.
4 pm – Tusculum Men's Soccer hosts Coker at  Pioneer Field.