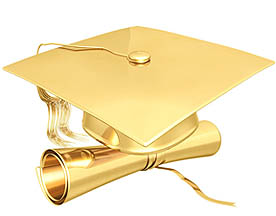 Members of the Class of 1966 will be in the spotlight next weekend as they reunite on campus to celebrate their 50th anniversary year.
Special events are planned on both May 6 and 7 to bring the newest Golden Pioneers back together on campus to mark this milestone for the Class of 1966.
The Golden Pioneer celebrations occur during the spring commencement weekend and include recognition and social celebration, that includes a reception at the President's House.
Donning a golden cap and gown, each participant is presenting a commemorative medallion and be recognized by for their dedication and loyalty to the College for the past 50 years. The class members participate in the Commencement processional and will be recognized during the ceremony from the podium.
Below is the agenda for the Golden Pioneers for May 2016 Commencement:
Friday, May 6
3 – 5 p.m. – Tours of Tusculum
5 to 6 p.m. – Reception with Dr. Nancy B. Moody and Mr. Tom F. Moody at the President's house with Medallion Ceremony
6:30 p.m. – Dinner at The Brumley's Restaurant in the General Morgan Inn (Dutch Treat)
Saturday, May 7
8:30 a.m. – Breakfast in the Pioneer Perk, Niswonger Commons
10 a.m. – Commencement Ceremony, Pioneer Arena, Niswonger Commons
Following Commencement – Golden Pioneer Luncheon in the Pioneer Perk
Members of the Class of 1966 can register for these events by visiting this page.