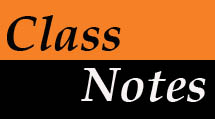 '60s
Donald G. Wilson '64 of Huntley, IL, has a book that is being published by a division of Penguin-Random House entitled, "Evidence Withheld." "The book relates my FBI agent employment history and the true account of the Martin Luther King Jr. assassination," he writes. The book will be released in mid-January 2013.
H. Donald Goble '69 of Denville, NJ, has retired after 40 years of teaching at the Newark Academy. He served as baseball coach for 23 years. He is now a "Florida snowbird." His daughter is now married and 31. He became a widower in 1995 after 22 years of marriage.
'70s
Philip Gebbia '70 of Crossville, Tenn.,  has had a novel published, "Some Time Around Four-Thirty." The novel chronicles the search for redemption by a group of colorful characters, who share one common trait – the experience of a life-changing loss. The book is available on Amazon.  After graduation, Gebbia spent a short stint teaching and then went to work in the trenches of the child welfare system in New York and New Jersey. This book is available on Amazon
'90s
Katie Kreeger Smelcer '94 of Greeneville, TN, has been inducted into the Greeneville High School Sports Hall of Fame. At Greeneville High, Smelcer lettered in soccer, basketball and softball. She was on the school's first girls' soccer team in 1986. As a sophomore, Smelcer was selected soccer team MVP, received the basketball best defense award and received the Charles Thorpe Award, an annual scholarship given to recognize an outstanding GHS scholar athlete. In her junior year, the basketball team was conference champions and advanced to the semi-finals in the Sub-State tournament. In her senior year, the team, was the undefeated conference champion and won the district and regional championships. Smelcer played and lettered four years on Tusculum's first women's soccer team. She is a teacher at Greeneville Middle School where she serves as assistant girls' basketball coach and head volleyball coach.
Doug DeBusk '95 of Greeneville, TN, has been inducted into Greeneville High School Sports Hall of Fame. At Greeneville High, DeBusk was an outstanding member of the football, basketball and soccer teams. He received numerous awards throughout his career including All-County, Player of the Week, All-Tournament, All-District, All-State and Most Valuable Player. He was the quarterback of his undefeated freshman football team. He played quarterback, free safety, wide receiver, punt returner and place kicker on the varsity team. He remains in the record books for punt return yards in a single season. He was starting point guard on the undefeated regular season championship freshman basketball team and also excelled as point guard on the varsity team for the remainder of his time at GHS. On the soccer team, he started at forward and halfback all four years, was All-Conference all four seasons and his team won the conference title for four consecutive seasons. He was named All-State in soccer his senior year. DeBusk played point guard on the Tusculum basketball team and was inducted into the Tusculum College Sports Hall of Fame in 2002. DeBusk is executive vice president at Andrew Johnson Bank.
'00s
Kevin Broyles '01 of Greeneville, TN, has been promoted to the position of agency manager of the Washington County Jonesborough Farm Bureau Insurance office. He previously served as agency manager of the Greene County Mosheim Farm Bureau office. He assumed his new duties on October 1.
B.J. Roberts '04 is currently communications specialist with the University of Tennessee's Office of the Treasurer. He creates and manages media content (video, text, graphics) websites and newsletters. He also copyedits memos, reports and other text materials that are sent to all campuses in the system and university-wide administration.
Amanda Smith Hopson '09 of Afton, TN, has been promoted to mortgage loan officer at Andrew Johnson Bank. Her office is at the bank's headquarters. Initially hired as a teller in 1999, Amanda has served head teller, in-house loan processor, mortgage processor and mortgage loan originator.
Matt Ripley '09 of Greeneville, TN, and his partner Casey Buchanan have opened Playmore Games and Movies in Greeneville. The video game and movie store will offer new, used and traded games and movies.
Katie Pittser '10 of Newport, TN, is working at The Newport Plain Talk newspaper as a general reporter and designer and has been recognized numerous times for her writing. She also is editor and designer for Visiting the Smokies, a monthly magazine circulated by the Plain Talk. She has won several Tennessee Press Association Awards for her writing and photography. She was awarded the professional organization's Investigative Journalism Award for her part in coverage about the Pigeon River permit for Blueridge Paper Co. in Canton, N.C. In 2012, she was recognized with a third place in the feature writing category for her work in "Can you hear a mother's heart?" – an article about a local youngster who has received two cochlear implants and her journey into the "hearing world." She was also awarded third place in the news feature for her coverage of the tornado that struck Cocke County in April 2011.
Jessi Smith '10 of Greeneville, TN, has joined Takoma Medical Associates' family practice as a physician's assistant. After graduating from Tusculum, she received her master's degree in the physician assistant program from Lincoln Memorial Univerity DeBusk College of Osteopathic Medicine. She will be working with Drs. Daniel Lewis and Claes Svendsen.
Allan K. Wallace '10 of Knoxville, TN, is executive director of the Damon and Stella Foundation for Mental Health, Inc.
Kenneth McClain '12 of Knoxville, TN, is retired from the Army National Guard where he performed Human Resource and Training roles as full-time member for the Tennessee Military Department.

Brad Mercer '04 and Chelsea K. Stinger were married on September 1 at the DelMonaco Winery and Vineyards in Baxter, TN. After a honeymoon trip to St. Thomas in the U.S. Virgin Islands, the couple are living in Greeneville, TN, where Brad is a practicing attorney.

'30s
Dr. Charles Rankin Zirkle '37 of Knoxville, TN, passed away January 23, 2012. Dr. Zirkle had received his medical degree from Vanderbilt University and interned at the Deaconess Hospital in Buffalo, NY. He volunteered for active duty and served as a member of the 82nd Airborne, 504 Regiment. For his participation as an active medical officer in the Campaigns of Sicily, Mt. Sammucro, Anzio, the crossing of the Wahl River for the Nijmegen Bridge and into Belgium for the 504's last battle, the Battle of the Bulge, he was cited with two Presidential Awards and a Purple Heart with two clusters. After the war, he returned to Tennessee with his British bride, raised his family and served the Knoxville community as a general surgeon for many years. He was instrumental in starting the surgical unit of what is now the University of Tennessee Medical Center.
'40s
Dorothy F. Self Fernsler '41 of Morristown, TN, passed away November 20, 2012. She was the daughter of two pioneer educators in East Tennessee, J.D. and Pearl Self. She was a retired cashier for Greeneville Light and Power System. She lived in the Philadelphia area in the 1950s and then moved to Jacksonville Beach, FL, where she was an active member and nursery school teacher at Beach United Methodist Church. She was an avid storyteller with a keen sense of humor.
James Louis Byrd '42 of Kingsport, TN, passed away October 28, 2012. Mr. Byrd was a 30-year veteran of the U.S. Navy and retired as a captain. After his military service, Mr. Byrd returned to his native Greene County and began a new career in education. After his retirement, he moved to Kingsport to be closer to his children and grandchildren. He was a member of First Broad United Methodist Church for more than 20 years. His survivors include his son and daughter and their spouses, Stephen and Nancy (Paranto) Byrd '78 '77 and Lisa (Byrd) and John Driggers '82 '82.
Anne Coriell Fee '45 of Omaha, NE, passed away July 18, 2012. Mrs. Fee was a retired teacher, having taught on the elementary school level in Omaha. She was also a volunteer for Good Samaritan Home, a docent/naturalist at Fontenelle Forest, a philanthropist for humanitarian causes and a Bible Study Fellowship teacher.
'50s
Janice Joanne Weldon Brown '56 of Decatur, GA, passed away on November 26, 2010.
'60s
Sgt. Kenneth K. Worton II, USAF (Ret.) '64 of Pittsburgh, PA, passed away May 5, 2009. Sgt. Worton served his country for 35 years in the Air Force during the Vietnam War and the Persian Gulf War.
'70s
Douglas George Campbell '70 of Cherry Hill, NJ, passed away November 2, 2010, after a courageous battle with cancer.
Dr. Kevin Smith '77 of Greeneville TN, formerly of Travelers Rest, SC, passed away on November 7, 2012. Dr. Smith graduated from Vanderbilt University College of Medicine and went on to practice medicine in South Carolina for several years. He loved farming, hunting and growing things. His survivors include his brother and Tusculum alumnus Dr. Brian Smith '82.
'90s
Roberta Allene James Taylor '90 of Greeneville, TN, passed away November 3, 2012, after a courageous battle with cancer. Mrs. Taylor had worked for her Alma Mater in the 1990s. Her survivors include sister and Tusculum alumna Patricia James '88.
Victor Allen Evans '92 of Chuckey, TN, passed away November 3, 2012, in an accident.
'00s
Dr. Thien Nguyen Freeman '01 of Knoxville, TN, passed away suddenly November 1, 2012. Dr. Freeman was associate dean at the Knoxville campus of Strayer University. She served as an adjunct faculty member for Tusculum and was a member of the Knoxville President's Advisory Council. She was also a retired accountant for the Kimberly Clark Corporation.