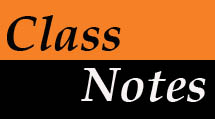 '00s
Erik Sams '08 of Afton, TN, has published a new book, "A Method to the Madness: 2013." The book is an analysis of the March Madness basketball tournament from 1985 until present. The information in the book gives even the most casual basketball fan a huge advantage when it comes time to fill out brackets. The book is available online at Amazon, Barnes & Noble and Books-a-Million. It is also available in Kindle format.

'40s
Mr. Peter Hampton '41 of Elizabethton, TN, passed away August 28, 2012, following an extended illness. After serving as a naval aviator in the Pacific Theatre of World War II, Mr. Hampton continued his education and earned his doctor of jurisprudence from Vanderbilt University. In 1950, he was licensed to practice law in the State of Tennessee and formed the firm of Hampton and Hampton with his brother. During the course of his 32-year legal career, he was a member of the Tennessee and Carter County Bar Associations and served as Elizabethton City Judge. In 1963, Mr. Hampton was elected president and CEO of Security Federal Bank, a position he held for 47 years. He was a member of the First Presbyterian Church of Elizabethton, the Cattleman's Association and the Elizabethton Rotary Club.
Irene Gahagan Philipp '43 of Joppa, MD, passed away on April 16, 2012. She was the retired president of Philipp Engineering Company, Inc.
Dr. Warren G. Sarrell '46 of Anniston, AL, passed away September 27, 2012. Dr. Sarrell was a retired internist/cardiologist, practicing at the Anniston Medical Clinic. He also served as chairman of the board for the Anniston Heflin Talladega Dental Clinics. Dr. Sarrell was a member of the American Heart Association, Kiwanis and Northeast Regional Medical Association.
Elizabeth Leming Gordonwood '47 '86, a long-time resident of Bartlesville, OK, passed away February 17, 2012. Mrs. Gordonwood was a former member of the Tusculum College Board of Trustees. She was born in Chester, PA, and grew up in Danville, KY. Mrs. Gordonwood worked as a secretary for Phillips Petroleum before the birth of her two children. Her and her husband, Jeff, enjoyed traveling together. The family lived in England and Holland, Utah, Montana, Texas and California while Mr. Gordonwood was employed with Phillips Petroleum. She was a member of St. Luke's Episcopal Church. She was an avid bingo player at the American Legion and enjoyed reading and playing the piano.
Mary Lou Carter Neas '49 of Greeneville, TN, passed away December 15, 2012. Mrs. Neas was a retired home economics teacher. She was born on a family farm in Chuckey, TN, where she learned household trades from her mother that developed into her professional career. She was highly regarded as teacher, and many former students remember her as the teacher who taught them how to sew, launder their clothes or cook their first recipe. She spent the majority of her 38-year teaching career at Greeneville Middle School, but she also taught for a brief time at Baileyton. She was a member of Reformation Lutheran Church. Mrs. Neas was also a long-standing member of the Delta Kappa Gamma Society for retired teachers and the Eastern Star. She was also an active participant with the Farm Bureau Ladies Association and loved to volunteer her time visiting the sick and helping the Greene County Republican Women with local elections.
'50s
Eleanor Lyle Hamilton Cushing '50 of Pittsford, NY, passed away March 9, 2012. Mrs. Cushing was a long-time administrator at the Rochester Educational Opportunity Center of SUNY Brockport. She volunteered with Meals on Wheels and other non-profit organizations.
John R. Sodoma '50 of Cocoa, FL, passed away March 13, 2012. Mr. Sodoma was a retired school administrator and a certified public accountant.
John C. Heavey Jr. '53 of Neptune, NJ, passed away August 27, 2012, after a long illness. Mr. Heavey was a retired attorney, concentrating in product liability defense and construction law. A veteran, he served in the U.S. Army with the Judge Advocate General (JAG) Corp at Camp Leroy Johnson in New Orleans. He was admitted to the bars of the state of New Jersey in 1957, the United States Courts of Appeals for the Third Circuit in 1979 and the State of New York and the United States Supreme Court in 1984. He was a Fellow of the American College of Trial Lawyers and a member of the Essex County, Monmouth County, New Jersey State and American Bar Associations. He served as the mayor of Oakland, NJ, in the 1960s.
Ira S. Warren, Jr. '53 of  Princeton, NJ, passed away on March 12, 2012. He was retired from Hercules Company as a chemist. Mr. Warren was a veteran, having served in the Air Force at Cape Canaveral, FL, and worked on the missile program under Dr. Wernher von Braun during the time of the Korean War. He was a member of American Legion Post 76, the Nassau Club and was a member of the Trinity Church in Princeton.
William P. "Bill" Carroll '58 of Jackson Township, NJ, passed away on Saturday, Dec. 1, 2012, at home. Mr. Carroll enlisted and served in the Navy aboard the aircraft carrier, U.S.S. Sipane. After his military service, Mr. Carroll enrolled at Tusculum, earning a degree in finance and economics. Upon graduation, he entered the world of corporate banking, where he worked until his retirement. Mr. Carroll worked tirelessly as a business advocate and zoning officer for Hillsborough Township, NJ. He volunteered his time to several Hillsborough Township boards and the Rotary Club. When he moved to Jackson Township after his retirement, he continued his community service, serving as both treasurer and vice president of the master board as well as doing work for the finance committee of the Westlake Golf and County Club. In 2004, he received an award for his community work and advocacy by the community of Westlake. Mr. Carroll was an avid golfer, championship bocce player, reader, history buff, tinkerer and gardener.
'60s
Helen Anne Higbee '65 of Cherry Hill, NJ, passed away March 2012. She had held various positions as an employee of the State of New Jersey, primarily with the Adoption Resource Center. After her retirement, she enjoyed lunches with friends and travel. Ms. Higbee was active in many organizations including the Haddon Fortnightly Woman's Club and The Forty Club Bridge group. She was the founder and "queen" of the Red Hat Society Chapter "Beaucoup de Chapeau Rouge." Ms. Higbee also volunteered at the Garden State Hospital for many years.
Julia Ann Hawkins Hogan '67 of Whitesburg, TN, passed away December 15, 2012. Mrs. Hogan was a retired educator, having taught in the Hamblen County School System.
'70s
Beverly Joyce 'Bev' Jones '77 of Huntersville, NC, passed away on April 26, 2012. Ms. Jones was an attorney and an executive in insurance risk management. One of her proudest business accomplishments was earning the honor to practice as an attorney in Wales. After graduating from Memphis State Law School, she went into private practice in Memphis. She eventually moved into the area of insurance law and moved to Lake Norman, NC. Her love of beaches, sun and water was legendary. She enjoyed golfing, traveling, fishing and supporting her favorite sports teams.
Roger Jackson Eggleston '79 of Chesterfield, VA, passed away March 17, 2012. Mr. Eggleston was a tobacconist and retired from Philip Morris USA in 2011. He was a member of the Glen Oak Country Club and the Split Tail Hunt Club.
'80s
Marilynn Goebel '88 of Knoxville, TN, passed away February 25, 2012. She was the owner of Silk Plants. Mrs. Goebel was a member of Grace Covenant Baptist Church. She was an avid lover of Southern Gospel music, her pets and her 'adotped' child, Michael Jeffte Louishomme, a child from Haiti she supported through Compassion International.
'90s
Teresa Kaye Spaulding Phillips '97 of Helenwood, TN, passed away May 18, 2012, following an extended illness. She was director of marketing services for Hartco Flooring Company and a member of First Presbyterian Church-Huntsville.
Robert Wayne Phillips '98 of Piney Flats, TN, passed away unexpectedly on April 2, 2012. Mr. Phillips was the systems administrator for the Tennessee Department of Health's Johnson City office. He was a member of Blountville Christian Church and an avid farmer.
'00s
Dana Edington Alls '05 of Greer, SC, passed away June 23, 2012.