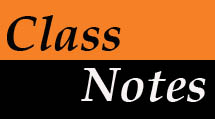 '40s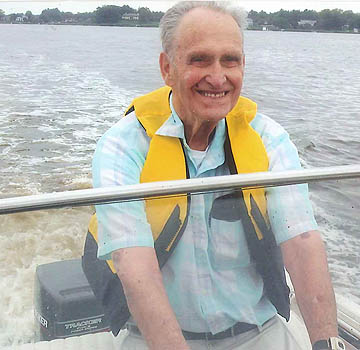 William Curtis '43 of Shrewsbury, NJ, turns 91 this year and still enjoys driving his son's boat.
'50s
Raymond Montgomery '51 of McCaysville, GA, has been named one of the inaugural inductees into the Fanin County (Tennessee) Sports Hall of Fame in recognition of his successful coaching career at Ducktown High School, Copper Basin High School and West Fannin High School.
Joan Mackey McKnight '52 of Easley, SC, is now enjoying five beautiful great grandchildren, three girls and two boys.
Helen Quillen Phillips '52 of Rocklin, CA, and her husband, Bob, visited Tennessee and Georgia in June. In Nashville, they had the joy of seeing their great granddaughter for the first time. Helen also enjoyed getting together with her Greeneville High School graduation class.
'60s
Ken and Linda (Kubovetz) Conner '67 '68 of Seaford, DE, are celebrating the graduation of their twin daughters from college in May. Kristen graduated summa cum laude from Rowan University in New Jersey. She is now working as a multimedia journalist in Greenbrier County, WV. Kelly graduated summa cum laude and Phi Beta Kappa from Randolph-Macon College in Virginia. She is a first-year seminary student at Duke Divinity School at Duke University. The twins turned 22 in August.
'70s
Cynthia Andresen '75 of Knoxville, TN, has been married to Ken Muller for nine years.  After graduating from Tusculum, Cynthia has had an interesting life as a professional musician, dog trainer/behaviorist, assistive technologist for the blind, city/county involvement and more. She received a master's degree in special education from East Tennessee State University in 1996 with many honors. She would love to hear from other alumni. Her email address is harpmoon@yahoo.com.
'90s
Dr. Timothy Carter is serving as assistant professor of business administration/marketing at Milligan College. He has a doctorate in marketing from Argosy University, and he earned his master's and bachelor's degrees in organizational management from Tusculum College. Carter has years of management and administrative experience and is a small business owner. He previously taught at Tusculum and King College.
'00s
Rev. Collin Blair Adams '05 is now serving as pastor of Pollocksville Presbyterian Church (U.S.A.) in the eastern North Carolina area.

Jessica Archer Richardson '06 and her husband, Kevin, welcomed the birth of a daughter, Aakyrah Brynn, on January 26, 2012.

'30s
Pat Yeary Griggs '30 of Nashville, TN, passed away Thursday, May 31, 2012. Mrs. Griggs was a retired administrative assistant with the Tennessee State Retirement System. She was a member of Andrew Price United Methodist Church.
Ethel May Ratliff '33 of Lexington, KY, passed away on June 16, 2008. Mrs. Ratliff was a retired teacher for the Floyd County School System, where she taught for 44 years. She was a member of the Maytown Methodist Church.
Mrs. Margaret Long Chappell '35 of Knoxville, TN, passed away February 28, 2011. She began her teaching career in a one-room school house in Hamblen County while she was still in her teens. She later taught in Greenville, SC, and in the English department at Beardon High School in Knoxville. During World War II, Mrs. Chappell served as a Red Cross recreation director at the Naval Hospital in Pensacola, FL, and in Long Beach, CA. She was a member of Sequoyah Hills Presbyterian Church, where she served as Sunday school teacher, circle leader, elder and Stephen Minister. She was a charter member of the Andre Bogle Daughters of the Revolution chapter and a member of Tennessee's First Families through her revolutionary ancestor John Long. She was a member of the Tennessee Retired Teachers Association, the University of Tennessee Faculty Wives Club, the Agricultural Extension Service Wives, the Tennessee Rose Society, the American Rose Society and the Knoxville Symphony League.
'40s
Vivian Cobble Ripley '44 of Davidson, NC, formerly of Kingsport, TN, passed away on September 1, 2012, after a valiant 13-year battle with cancer. She had met her late husband, Berthold O. Ripley '42, while both attended Tusculum. They were married for 63 years before he passed away in 2006. She enjoyed cooking, gardening, golf and serving her church, Holy Trinity Lutheran Church in Kingsport.
William Creech '49 of Morristown, TN, passed away August 30, 2012. Mr. Creech was a veteran, having served as a signalman on the USS Frost during World War II. During his first job with the Tennessee Department of Health, he was instrumental in establishing the first public health departments in Grainger, Hamblen and Jefferson counties. In his second career, he co-founded Marfac, Inc., a specialty advertising company with two other partners. A life-long member of First United Methodist Church of Morristown, Mr. Creech served faithfully on all church committees and taught the Hugh Taylor Sunday School class. He was a Gideon and a member of the Rotary Club, where he was named a Paul Harris Fellow. He served a term on the Hamblen County Commission and on the Board of the Chamber of Commerce.
'50s
Mike Langol '51 of Simpson, PA, passed away on December 29, 2010. Mr. Langol had been a self-employed stone mason and brick layer. He was a member of St. Michael's Church in Simpson. Mr. Langol played semi-pro basketball and also coached high school basketball. He chaired the Mike "Red" Wallace Basketball Scholarship for more than 30 years.
Charlotte Anne Armstrong '53 of Greeneville, TN, passed away September 9, 2012. Ms. Armstrong taught in the school systems of Hamblen and Greene Counties after graduating Tusculum before becoming a full-time housewife and mother to three children. During that time, she was a member of various PTA organizations, was a member of the American Association of University Women and served as a president of both the Youth Builders of Greeneville and the Andrew Johnson Club. She was also the first person baptized at Notre Dame Catholic Church in Greeneville when it was consecrated in 1955. Later in life, Ms. Armstrong resumed her schooling, graduating from East Tennessee State University in 1986 with a master's degree in psychology. Following her graduation, she worked for Greene Valley Developmental Center as a psychological examiner until her retirement in 1998.
Mary Whitcomb Johnson Dail '57 of Blountville, TN, passed away July 26, 2012. She was retired from AFG Industries after 23 years of service. Mrs. Dail served her country in the United States Navy as a WAVE (Woman Accepted for Voluntary Emergency Service) during World War II. She achieved the rank of SK-1 and was stationed at Mechanicsburg, PA. Mrs. Dail was a member of Reedy Creek Presbyterian Church and also attended Blountville Presbyterian Church. She was a member of the Deery Queens Red Hat Society.
Philip S. Villabona '59 of Bridgewater, NJ, passed away on September 16, 2009. Mr. Villabona was an analytical chemist and employed in the pharmaceutical industry for many years. He was an avid weightlifter and science enthusiast.
John F. Zerener '59 of Pompton Plains, NJ,  formerly of Butler, NJ, passed away March 7, 2010. Mr. Zerener served in the Marine Corps., and was employed by Westinghouse-North American Philips Lighting in Bloomfield, NJ, as a sales representative.
'60s
Johnny R. Shipley '64 of Greeneville, TN, passed away on August 28, 2012, due to a tractor accident on his farm, Blue Ridge Plant Farm in Washington County. Mr. Shipley was a Tennessee Department of Revenue Sales Tax Auditor and owner of Shipley's Greenhouses. He was a member of the Moose Lodge. His survivors include daughter and son—in-law and Tusculum alumni Matt and Jada (Shipley) Ball '04 '08.