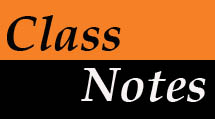 '00s
Hope Malone '05 of Bluff City, TN, has been appointed as one of 15 Reward Schools ambassadors for the state of Tennessee. Through the Reward Schools Ambasssador Program, which was funded by a federal Race to the Top grant. Malone, a fifth grade science and social studies teacher at Avoca Elementary School in the Bristol City School System, will spend the next school year traveling throughout Northeast Tennessee to help schools that scored at the bottom levels of state achievement tests.

'40s
Eugene Quentin Sams '42 of Afton, TN, passed away on April 20, 2013. Mr. Sams retired from Philips Consumer Electronics. He was a veteran of the U.S. Army Air Corps and was a member of the American Legion. Mr. Sams attended Fairview Presbyterian Church as long as his health permitted. His survivors include Tusculum alumni grandson Erik Sams '08 and brother-in-law Robert Drain '49.
'50s
Dr. Roger B. Solomon '53 of Atlanta, GA, passed away April 12, 2013. A true Renaissance man, he had an inquisitive mind, which was evident not only in his career, but in his many activities throughout his life. This curiosity and strong belief in lifelong learning led Dr. Solomon to earn seven degrees from institutions such as Emory University, Peabody College, Vanderbilt University, East Tennessee State University, Walden University and Columbia University. He was licensed and/or certified in clinical psychology, teaching-education, engineering (radio), and was an ordained deacon and elder in the United Methodist Church. He was a Kellogg Fellow for more than two years at Columbia University, a short-term Carnegie Scholar at Peabody-Vanderbilt, NDEA Scholar at Missouri and held a federal-state grant at Emory Medical. His teaching career spanned several colleges and universities throughout the South, with his final teaching assignment at Emory University. He was author of several books and numerous articles for professional journals. His survivors include Tusculum alumna and niece Mary Jo Solomon Slagle '60.
'90s
Judy Aileen Lawson Netherland '99 of Bristol, TN, passed away on January 15, 2013. Mrs. Netherland was a retired educator. She had taught grades 3 through 12 in Sullivan County from 1973 to her retirement in 1997. She also had worked in the library and taught English at Virginia Highlands Community College from 1999 until the time of her passing.