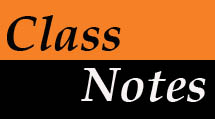 '40s
The late Clifton Earle Shotwell '47 was honored with the dedication of The Shotwell Cup for Excellence in Cross Country and The Shotwell Memorial Bench recently at the University of the South, Sewanee. The dedication was held on October 31, 2013. The cup and bench were dedicated by the undefeated 1953 and 1954 teams at the University of the South in memory of their beloved coach, who they described as their "motivation, inspiration, and friend."  He was cross country coach and mathematics professor at Sewanee from 1949 to 1955.
'50s
Mary Vogt  '56 celebrated her 80th birthday on November 23 with more than 80 family and friends in Knoxville, TN. Her husband, son and grandson are all alumni – Joe Vogt '53, Kelly Vogt '83 and Joe Vogt '12.
'80s
Beth Maupin Frye '85 of Chuckey has been named the Athletic District I Female Coach of the Year by the Tennessee Secondary School Athletic Association (TSSAA). Frye is the head girl's basketball coach at Chuckey-Doak High School. She has led the program since 1999 and has also coached volleyball, softball and cross country at the school.
'00s
Tusculum football alum and South Oldham (Ky.) head coach Jamie Reed '00 '04 was named the Kentucky 5A-District 5 Coach of the Year.
Three Tusculum alumni inducted into Greeneville High School Sports Hall of Fame
Three Tusculum alumni have been inducted into the Greeneville High School Sports Hall of Fame. Inducted on Oct. 25 were Tusculum alumni Cody Baugh '07, Jim Rich '67 and Frank Shipe '76. Tusculum was also represented in the induction of James "Mud Turtle" Mays, who now works at the College.
Baugh was quarterback for the Greeneville High School football team, a position he also played for the Tusculum Pioneers. Baugh also played baseball at GHS. He is a physical education teacher and assistant varsity football coach at GHS. He also head baseball coach for Greeneville Middle School.
Rich coached at GHS for most of his 32 years at the school. He was the head baseball and softball coach and coached the junior varsity and freshmen basketball teams at GHS. Coach Rich began operating the clock for GHS home games in the 1980s, which he continues to do to this day. He lettered in baseball and basketball while a student at Tusculum. He enjoys attending both Tusculum and GHS athletic contests.
Shipe was an outstanding member of both the track and basketball team. He qualified for the AAU Junior Olympics in 1969 and still holds the GHS triple jump record. After teaching in the Washington County School System, he returned to GHS as a teacher in 1980 and retired as a respected teacher, coach and administrator.
Tusculum was also represented in the induction of Mays, who  made his mark as tailback of the GHS football team in the early 1990s and also starred on the basketball team. "Turtle," as he is known on campus, works in Facilities Management, primarily on the grounds crew. Those who may have enjoyed the Facilities' tailgate party prior to football games for the past two seasons also know Turtle as one of the grill masters for that gathering.

'30s
Gerald A. Jelinek '36 of Dillonvale, OH, passed away on Thursday, January 3, 2013. Mr. Jelinek was retired educator and served as chairman of the board for Steel Valley Bank.
­
'40s
Milton Arthur Lain III '45 of Westtown, PA, passed away on October 18, 2013. He was a retired dairy farmer and owner of Pine Island Turf Nursey, Inc. Mr. Lain was an active and faithful member of the Minisink Kiwanis Club and the Evangelical Presbyterian Church of Westtown. He was a former member of the Minisink Valley School Board, Orange County Land Trust, Orange County Agriculture and Farmland Protection Board, a delegate of the Orange County Farm Bureau and a member of the Masonic Lodge of Free and Accepted Masons # 365, in Goshen. He and his wife, Phyllis, volunteered for many years delivering for Meals on Wheels of Orange County. Living in accordance with his principles, he contributed in so many ways to the life and betterment of his community and took great pleasure in raising money for the causes he valued. Mr. Lain was a master storyteller and a long-suffering Mets and Jets fan.
Genevieve Langdon Roberg '45 of Jackson, TN, passed away on May 20, 2012. Mrs. Roberg had been a second grade teacher at the Prospect Street School in Terryville, CT. She was a member of the Eastern Stars and a member of the Aldersgate United Methodist Church in Jackson.
Dr. Donald Josephy Fernbach '48 of Houston, TX, passed away on September 22, 2013. A native of Brooklyn, he enjoyed exploring the Museum of Natural Science in New York City and spent so much time there, they asked him to be a docent. Dr. Fernbach was active in scouting, earning the rank of Eagle Scout by the age of 14. A World War II veteran, he served in the 100th Infantry Division and was awarded a Bronze Star for bravery and heroism. After graduating, he received his medical degree from George Washington University School of Medicine in 1952. Dr. Fernbach entered his residency in pediatrics at Baylor College of Medicine as one of its first residents, and then completed a residency in pediatric pathology at Children's Medical Center and Harvard University School of Medicine in Boston followed by a fellowship in hematology and oncology. In 1957, he returned to Texas and joined the faculty at Baylor College of Medicine, founding the Research Hematology-Oncology Service at Texas Children's Hospital in 1958, now known as the Texas Children's Cancer Center. From 1957 to 1991 Dr. Fernbach served as the Head of the Hematology and Oncology Section of the Department of Pediatrics at Baylor College of Medicine; Chief of the Hematology and Oncology Service at Texas Children's Hospital; and Director of the Research Hematology Laboratory at Texas Children's Hospital. During his tenure at Baylor, he became a professor of pediatrics and published more than 160 scientific articles. He was the co-editor and author of the first textbook on Clinical Pediatric Oncology and enjoyed being a faculty mentor to physician scientists, many of who are now leaders in this field. His research team discovered the value of cyclophosphamide, which has become one of the most effective and widely used chemotherapy agents for adults as well as children. As the director of the Blood Transfusion Services at Texas Children's Hospital from 1957 to 1971, he was the first physician in Houston to use a plastic blood bagging system and one of the first anywhere to use blood component therapy for children. He performed the first bone marrow transplant from one identical twin to another to treat aplastic anemia. He led the effort to develop newborn screening for sickle cell disease years before it became a state mandate. In 1978, he helped start the Ronald McDonald House Houston along with pivotal parent leaders. And to protect the children in his care, he led the movement to ban smoking in the Texas Medical Center. Dr. Fernbach was awarded an American Cancer Society Professorship of Clinical Oncology and the first Elise C. Young Chair of Pediatric Oncology at Baylor College of Medicine, which he held until his retirement in 1991. Among his numerous awards, he received a citation from the Texas Division of the American Cancer Society for leadership in securing coverage for children with cancer under the Crippled Children's Services of Texas. He received a Distinguished Faculty Award by the Baylor College of Medicine Alumni. He was honored by the Leukemia Society of America, Houston Chapter; Friends of Houston Hospice; Ronald McDonald House Houston; and received the Gibson D. Lewis Award for Clinical Activities in Cancer Control by the Texas Cancer Council. In 1993, he received the St. George Medal in recognition for outstanding contribution to the control of cancer by the American Cancer Society – National Division. In 2006, the Houston Alumnae of Kappa Alpha Theta honored Dr. Fernbach and his contributions to the treatment of pediatric cancer and his love of teaching by establishing the Donald J. Fernbach M.D. Lectureship Series at Texas Children's Hospital. He owned a small ranch and spent countless hours in the saddle of his tractor.  Dr. Fernback was a voracious reader and particularly loved WWII history. He was also an avid letter writer and loved to write editorial letters to the Houston Post under the pseudonym Joe Bach.
Eugenia (Genie) Sheldon Kane '48 of Gate City, VA., passed away on September 9, 2013.  After earning a degree in performance voice from Tusculum, Mrs. Kane earned a master's degree in early elementary education from the State University of New York at Oswego. She taught kindergarten in Huntington Station Long Island before marrying the love of her life, the late Robert Kane, Jr., and moving to Gate City. She was an active member of the First Presbyterian Church of Gate City for more than 60 years. She directed the choir for many years and frequently performed vocally. She also enjoyed gardening and was a member of the Petite Garden Club as well as the Scott County Home Extension Club. Her other hobbies included cooking, sewing and crafts.
Jean Haire Kern '49 of Cleveland, TN, passed away October 16, 2013. She lived most of her life in Kingsport, TN, and was a retired, having worked as a receptionist/assistant to Dr. George Eason at the Kingsport Veterinary Hospital. She was an active member of First Broad Street United Methodist Church, where she sang and traveled to Europe with the choir. She was also a youth counselor at the church. She loved to travel and camped all across the U.S. with her family.
'50s
Charles Boyer '50 of Kingsport passed away July 4, 2013. Mr. Boyer was a retired chemist from Eastman Kodak after 35 years of service. He was a member of Cassidy United Methodist Church.
Betty Heck Fendley '51 of Auburn, AL, passed away on October 19, 2013. A native of Rogersville, TN, Mrs. Fendley worked for the TVA in Knoxville after graduating from Tusculum. While at TVA, she met and married her husband of 59-years, William E. Fendley. Moving to Auburn in 1970, she began working at Auburn University soon afterwards. While employed at the university, she received her master's of education degree and completed classwork for her doctorate. Mrs. Fendley retired as the associate dean in the School of Architecture, Design and Construction after 31 years.
Elizabeth Ruble Owen '56 of Rochester, MA, passed away on October 3, 2013. Mrs. Owen was the public librarian in the Taunton (MA) Public Library for more than 20 years. Prior to her service as a librarian, she was a school teacher in Berkley, Easton and Taunton. An avid Red Sox fan, she enjoyed going to spring training each year. She also enjoyed photography and traveling. She was a trustee for the Rochester Library and also sat on the Board of Directors for the Brick House School in Taunton and was a member of the Morton Hospital Women's Auxiliary.
Randolph Lowe '59 of Midway, TN, passed away November 7, 2013, after a battle with Alzheimer's disease. Mr. Lowe had formed Midway Turning Company with his father and retired from the business in 1990. He served as chief of the Midway Volunteer Fire Department and was one of its charter members. He attended Midway United Methodist Church as long as health permitted. His survivors include grandson and Tusculum alumnus Jason Lowe  '07.
'90s
Christine McGaha '93 of Greeneville, TN, formerly of Knoxville, passed away on October 24, 2013, following an extended illness. She was retired from Bechtel-Jacobs of Oak Ridge after 28 years of service. Mrs. McGaha was a member of Central Baptist Church of Bearden, where she was active in the choir.
'00s
Rodney K. Greene '00 of Talbott, TN, passed away on September 14, 2013. Mr. Greene worked for LeSportsac and had also worked for Exedy America as a quality control engineer. He was a member of New Hope Baptist Church in Corryton. Mr. Greene was an avid golfer and a UT Vols fan.