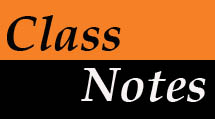 '50s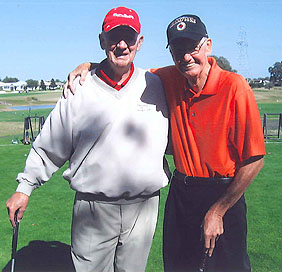 Don Green '54 and Norm Boyles '54, above, who were teammates on the Smokey Mountain 1953 Conference Championship and Conference Tournament Championship basketball team, enjoyed a round of golf Thanksgiving weekend at The Villages in Florida.
'90s
Corrine Nicolas '94 received her doctorate in composition and rhetoric from Indiana University of Pennsylvania in December. She lives in Knoxville with her partner and two-year-old daughter Chloe.
'00s
Elaine Ely '00 of Sevierville, TN, has been promoted to senior vice president/bank operations at Mountain National Bank. Ely has over 33 years of banking experience and serves as instructor of the American Bankers Association's Principles of Banking courses offered at Walters State Community College. She was a graduate of the Leadership Sevier Class of 2010 and is current chair of the Leadership Sevier Board of Directors. She is a member of the Great Smoky Mountains Church of Christ in Pigeon Forge.
Steven Humphrey '07 of Titusville, FL, has been hired as head football coach at Seminole Ridge High School in Titusville. He was previously serving as the offensive coordinator at Flagler Palm Coast High School. He has also served as the offensive coordinator at Suwanee High School in Live Oak, FL, and was wide receivers coach at Virginia Military Institute.

Gareth Rowlands '11 and Lyndsey N. Tolley '11 were married on December 8, at Calvary Baptist Church in Greeneville. The wedding included alumni and students. Groomsmen were Christian Harrison '11 and Matthew McKeever '12. Ushers were Correy Slaven and Skylar West, current Tusculum students.  Following a honeymoon in Boone, NC, the couple is living in Limestone, TN. Gareth is an instructional assistant at Hal Henard Elementary School in the Greeneville School System and is a program staff member at the Boys and Girls Club of Greeneville and Greene County. Lyndsey is an instructional assistant and cheerleading coach at David Crockett High School in the Washington County School System.

'30s
Nancy Copp Keller Lewis '37 of Jonesborough, TN, passed away on December 31, 2012. She was a member of Limestone Free Will Baptist Church.
'50s
Edwin Patton Davis '50 of Knoxville, TN, formerly of Russellville, TN, passed away September 3, 2012, after a second battle with colon cancer. Mr. Davis was the owner of Davis Carpets in Knoxville for 40 years and enjoyed a long career in furniture and carpet sales. He was a member of West Hills Presbyterian Church and a former deacon at Cedar Springs and Fountain City Presbyterian churches. A veteran of World War II, he was infantry trained and served in the Philippines and Japan. His hobbies included ballroom dancing and playing the piano.
Peggy Virginia Hedrick Kormondy '50 passed away on January 3, 2013, in Lacey, WA. She had been in poor health for more than a year. Ms. Kormondy had been a beloved teacher of hundreds in public schools in Olympia, WA; Washington D.C.; Oberlin, OH, and Ann Arbor MI. She was particularly honored to teach President Jimmy Carter's daughter, Amy, when she was in the sixth grade and had Secret Service agents standing guard outside the classroom. Ms. Kormondy was an accomplished painter, winning many ribbons at local fairs. She traveled extensively, visiting every continent except Antarctica. She learned to ski at age 52 and skied into her late 70s, when a back injury slowed her down. Ms. Kormondy was a calligrapher and integral member of Nib and Inks. She was active in many other organizations, including the Red Hatters, American Association of University Women, Delta Kappa Gamma and the Washington Education Association. She appreciated and supported music, theater and dance. A native of the small coal mining town of Crumpler, WV, her love of education began while she was attending the school near her home, and she went on to become her class valedictorian and winner of the West Virginia Golden Horseshow Award for McDowell County. She graduated with a bachelor's degree in biology and chemistry at Tusculum and earned her master in education and English from the University of Michigan. Her survivors include her ex-husband, Ed Kormondy '50.  Memorial donations may be made to the Kormondy-Hedrick Scholarship in the Life Sciences at Tusculum.
Ralph James Reel '51 of New Market, TN, passed away January 1, 2013. Mr. Reel was a long-time employee of Parks-Belk and also worked for the Lee Company for 24 years. He was an active member of the American Legion and served as Tennessee State Commander in 1993-94 and as National Vice Commander in 1995-96. Mr. Reel was also a member of the American Flag Alliance and was involved in the Civitan Club of Jefferson City. He enjoyed his years working with the Tennessee Secondary School Athletic Association's officials association. Mr. Reel was a member of First United Methodist Church of Jefferson City.  Survivors include his brother and Tusculum alumnus Dr. Donald Reel '56.
Betty Joan Brown Ingle '54 of Greeneville, TN, passed away January 10, 2013. Mrs. Ingle was a retired Greeneville City and Greene County teacher. She was a member of Reformation Lutheran Church. Mrs. Ingle was a member of the Democratic Women's Party, Ladies Loyal Order of the Moose and the Tennessee Retired Teacher's Association.
Gale William Bruce '57 of Chattanooga, TN, passed away January 4, 2013. Mr. Bruce was a veteran of World War II, having served as a radio man with the U.S. Army Air Corps.
Helen "Honey" Lee Wilson Colella '57 of Bradford, PA, passed away January 11, 2013. Mrs. Colella was a retired first grade teacher, having taught in the Bradford School District for 37 years. After retiring, her passion for teaching led her to volunteer as a teacher at Crook Farm and also in religious education. She was member of St. Bernard's Church, where she was actively involved as a member of the church choir for 50 years, a co-chairman of the Environment Committee and member of the Diocesan and Liturgical Committee. She enjoyed being a member of the Street Dreams Car Club with her husband, Francis, and they would often been seen riding around town in their convertible '66 Thunderbird. She was the Queen Mother of the Red Hat Society for the Street Dreams Car Club. She was also involved in Phi Beta Psi sorority and enjoyed roller skating, tap dancing, traveling and spending time with her grandchildren.
'90s
Russell Stephen Gwilliams '98 of Knoxville, TN, passed away unexpectedly December 1, 2012. Mr. Gwilliams was a long-time employee of Elavon Corporation. He was a member of First Cumberland Presbyterian Church and an Eagle Scout.