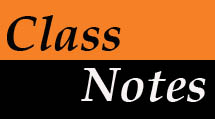 '90s
Willie Anderson '94 of Greeneville, TN, has retired from First Tennessee Bank. Anderson had served as vice president/financial center manager of First Tennessee's Main Street Branch in Greeneville for more than a decade at the time of his retirement. He went to First Tennessee Bank in 1990 as a courier and also worked in maintenance. During his career at the bank, he also worked as a teller, loan processor and financial services representative/loan officer. Anderson has been active in the community, serving in leadership roles and various capacities with the Boys and Girls Club of Greeneville and Greene County Board of Directors, Greeneville Light and Power System Board of Directors, the Lions Club Board of Directors, the United Way, the Comcare Inc. Board, Bethel District Churches and Friendship Baptist Church. He serves as board chairman of the Greeneville Light and Power Board and chaired the community's United Way campaign in 2007. He also volunteers at three senior care facilities in Greeneville. Anderson and his wife of 42 years, Brenda, have one daughter, and four grandchildren.
'00s
Lynn Miller '03 '06 has been named the financial center manager of the First Tennessee Bank Main Street branch in Greeneville. Miller is a 13-year employee of First Tennessee Bank and has served as manager First Tennessee's Mosheim branch and one at the mall in Johnson City. He and his wife, Erica, are parents of a one-year-old daughter, Kinison.
Tusculum alumni among those named 2012-13 "Teachers of the Year" in Hamblen County School System
Four Tusculum College alumni were selected as their school-level "Teacher of the Year" in the Hamblen County School System. These teachers will now be considered for the district competition.
Michelle Green '07 of Morristown, TN, was selected as Hillcrest Elementary School's "Teacher of the Year." Green is a fourth grade language arts teacher, who has also been recognized as a recipient of Office Max's "A Day Made Better," which honors dedication and passion in educators. She serves as her school's lead mentor teacher and has conducted training for her faculty. Michelle co-founded and has served 12 years as administrative director of Children of Hope, a non-profit community outreach to local children and youth in need. She oversees 35 volunteers in the organization that serves more than 100 children and youth.
Shannon Mayes '00 of Whitesburg, TN, was named as Fairview-Marguerite Elementary School's "Teacher of the Year." She is a kindergarten teacher who has been an educator for 14 years. She serves as her school's grade level chairperson for kindergarten, is a supervising teacher for practicum students, a mentor teacher and a student teacher supervisor. Shannon also serves on her school's improvement and leadership committees. Her classes have won the Director's Writing Contest for best classroom book for three years.  She volunteers with McTeacher Night, Daily Bread, Angel Tree, Toys for Tots, Christmas Shoe Box and the American Cancer Society.
Amy Mitchell '06 of Morristown, TN, was chosen as Manley Elementary School's "Teacher of the Year." She has taught fifth grade at Manley for three years. She previously taught at West View Middle School and at Hillcrest. Amy was a state finalist for the Presidential Award for Excellence in Science and Mathematics Teaching and modeled two math lessons for the State Collaborative on Reforming Education panel when Hamblen County was named District of the Year. She often models best practices for teachers throughout the district, recording classroom lessons and sharing them. Amy is an instructional leader for teachers throughout the state as a TNCore math coach. Last year, she was invited to represent Tennessee as a member of a six-person team at a 26-state collaborative in Washington, D.C. She has participated in extensive leadership activities in teacher training.
Crystal Vaughn '04 '07 of Morristown, TN, was chosen as "Teacher of the Year" at West Elementary School. She is a fourth grade teacher and has been team leader of her grade level since 2005. Crystal is the school's science fair coordinator and scholar bowl coach. She assists with coaching the girls' basketball team and has been cheerleading sponsor. Crystal also hosts student teachers and practicum teachers. She teaches her school's inclusion writing class and her students have earned first place in the Director's Writing Contest. Cherokee Health System has awarded her its Special Education Award.  Crystal is the Tennessee Education Association's legislative contact team member and served the Hamblen County Education Association as RA leader and bargaining team member.

Jessica L. Britton '12 and Matthew R. Harris were married December 28, 2012. She is the daughter of Lyn Britton '12. After a honeymoon in St. Lucia, the couple is living in Greeneville, TN. Jessica is a first grade teacher at Chuckey Elementary School.

Cynthia L. Dewitt '01 of Asheville, NC, is celebrating the birth of her second daughter, Rosalie Grace Dewitt-Stephens, on January 3, 2013.

'40s
Rita Sams King '42 of Greeneville, TN, passed away February 3, 2013. Mrs. King was a retired educator, teaching the Greene County and Greeneville school systems for 40 years. Following her retirement, she was a substitute teacher as long as her health permitted. She was a long-time member of Mount Pleasant Cumberland Presbyterian Church. Her survivors include brother and Tusculum alumnus Robert Drain '49.
'50s
Jane Edna Dalzell Krieger '53 of St. Johns, FL, passed away on December 3, 2012. Mrs. Krieger was a retired human services manager for the Wackenhut Corporation, where she worked for 25 years. A native of New Jersey, her greatest love was her family and she raised her four sons in Glen Rock, NJ, and Miami, Ft. Lauderdale and Tallahassee, FL. Her hobbies included knitting and embroidery. She often knitted socks for lifeguards.
'60s
Bernice L. Boswell Offerman '61 of Orlando, FL, passed away on Thursday, August 30, 2012 from complications of Alzheimer's disease.  She was 75.  Bernice began her college studies at Carson-Newman College and transferred to Tusculum in her sophomore year.  She was an elementary education major at Tusculum and served on the staff of the Tusculana.  She and her two sisters were day students, growing up in downtown Greeneville.   In the early 1990s she sold her home in Morristown and used the proceeds to purchase a charitable gift annuity that provided her with an annual income.  Upon her passing, the proceeds from the charitable annuity were given to Tusculum College to provide scholarships for students with great financial need.  In this way, her love for education and for Tusculum College continues. Bernice married Robert Edward Offerman, who predeceased her.  She is survived by two loving sisters, Jeanette Boswell Tennis '61 and Josephine D. Boswell '67, both of Virginia Beach, VA.
Richard J. Sloane '63 of Marlton, NJ, passed away July 25, 2009. Mr. Sloane was a teacher for the Mt. Laurel school system. His survivors include his wife and Tusculum alumna Virginia L. Hartle Sloane '64.