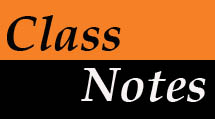 '60s
Donald G. Wilson '64, a cum laude graduate, has had his book, "Evidence Withheld" published in July and it is available at Amazon.com.  He writes that the book, "exposes the FBI cover up in the Martin L. King Jr. assassination," as well as chronicling his FBI career. His book also details his years at Tusculum.
'00s
Elizabeth McDonnell '11 graduated in May with a master of fine arts in creative writing from Chatham University with concentrations in creative non-fiction, travel writing and publishing. She served as editorial intern for Creative Nonfiction and Pittsburgh Quarterly. She is now a marketing intern at Sundress Academy for the Arts (SAFTA) in Karns, TN, working not only as a writer and editor but also learning more about design, fundraising and marketing.

Jessi S. Smith '10 and Josh Bennett '11 '13 were married on July 4, 2013, at Rui Palace Resourt in Playa Del Carmen, Mexico. The ceremony was performed on the beach  of Rivera Maya with the aqua-teal water of the Gulf of Mexico as a backdrop. The couple is living in Greeneville, TN. Jessi is a physician's assistant at Takoma Medical Associates. Josh is a teacher and the girl's basketball coach at West Greene High School.

Brad Hawks '05 and his wife Mallory celebrated the birth of their second daughter, Emmersyn Faith, on July 16th.

'40s
Vivian Neimeyer Checkley '46 of Lewisville, TX, passed away August  2, 2013. Mrs. Checkley was a retired chemist and botany colorist.
'60s
Joyce Nagel Weir '63 of Lockport, NY, passed away July 24, 2013. She operated Weir Accounting Services for 43 years. She was a member of St. John the Baptist R.C. Church and the National Society of Public Accountants.
'80s
Sharon Mosby '86 of Knoxville, TN, passed away on July 30, 201, after a battle with lung cancer. An accountant, most people in the Knoxville knew Ms. Mosby as a jazz and blues great in the Knoxville area. She had toured across the United States and abroad with the Hampton Institute Concert Choir. She performed as a featured vocalist with the bands Soul Sanction and the Wendel Werner Quartet. She had lived in California for a time and performed regularly at Disneyland. In 1999, she released an album, "I Can Handle That!" and was featured on "Tenors and Satin," a collection of some of the best Knoxville jazz musicians. She was one of the most popular performers in the "Live After Five" Knoxville music series.