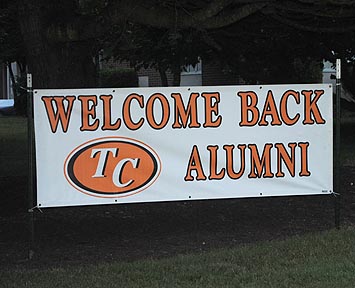 Make your plans to return to Tusculum College and enjoy four days of activities that include some returning favorites and some new attractions.
Special reunion events are planned during Homecoming for the 1960s alumni, 1970s alumni and the Classes of 1978 and 1988. Keep watching this space for more details.
Activities scheduled this year for Homecoming include:
Wednesday, September 25
6 p.m. - "The Magnificent Seven" Lecture – Joe Romano '63 will present a lecture on the history of the film "The Magnificent Seven" and the great quest at the heart of the western. The event will be held in the lecture hall of Tredway Hall, with a movie showing following the lecture.
8-11 p.m. – Casino Night – Try your hand at a multitude of casino games for fun and prizes.  Will be held in the Pioneer Gym.
Thursday, September 26
All day – Alumni Care Package Deliveries – Bring a goody basket or snacks to deliver to the current student(s) living in your old dorm room or apartment. Call the Office of Alumni Relations at 423-636-7303 for details prior to Sept. 20.
2 – 5 p.m. Registration – Living Room of Niswonger Commons
3:30 p.m. Hotel Crawl - College staff will be stopping by the local hotels to welcome alumni back to Greeneville (General Morgan Inn, 3:30 p.m.; Days Inn, 4 p.m.; Comfort Inn, 4:30 p.m.; Hampton Inn 5 p.m., and Quality Inn, 5:30 p.m.) *Be sure to let us know where you are staying* Visit www.tusculum.edu/HomecomingforHotelinformation.
6 – 8 p.m. - Dinner at the Butcher's Block Dutch treat and brown bag your favorite drink. The restaurant is located at 125 Serral Drive, Greeneville, 37745. Reservations required.
9 p.m. Bonfire – Enjoy the annual Homecoming Bonfire with current students in the large gravel parking lot off Shiloh Road just beyond the Niswonger Commons.
Friday, September 27
8 a.m. – 4 p.m. Registration - Living Room of Niswonger Commons
10:30 a.m. Groundbreaking for the Ronald H. and Verna June Meen Science and Math Center - At site adjacent to parking area at Pioneer Field.
11:30 a.m. Lunch with Students - Enjoy lunch with students on the terrace of the Thomas J. Garland Library. Reservations required.
1:30 p.m.  Acting Career Workshop – Kim Lapsley Muir '68 will share from her expertise in the Behan Arena Theater (lower level of the Annie Hogan Byrd building) and give tips on how individuals can get a successful start toward an acting career in Los Angeles. A theater major who ventured to New York and then Los Angeles, Muir was an agent for many years in L.A.  Now retired, she does workshops for people who have moved to Los Angeles to get into acting, and specifically, commercials.
2 p.m. Golf Tournament - Enjoy some friendly competition on the Link Hills Golf Course. Scramble format will be used with handicap system for a net division and gross division. Registration is at 1 p.m. with shotgun start at 2 p.m. Dinner will be provided for participants in the golf tournament as well as those who may want to join them following the tournament. The cost for dinner will be $20 for those not participating in the tournament. Reservations are required.
7 p.m. - Volleyball Game Pioneer Arena
Saturday, September 28
8 – 10 a.m. Registration - Outside the Pioneer Perk in the Niswonger Commons
9 a.m. Alumni Breakfast and Alumni Association Meeting – (Pioneer Arena Lobby) Come enjoy breakfast and stay for the annual Alumni Association meeting and the presentation of the 2013 Alumni Awards.
11 a.m. Class Photos - In front of Niswonger Commons
11 a.m. Student Support Services Luncheon - Alumni who were in the Student Support Services program or ARCHES are invited to a cookout and other festivities at the Patton House (near Pioneer Park).
12 p.m. Homecoming Parade - Watch the 10th Annual Homecoming Parade along the route between the Charles Oliver Gray Complex and Pioneer Park. The Golden Pioneers will serve as Grand Marshals.
12 p.m. Volleyball Game- Pioneer Arena
12:30 p.m. Football Tailgate - Enjoy a Pioneer Tailgate Party at Pioneer Park.
2:30 p.m. Football Game - Cheer on the Pioneers as they take on the Lenoir-Rhyne Bears. Tickets can be purchased at the game.
7 p.m. All-Alumni Dinner – Join us for a casual dinner from 7 to 8:30 p.m. at The Event Center (93 North Rufe Taylor Rd.). A cash bar will be available. Music will begin at 8:30 p.m., provided by "Shiloh Band and Friends".  Original Shiloh members, Herb Rupert, Wayne Hensley, Bobby B.B. Brown and Ken "Shadow" Winterbauer  will make it an All Alumni Show. Shadow's wife Gail will join the group for back-up vocals and flute solos.  This will be the fourth show in the past year of the original Shiloh Band from Tusculum and Greeneville, which toured the south in the middle and late 70s, founded on the campus of Tusculum. Reservations required.
7:30 p.m. Kellie Pickler Concert - Niswonger Performing Arts Center at Greeneville High School. Alumni will receive a discounted ticket price if reservations received prior to Sept. 13.  The date for the Tusculum discount has passed.  For tickets, please contact the Niswonger Performing Arts Center directly at 423) 638-1328.
Sunday, September 29
8:30 a.m. Alumni Pancake Breakfast - Join us for breakfast in the Chalmers Conference Center in Niswonger Commons.
9:30 a.m. Chapel and Memorial Service - Join us for a worship service in the Thomas J. Garland Library lobby. We will also be remembering alumni who have passed away since Homecoming 2012.
1 p.m. Women's Soccer – Pioneer Field
3:30 p.m. Men's Soccer – Pioneer Field
Also please note the hours of the following on campus:
Tusculum College Bookstore
Niswonger Commons
• 8 a.m. – 5:30 p.m. Thurs., Sept. 26
• 8 a.m. – 5 p.m. Fri., Sept. 27
• 9 a.m. – 5 p.m. Sat., Sept. 28
President Andrew Johnson Museum and Library
• 9 a.m. – 5 p.m. Thurs. – Fri., Sept. 26-27
Pickin' at the Doaks
(informal traditional music jam)
Doak House Museum
• 6 p.m. Fri., Sept. 27, No admission fee.
Allison Art Gallery
(Rankin House behind Three Blind Mice)
3:30 – 5 p.m. Fri., Sept. 27
Please make every effort to make your reservations prior to Friday, September 20 in order for us to provide accurate estimates on food preparations.