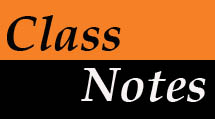 '90s
Brenda Ottinger '98 of Greeneville, TN, has been named system-level Principal-of-the-Year by the Greeneville School System. Ottinger is principal at Highland Elementary School and has 21 years experience as a teacher and principal.

Barbara Davis McGavock '74 of Johnson City, TN, and wife of late Tusculum professor Dr. W. Donald McGavock, announces the birth of her first grandchild, Adaline May "Addie" DiCesare on January 2, 2014. She resides with her parents, Brandon and Kristen DiCesare in Rochester, NY.

'40s
Dr. Leland James "Jay" Sarrell Sr., '47 of Blue Ridge,GA,  passed away on Oct. 18, 2013, at Erlanger Medical Center in Chattanooga.  Dr. Sarrell was a retired optometrist, who had practiced for 55 years. He served in the U.S. Army Air Force during World War II and was a lifetime member of the Fannin County VFW Post #6570. Dr. Sarrell was a past president of the Kiwanis Club, former Boy Scout Master, former police commissioner and served on county council. He was a member of the Church of Christ.
Natalie G. Poole, '48 formerly of West Palm Beach passed away on Thursday, July 10, 2008 in Jacksonville, FL.
Glenn D. Renner '48 of Greeneville, TN passed away unexpectedly on April 13, 2014. After earning a bachelor's degree in mathematics, chemistry and physics from Tusculum, Mr. Renner earned a master's degree in educational administration and statistics from the University of Tennessee. Mr. Renner was a veteran, having served in the U.S. Navy for three years. As an educator, he taught math and science at Greeneville High School and Ottway High School and taught sixth through eighth grade at DeBusk Elementary School. He also served as principal of Ottway High School and was a basketball coach at St. James High School. Mr. Renner worked in the insurance and real estate business for 21 years and operated the Brook-Glen Farm Supply feed store for 21 years, retiring in 1996. Active in the civic life of the community, Mr. Renner served as a Greene County Commissioner for seven years and was a state representative in the mid-1960s. He served on the Kinser Park Commission for about 28 years. He was a member of Trinity United Methodist Church and a lifetime member of the Kiwanis Club.
"Betty" Irene Lintz Yates '49 of Greeneville, TN, passed away March 25, 2014. She met her husband, Maurice M. Yates, Jr. '49, as a student at Tusculum in the library. The library was the setting for many "study dates," leading up to their marriage in April 1947. Mrs. Yates started teaching home economics to freshman girls in 1958 and later added chemistry instruction for juniors at Greeneville High School. Mrs. Yates was one of the teachers instrumental in forming the Greeneville-Greene County Teachers Association, an organization active in teachers' affairs. She served as first president of the association. After 22 years with the Greeneville School System, she retired and further developed her keen interest in antiques as an antique consultant. She with her husband traveled extensively through the U.S., particularly east of the Mississippi River.
'50s
Donald Green '54 of the Villages, FL, passed away on April 1, 2014. Mr. Green was an educator and college basketball coach and retired after 40 years of service to his students and ballplayers.  He was known for his passion for family, friends and great laughter. He enjoyed playing golf with his friends.
'60s
Carnell Graham Carter '63 of Greeneville, TN, passed away Sept. 5, 2007. An educator, she began her teaching career in an one-room school and taught in the Greene County School System for 27 years including 22 years at DeBusk Elementyar School. She received the Greene County Teacher of the Year and the Tennessee District Teacher of the year in 1977. Mrs. Carter was a member of the Ottway United Methodist Church, the Tennessee Retired Teachers Association, Greene County Retired Teachers, Cross Anchor FCE, Ottway United Methodist Women and Ottway Ruritan, and the Grandmother's Club.
'80s
Pamela York Buchanan '83 of Morristown, TN, passed away on April 9, 2014, after a 15-year battle with cancer. She was a partner of Arrowhead Church.
'00s
Greta Jones-Taylor '07 of Bristol, TN, passed away unexpectedly on February 3, 2014. Mrs. Jones-Taylor was a life-long resident of Bristol. She was employed at Helen's Hallmark for more than 15 years and started Occasions By Greta, a napkin and special occasion imprinting business. She was also president of the Anderson Elementary School PTA. She was proud of her degree and the joy of her life was her daughter, Emma, according to her husband, Kevin. She went into labor with Emma on the last night of classes for her degree at Tusculum, he recalled.