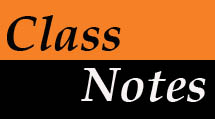 '60s
Stuart R. Schwartz '67 of Frisco, TX, has recently published "A Wit's World," a collection of six original stories. The collection employs a variety of styles, themes and emotions used to portray the characters and settings. With stories that encompass mystery, humor, drama and satire, there is definitely something for everyone. Schwartz has worked as an executive in the insurance and healthcare industries for several years. Upon retirement, he embarked on one of his lifelong goals, to become a writer. He has written several film scripts as well as an assortment of stories. This book contains six of his selected stories. He earned a B.A. degree in psychology from Tusculum and did postgraduate studies in his business field. He served in the U.S. Army, Artillery Division, for four years before embarking on a business career. He has lived in New Jersey, Tennessee and Texas, as well as Prague and the Czech Republic. His interests include his writing, reading, music of all genres, horses, cooking and sports. He would enjoy hearing from his friends and readers at stuartschwartz1956@gmail.com.
'00s
Alan Dunn '04 of Chattanooga, TN, a former Tusculum College football All-American, has been elected to the South Atlantic Conference Hall of Fame. He will be officially welcomed into the SAC Hall of Fame at the conference's annual banquet on June 5. He garnered All-South Atlantic Conference First Team honors three times (2001, 2002, 2003), including his final two seasons (2002, 2003) as he was the recipient of the Jacobs Blocking Trophy, which recognizes the top offensive lineman or blocking back in the conference. Dunn is only one of four players in the 24-year history of the award to earn the honor multiple times. He earned an invitation to play in the Cactus Bowl, the NCAA Division II all-star game and was the recipient of the Jim Langer Award, which goes to the game's most valuable offensive lineman.  An outstanding student, he was selected to the Academic All-District IV Team. Dunn never achieved his dream of playing in the National Football League, but moved back to his native Chattanooga to pursue his next goal, becoming an attorney and now has a practice in his hometown. He was inducted into the Tusculum College Sports Hall of Fame in 2011. Dunn is the fourth Tusculum honoree to be inducted into the South Atlantic Conference Hall of Fame. Former Tusculum and Mars Hill athletic director Ed Hoffmeyer was inducted as a member of the 2007-08 class followed by former Tusculum women's tennis player Lesley Murray '04, a member of the 2008-09 class. Tusculum All-American cornerback Ricardo Colclough '04 was inducted in 2009-10.

'30s
Nina Grace Cantwell Styke '37 passed away January 5, 2014. Mrs. Styke taught middle school in the Hamblen County School System for 42 years. She was a member of St. Paul Presbyterian Church and was involved in many activities there during her life.
'40s
John Milton Cathrall '41 of Stratford, NJ, passed away on November 23, 2013. Mr. Cathrall had served his Alma Mater as a member of the Board of Trustees. He served his hometown in many capacities and retired as town historian. Mr. Cathrall was a member of the PTA, helped build the Swim Club and was on the board of the Methodist Church. In his late 80s, he wrote "The History of Stratford." A veteran, Mr. Cathrall served as a naval lieutenant in the Pacific theater during World War II. He enjoyed dancing, bridge, riding his bicycle and golf.
Margaret Schaefer Lewis '43 of Syracuse, NY, passed away on March 7, 2014, after a brief illness. She attended Tusculum for two years before transferring to Syracuse University, from which she graduated. She loved her time at Tusculum and always spoke highly of Tusculum to others. Mrs. Lewis taught elementary school for 22 years before retiring in 1984. She served as a deacon and elder at Elmwood Elementary Presbyterian Church, and for the past 15 years, she had been a member of Onondaga Hill Presbyterian Church and its Circle One. Mrs. Lewis volunteered at Community General Hospital for 33 years and founded the City View Garden Club of Onondaga Hill. She enjoyed bowling, golf and traveling. She was also a member of the Antique Club, the Historical Society and the Red Hat Society.
'50s
Blanche Ellenburg Sauls '58 of Greeneville, TN, passed away March 6, 2014. Mrs. Sauls was a retired teacher from the Greene County School System and a member of Christ United Methodist Church. She was a volunteer at Takoma Hospital and a member of the Retired Teachers Association and Delta Kappa Gamma.