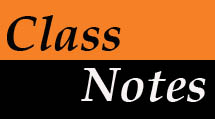 '40s
Oliver Burkey, Jr. '48 of Greeneville, TN, was presented with the Quilt of Valor recently by the Greene County Quilters group. He was nominated by his son Paul Burkey, a Navy Captain. Oliver served in the Navy during  World War II from 1943 to 1946.  For more read the Greeneville Sun article about the presentation.
'60s
Bette J. Hendrickson Walsh '64 has recently relocated to a life-care campus in Vero Beach, FL. She is active in volunteer positions in Vero Beach, where she has lived for the past 18 years. Bette is looking forward to attending her 50th class reunion during Homecoming this year. She will be traveling with classmate Ellen Ajan Seidler '64.
'80s
Jim Hughes '80 of Blairsville, GA, has been elected president of the Georgia Athletic Coaches Association. He has retired from coaching/teaching after 33 years to follow his daughter, Angie, who is a softball pitcher for Lee University. He and his wife, Jackie (Laughner) '81, are celebrating their 33rd wedding anniversary this month. His older daughter, Kellie,  is a physical therapist, who recently got married. He would like to hear from his classmates. His email is jihughes1457@gmail.com.
'90s
Jim Hackworth '94 of Clinton, TN, has  retired from Oak Ridge National Laboratory. Married to Brenda Hackworth. Member of the Business Advisory Board for Emory Valley Center in Oak Ridge and the Clinton Rotary Club.
Rev. Roxianne Sadler Sherles '97 of Loudon, TN,  has been named the new pastor for St. Mark A.M.E. Zion Church in Athens, TN.  She is also retired from CDM Federal Services, where she was an environmental scientist for 35 years.
'00s
This year's Leadership Blount County class includes alumnae Amy Cowden '01 and Joni Ann Crisp Seratt '04, both of Maryville, TN. Cowden is the assistant to the mayor in Blount County and a member of the Keep Blount Beautiful Board of Directors. Seratt is the director of the Blount County Probation and Driving School and a member of the Blount County Drug Court Foundation Board of Directors. She currently lives in Maryville, TN
Richelle Gregory '02 '09 of Maryville, TN, will assume new duties on August 1 as of Director, Talent Management and GPP HQ for the Alcoa company.  She will also continue to be a member of the Global Primary Products HR Lead Team of Alcoa.  Richelle will be responsible for leading all areas of human resources for GPP HQ and she will continue to maintain her responsibilities for global GPP talent management.  She joined Alcoa in 1997 and has held positions of increasing human resources responsibility throughout her career.  This includes line and human resource roles at Tennessee Operations, GRP BU and Group level roles, and manager of the US HR shared service organization (USBS).
Amber Lynne Corn '05 of Sevierville, TN, passed the Tennessee Bar examination in May. She earned a bachelor's degree in business administration from Tusculum and attended the Duncan School of Law at Lincoln Memorial University.
Mitch Fine '09 of Newport, TN, is teaching sixth grade in the  Newport City School System. He attends Unity Baptist Church.
Amanda Waddell '09 has returned to Greeneville, TN, and been named the executive director of the Greeneville City Schools Education Foundation. She and her family had temporarily moved to St. Louis, MO, where her husband worked on an assignment for his employer. Amanda served as director of career development at Tusculum before moving to St. Louis.
Rebecca Tankersley '11 of Marietta, GA, started a new position in July. She is now Communications Officer, Enrollment Services at Georgia Institute of Technology.
'10s
Beth Wright '13 of Powell, TN, is now working as a web development intern at Jewelry Television in Knoxville, TN.
Theo Oing '14 of Hixson, TN, has been accepted into the psychology master's degree program at Rutgers University.

Nicholas Shaun Darnell '06 and Emily Denise Duck were married March 22, 2014. Nicholas works at East Ridge Middle School in Russellville, TN, and now has a master's degree in administration from East Tennessee State University. The couple are living in Morristown, TN.
Sonya Ramsey '08 and Eric Shindler were married on June 7 on the terrace of the General Morgan Inn in Greeneville, TN. After a cruise to Cozumel, Mexico, and the Caymen Islands, the Schindlers are residing in Knoxville, TN.

'60s
Geraldine E. Peeler '67 of Cleveland, OH, passed away July 17, 2014. She was retired from the U.S. Marine Corps.
'80s
Dr. Bruce Horne '88 of Knoxville, TN, passed away May 22, 2014. Dr. Horne was an educator, teaching at several colleges. For the past 11 years, he had taught online. Dr. Horne had started a new congregation, Church of God Knoxville, in January. He was a presenter on "The World Tomorrow" broadcast, presenting messages about the second coming of Jesus Christ and Bible prophecy. Dr. Horne was a gifted musician who played the trumpet, piano and autoharp. He enjoyed riding his Triumph Cafe Racer bike and restoring his 1964 Ford Galaxy 500 hard top automobile.
'00s
Tiffany L. Mullins Midyett '03 of Knoxville, TN, passed away on July 15, 2014. Ms. Midyett had been vice president of business development of Vanquish Worldwide of Maryville. In that position, she traveled throughout the United States, the Middle East and Africa. Midyett had several extended stays in Afghanistan, participating in Vanquish's global expansion of its operations. She was known for her sense of style, her love of animals and her passion for baking and ballroom dancing.