Carolyn Gregg '88 of Greeneville, TN, was awarded the History Award Medal from the National Society Daughters of the American Revolution in May for her lifetime of activities to promote the preservation of American History on the local, regional and national level. The national award is given to a nominee whose study or promotion of some aspect of American history on the local, regional or national level has significantly advanced the understanding of the nation's past. Five or fewer are awarded annually. Gregg, who also served her Alma Mater for several years as an education professor, is treasurer of the Nolachuckey Chapter National Society Daughters of the American Revolution.
She began her history projects by adding Greene County history to her third-grade curriculum at Tusculum View Elementary School and creating workbooks for children to learn about local heroes such as David Crockett, William Dickson, Samuel Doak and Andrew Johnson. Gregg wrote and directed musical plays for the students to perform each spring from 1988-2001. She also taught a summer Greene County history class that included field trips daily for several weeks to local and regional historic sites. Gregg and her students mapped seven cemeteries during the classes, and she added five more cemetery maps before submitting them all to the USGenWeb Tombstone Project.
After retiring from Tusculum View Elementary School, Gregg began researching for "The History of Nolachuckey Chapter NSDAR," the first of 17 books that she has compiled. Some are oral histories, such as "Stories From the South of Greene County," compiled with Nolachuckey Elementary School and Tusculum College students, "Reflections From the Past in Chuckey, Afton, Tusculum and Eastern Greene County," compiled with Chuckey-Doak Middle School and Tusculum College students, "Remembering Greene County Mills," compiled for Greene County Heritage Trust, and "Tales of the Rails," compiled for the George L. Carter Railroad Museum at East Tennessee State University. For other books, Gregg researched community and church histories, such as "Saint James Lutheran Church Celebrates 200 Years — 1811-2011," "The History of Asbury United Methodist Church," "The History of Blue Springs Lutheran Church," "Blue Springs Church, Community, and Colleges," and six volumes of Harden, North Carolina, Community Research from 2008, 2009, 2011, 2013, 2015 and 2017. Two books focused on Gregg's family history: "The Ancestors and Descendants of Willie Albert Patterson and Minnie Corriher Patterson" and "The Photo Story of the Gregg Family of Miles and Mandy Tweed Gregg."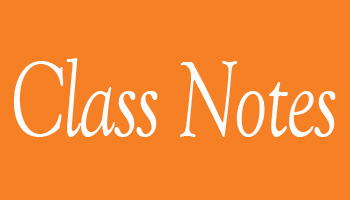 '40s
Dr. Sara Lippard Hoyt '45 of Asheville, NC, was presented a Distinguished Medical Alumna Award during the Alumni Reception and Awards Banquet at the Spring Medical Alumni Weekend for the University of North Carolina, Chapel Hill School of Medicine. A retired pediatrician, Dr. Hoyt was a member of the first four-year graduating class of the medical school in 1954 and one of the only two women in the class. Following her career as a physician and raising three daughters, Dr. Hoyt continued working as an advocate for others in various ways, including serving on the Rome (GA) City Board of Education, the Board of Hospitality House that serves abused women and children and the Rome Arts Council among others. Dr. Hoyt and her husband, the Rev. William Hoyt, have remained busy after they retired and moved to Asheville in 2001. She maintains her medical volunteer license and continues to further her medical education, attending lectures twice monthly at MAHEC (Mountain Area Health Education Center).
'60s
Andy Still '61 of Bluff City, TN, has been named a 2017 inductee into the J.I. Burton High School Hall of Fame. Still was a star basketball player at the Norton, VA, school, graduating in 1957. Still credits Joe Stallard, a 1956 graduate of Tusculum and a 2016 inductee into the J.I. Burton Hall of Fame, with inspiring him to become a basketball player. Still continued playing basketball at Tusculum, where he majored in math and physics. After graduating, Still spent three years teaching physics and chemistry at J.J. Kelly High School and served as head basketball coach at Clinch Valley College during 1963 and 1964. Still then went to work for Raytheon, where he worked for 28 years until retirement and his responsibilities included upgrading missile software.
Fred Johnson '65 has been fully retired for the last four years after serving as president of a real estate and development company in the Washington, D.C., area. He and his wife, Donna, are living in the Blue Ridge Mountains of North Carolina, a few miles south of Asheville. They are enjoying traveling, playing golf and enjoying mountain life. Fred would love to her from his old friends from Tusculum at fredanddonna1@gmail.com.
'90s
Dr. J. T. Vogt '90 recently accepted a position as Project Leader for the U.S. Forest Service Insects, Diseases and Invasive Plants in Southern Forests research unit with personnel in Asheville, NC, Athens, GA, and Pineville, LA. He will be relocating to the Athens area with his wife Karen, son James, and daughter Samantha '17 (who graduated from Tusculum with honors earlier this year and has been accepted into physical therapy school at Belmont). He is very happy to be returning to a more research-oriented position in entomology. Classmates can reach J.T. at bug_doctor@hotmail.com
Denise Carr '96 began working in June as Senior WIOA Career Specialist at East Tennessee State University. She previously served in a similar position at Walters State Community College.
Janice Jones '98 of Bristol, TN, has been appointed to the Tennessee Financial Literacy Commission. She is the President and CEO of United Southeast Federal Credit Union. Jones has 47 years of experience in credit unions, rising through the ranks to her current position of President and CEO. Active in the community, Jones is a member of the Bristol Morning Rotary Club, serves as chairman of the board of the Bristol TN/VA Chamber of Commerce, served on the Credit Union National Associations Federal Credit Union Subcommittee for four years, and most recently served as a board member with Volunteer Corporate Credit Union.
'00s
Nick Neura '08 has been named offensive line coach for the football team at Gadsden City (AL) High School. He was previously serving as offensive line coach for the Hueytown High School. He also served as a graduate assistant at the University of Alabama-Birmingham from 2010-12.
Robin Street '08 will be serving as assistant principal of Grandview School in the Washington County (TN) School System when school starts in the fall. Street began her 11-year teaching career at Gray School and subsequently moved to Jonesborough Middle School where she taught math, social studies and science.
Jarrell NeSmith '09 has accepted a position at the Immediate Care in Gaffney, SC, for half urgent care and sports medicine after his current fellowship in sports medicine ends in June 2018. Jarrell writes, "I feel blessed beyond belief! Thank you to everyone who has prayed for me and supported me along the way!"
Rachel Macola Price '10 will be serving as the new principal of Grandview School in the Washington County (TN) School System when school opens in the fall. She previously served two years as assistant principal of Jonesborough Middle School. Prior to that positin, Price was a first and fourth grade teacher at Jonesborough Elementary School. 
'10s
Nikki Taylor '11 and Logan Goodin '11 have married and had their first child, a son, Jackson Dean Goodin, on December 30, 2016.  He was 8 lbs. and 4 oz. at birth. The couple is currently living in Maryville, TN, where Nikki is staying home with Jackson and Logan is an honors algebra teacher at Maryville Junior High and is coach of the school's first baseball program.
Sara Howard '14 has graduated with a master's degree in public health epidemiology from East Tennessee State University and has begun her career as an epidemiologist at Oak Ridge Associated Universities.
Joni Blake Parker '15 began serving earlier this month as the new general manager of the Greene County Partnership. Parker duties include fundraising, which she became familiar serving as the director of alumni relations at Tusculum College.
U.S. Air Force Airman 1st Class Richard A. Williams Jr. '15 graduated from basic military training at Joint Base San Antonio Lackland, San Antonio, TX. Williams earned distinction as an honor graduate. He is the grandson of Shirley Goodwin and nephew of Robin Rawls of Columbia.
Creighton Wilke '16 has signed with the Lincoln (NE) Saltdogs. The infielder participated in spring training with the professional team in the American Association of Independent Baseball. At Tusculum, he was a power hitter. In his senior season for the Pioneers, the first baseman hit .333 with eight home runs and 11 doubles. He knocked in 43 runs in 53 games.
Jennie Frost '17 has been selected to write for "The MFA Years." Frost will attend the Master of Fine Arts program in creative writing at Ole Miss in the fall.

Claude Fulton Simpson Jr. '70 of Roanoke, VA, passed away July 5, 2017.  His survivors include sister and Tusculum alumna, Ellen Simpson Deane '78.
Trustees
Tom Ferguson, who served as a member of the Tusculum College Board of Trustees from 1997 through 2014, passed away July 15, 2017, after a brief illness. Mr. Ferguson was former president and chief executive officer of the Greene County Partnership. He was instrumental in the formation of the Greene County Partnership after moving to Greeneville from Miami, FL, in 1992.
Hired to oversee economic development efforts for the community at a time of skyrocketing unemployment, he quickly formed a team of community leaders that created the unique concept of combining local non-profit organizations under one umbrella organization. Under the guidance of the team and Mr. Ferguson, the Chamber of Commerce, the Economic Development Board, the Tourism Department and Keep Greene Beautiful were combined to form the Partnership, with the Partners In Education entity, now called Education and Workforce Development, being added a few years later.
During his tenure at the helm of the Partnership, the community saw phenomenal economic growth with the location of 17 new industries and numerous industrial expansions that brought thousands of new jobs and hundreds of millions of dollars in capital investments, as well as the location of many new restaurants and businesses. Mr. Ferguson played a key leadership role in developing Mount Pleasant Industrial Park and Hardin Industrial Complex, and was involved in the location of such industries as Wal-Mart Distribution, DTR Tennessee, now called SRK Tennessee, Old Castle Building Envelope, Worthington Industries and John Deere Power Products, all of which remain among Greene County's largest employers. He worked with property owners to assist in bringing the General Morgan Inn and Conference Center into existence, and also helped lay the groundwork for developing the Fairgrounds Plaza and Crockett Crossing.
Among his many accomplishments was the initiation of a local community goals conference in 1993, which provided a forum in which all interested local residents could participate. This effort introduced numerous forward-thinking ideas to the local scene, including a semi-pro baseball team and a city administrator position in local government, both of which have become realities.
Mr. Ferguson led the Partnership for more than eight years before departing in 2001 to form his own business, Ferguson Development Network. He later served for 22 months as interim president for the Regional Alliance for Economic Development, Tri-Cities TN/VA, an organization responsible for marketing a 10-county region including Greene County, before returning to the Partnership in 2010 where he remained as the president/CEO until 2016.
He was affiliated with numerous local and state economic development organizations, having served on many of their boards through the years. Mr. Ferguson was a member of Greeneville Cumberland Presbyterian Church. Memorial gifts may be made to Tusculum College, P.O. Box 5040, Greeneville, TN 37743.