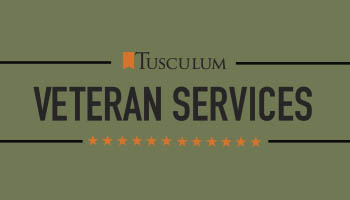 Tusculum Veteran Services is in search of a few good men and women who served our country and are Tusculum alumni.
The newly created office values the input of Tusculum's current and former student veterans as it works to organize events for current student veterans and alumni veterans, as well as build a distribution list to alert Tusuclum veteran students and alumni of programs and events of interest.  In addition to promoting the enrollment of veterans into Tusculum degree programs, the Office is responsible for coordinating the veteran services support program at all the College's campuses and sites. The office, created earlier this year, is also working to enhance and maintain outreach relations between Tusculum and military institutions, veteran associations and the surrounding Northeast Tennessee community.
To ensure you receive notices of activities, programs, and events, please contact Dale Laney,  director of veteran services at Tusculum, at dlaney@tusculum.edu, to be added to distribution lists.
In addition, any alumni veterans who would like to be involved in veteran support programs as they are developed, the office would appreciate your input and the sharing of your knowledge and experience as a veteran and Tusculum alumnus.