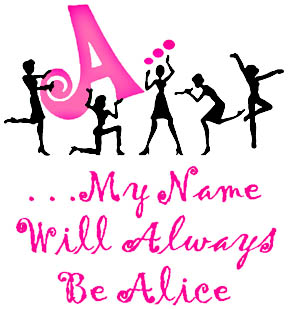 By popular request, Theatre-at-Tusculum will bring the "A . . . My Name Will Always Be Alice," the third show in the popular "Alice" series, to the stage Feb. 22-24 and March 1-3.
Conceived by Joan Micklin Silver and Julianne Boyd, this 1984 award-winning Off-Broadway musical revue looks at a variety of issues from a woman's point of view. The production will be performed at 7 p.m. on Fridays and Saturdays, Feb. 22-23, and March 1-2. Sunday matinees at 2 p.m. will be staged on Feb. 24 and March 3. All the performances will be in the Behan Arena Theatre on the lower level of the Annie Hogan Byrd Fine Arts Building (side entrance).
"A … My Name Will Always Be Alice" has 19 acts that range from naughty to nice, nostalgic to melancholy and thought-provoking to hysterically funny.
Fourteen acts will be new to audiences, providing food for thought, lots of laughs and maybe a few tears. Five of the acts are crowd-pleasers from previous "Alice" shows, including "Hot Lunch" and "Watching All the Pretty Young Men." With the mature nature of some of the numbers, this show is not recommended for children, but is aimed at community adults, Tusculum faculty, staff and students and perhaps a few sophisticated high school students.
A cast of 24 will bring each act to life and includes several well-known Greeneville actors and Tusculum students under the leadership of production director Marilyn duBrisk, Tusculum's artist-in-residence and director of the Arts Outreach program.
Angela Bride, Brian Ricker, Paige Mengel, Sandy Nienaber, Laura Dupler and Mike Lilly provide support for the 16 Tusculum College student cast members. Hannah "Faith" Rader will also bring her considerable talents to Theatre-at-Tusculum for the first time.
Tusculum students in the cast include Toni Bates, Maggie Bernabei, DeAundra Bowker, Jade Bussell, Michael Fernando, Ashley Fritz, Allison Harris, Austen Herron, Paige Hudson, Billie Jennings, Kayla D. Jones, Miranda Knight, Emma Murray, Bonnie Parks, Danielle Threet and Courtnay Vogel. The cast also includes former Tusculum student Kaci Norton.
In addition to duBrisk as the director, the production team includes Angie Clendenon, music director; Christopher Beste, accompanist; Suzanne Greene, stage manager, and Barbara Holt, costume director. Tusculum students are also working to build the set, designed by Frank Mengel, technical director of Tusculum Arts Outreach, and will be working backstage during the production.
Admission is $12 for adults and $10 for seniors (60 and over). For more information or to reserve tickets, please contact Tusculum Arts Outreach at 423-798-1620 or jhollowell@tusculum.edu.