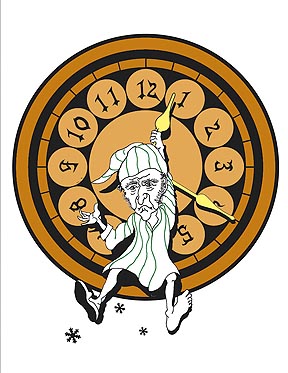 Theatre-at-Tusculum will bring Charles Dickens' beloved story of Ebenezer Scrooge, Jacob Marley, Bob Cratchit and Tiny Tim and its timeless themes of love, generosity and second chances to the stage in November.
"A Christmas Carol" will be brought to life on stage in the auditorium of the Annie Hogan Byrd Fine Arts Building on the Tusculum College campus at 7 p.m. Nov. 15-16 and 21-23. Sunday matinees will be presented at 2 p.m. Nov. 17 and 24.
While most everyone is familiar with the Dickens' classic, many may not be familiar with the Royal Shakespearean Company adaptation of "A Christmas Carol" that Theatre-at-Tusculum will bring to the stage and they are in for a pleasant surprise.
Against a background of songs and sounds, miserly Ebenezer Scrooge, played by local veteran actor Brian Ricker, meets the ghost of his old partner, Jacob Marley (played by another local veteran of the stage, Tom Sizemore). The show moves quickly from one adventure to the next.
The Royal Shakespeare Company first presented this particular adaptation in 1994. Sunday Times critic John Peter wrote that he found the production "… boisterous, sentimental and compassionate; fairy tale and social criticism; moral parable and family entertainment, appealing to the grown-up in children and the child in grown-ups."
Under the direction of Marilyn duBrisk, a diverse cast of 92 and backstage crew of 16, sweep the story forward through the past, present and future. A dramatic and original set, designed by Frank Mengel, provides a creative backdrop, while accompanist/composer Chris Beste will enchant audiences with both traditional and original music, as well as some very scary sound effects.
Providing the melodic segues for Scrooge's fantastic journeys are two choruses, one junior and one senior.  Traditional "Olde English" carols, rhymes and dances are planned to fill the audience with the Christmas Spirit.
Guaranteed to touch all who come to see it, this production aims to be a wonderful family experience, providing both tears and laughter.
Admission is $12 for adults, $10 for seniors 60 and over and $5 for children 12 and under.  For more information or to reserve tickets, contact Arts Outreach at 423-798-1620 or email jhollowell@tusculum.edu.