Graduating from Tusculum College during winter commencement were 232 individuals in two ceremonies held on Saturday, Dec. 9.
On Saturday 56 students earned Bachelor of Science degrees and 72 earned Bachelor of Arts degrees. In addition 69 graduates earned Master of Arts degrees, eight earned Master of Science degrees and 23 received Master of Business Administration degrees. Four students earned Associate of Arts degrees.
The new graduates were addressed by Dr. James Hurley, president of Tusculum, who recognized the hard work of the path to graduation, saying, "Today you will receive the diploma you have spent years to earn, and in so doing you will join the longest line of alumni in Tennessee."
He told the group, "Regardless of how long your journey has taken you, today is its culmination; the day you transform from a college student to a college graduate. And, we are here to celebrate you."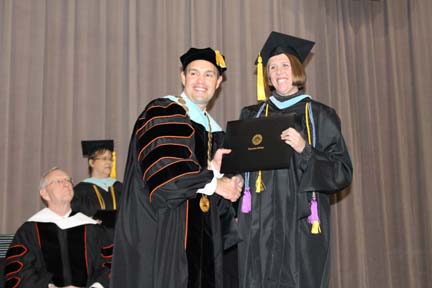 Speaking at the morning ceremony were graduates Macy French, who received a Bachelor of Arts in English with a creative writing concentration, and Mary Kris Lawson, who receive a Bachelor of Arts in interdisciplinary studies.
French has been featured in Connotation Press, DASH Literary journal and the Oakland Arts Review. She is a member of the Honors program, Alpha Chi National honors Society and is current staff director at Sundress Publications.
French challenged her fellow graduates to no longer tolerate the status quo. "As graduates we are given immense privilege and responsibility to question the world as we know it."
She added, "Tusculum uniquely prepares students to work on mutual goals together and to think beyond the context of self." Adding, "The real work is only beginning."
Lawson previously owned a small business and taught preschool for 14 years, before relinquishing those duties to begin student teaching this past August. She is passionate about teaching and looks forward to making a difference in the lives of elementary school students.
Lawson told the audience that she never thought of herself as college material, and only made the leap to get her college degree after watching her husband successfully complete the program at Tusculum.
"I've met people that I will never forget," she said. "My life has been enriched in so many ways because of my experience with Tusculum; I am a better person because of my journey here. Let me say thank you from the bottom of my heart to each of you that assisted me while achieving my dream, I could not have done it without you."
Speaking during the afternoon ceremony was Nick Forsberg, who received his master's degree in talent development. Forsberg also received his bachelor's degree in sport management from Tusculum. He is passionate about community service and the Make-a-Wish foundation. Under his guidance, the student-athletes involved in the Pioneer Student Athlete Advisory Council have raised more than $9,000 in the last two and a half years, making Tusculum the top fundraising member in the South Atlantic conference in two of the last three years.
Forsberg shared advice for success after graduation. "Be yourself – be who you are," he said, adding that taking chances and not being afraid to fail leads to growth. "If you fall, fall forward." He added "You don't have to look very far to find someone who has it worse than you. Be grateful for that." He encouraged the graduates to hold themselves to a higher standard and to "put God first in everything you do."
During the afternoon ceremony, John Fisher was presented an Honorary Doctorate of Human Letters for many years he has "demonstrated his love for Tusculum College through his noble works that honor and compliment the style and architectural tradition of the central historical campus."
Fisher's legacy to Tusculum College includes the Niswonger Commons where we gather today, the beautifully renovated Thomas J. Garland Library, the several apartment-style dormitories, the football stadium, Pioneer Park, the Knoxville Regional Center, and most recently the phenomenal academic building, the Ronald H. and Verna June Meen Center for Science and Math.
Fisher's impact to the community, the region, and the country go way beyond Tusculum's campuses. These include the Greeneville High School, renovations creating the General Morgan Hotel and Conference Center, Greeneville's Walters State Community College building, The Niswonger Performing Arts centers in Greeneville, Tennessee and Van Wert, Ohio, and the Niswonger Children's Hospital in Johnson City.
On the East Tennessee State University campus John's credits include Governors Hall, Centennial Hall, the Bill Gatton College of Pharmacy, the College of Medicine Student Center, and Buc Ridge II, III, and IV.  John was also on ETSU design teams for The Campus Green, the Soccer Complex, the Football Stadium, the Performing Art Center, the Parking Garage, and the Culp Center Renovation.
On the Purdue University campus John is responsible for the Administration Building of the Aviation Technology Program and Purdue's Flight Simulation Building.