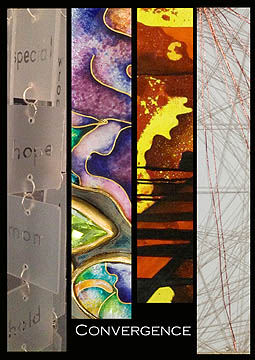 "Convergence," an exhibit of the artwork of four Tusculum College alumnae who represent 40 years of the college's Art and Design program, is currently on display at the Allison Gallery.
A convergence of these four artists, the exhibit represents the passing of the torch from generation to generation. Featured are artworks by Wanda Rahm, Elizabeth Saville, Brooke Wedding and Pamela Williams. As students, these artists were under the tutelage of professors Clem Allison (for whom the gallery is named), Michael Taylor, Tom Silva, Lou Haney, Keith Herrin, Dr. Deborah Bryan and Aurora Pope.
The exhibit will be on display through Nov. 19. A closing reception will be held from 4 – 6 p.m. on Monday, Nov. 11. A special program has also been scheduled for 4 p.m. on Nov. 15, when artist Wanda Rahm will discuss her work. This program will be an arts and lecture credit program for Tusculum students.
Rahm, a 2005 graduate of Tusculum with a degree in art and design and museum studies, has had her work featured locally at the JamesBen Gallery, the Niswonger Performing Arts Center and at the Nelson Gallery in Johnson City.  She currently lives in Afton with her husband and children.
"My recent work is heavily process oriented with its impetus grounded in controlled chance operations," she said. "Since the process dictates, or informs, the product, when a narrative does emerge, it does so organically out of conversation between the canvas and my conscious and subconscious selves. During the process my fundamental concerns involve the push and pull between positive and negative space and the dynamics of color and shape relationships."
Elizabeth Saville is a 1972 Tusculum graduate who lives in Greeneville. Her cloisonné jewelry is on display in downtown Greeneville at ArtSpace 4 gallery.
"Since childhood, I have loved drawing," Saville said. "I became attracted to cloisonné because of the ability to draw with gold wire and firing color into the forms that are defined by the wire. I am fascinated by human fantasies, everyday activities and relationships. These events are the sources of my imagery and excitement for life. I use female and animal forms performing the small but monumental rituals of life. Everyday pleasures such as reading, gardening, sharing a meal or tea, human and animal interaction become my inspiration for cloisonné."
The work of Brooke Wedding, a 2010 graduate from the college, has been featured previously in the Allison Gallery. Most recently, her work was part of the "Rock, Paper, Scissors" exhibit on display last November in the gallery. She is a graduate assistant at East Tennessee State University where she is in her final year of study in the masters of fine art program in graphic design. Wedding has lived in Greene County with her husband and two children for more than 12 years.
Pamela Williams graduated from Tusculum in May and is working as a cultural arts coordinator and exhibiting her work in six galleries. She is enrolling in a traditional blacksmithing school and working on a woodworking collection.
The Allison Gallery is open daily from 3:30 – 5 p.m. Monday through Friday. Private viewings are available by appointment. The gallery is located on the first floor of the Rankin House, which is located across from the main campus beside Three Blind Mice on the Erwin Highway.