More than 100 people turned out for groundbreaking ceremonies for two new residence halls at the Greeneville campus of Tusculum College.
Representatives from the college, from the U.S. Department of Agriculture and the community participated in the groundbreaking event held Saturday, February 9.
According to Tusculum President Nancy B. Moody, the residence hall projects are on track to be completed for student occupancy in August of this year. This is a direct result of a $6 million Community Facilities direct loan from the USDA's Rural Development Office.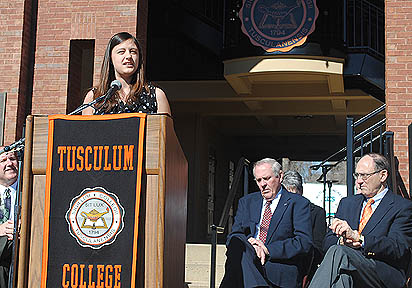 The project will include two new apartment-style residence halls located on the Gilland Street side of campus near the four existing apartment-style residence halls.
"Tusculum College and Rural Development share a common goal; providing opportunities for Tennesseans to succeed," said Rural Development Area Director Joe Woody. "This partnership has allowed us to focus our efforts on expanding those opportunities across Northeast Tennessee quickly."
Dr. Moody added, "We are celebrating the continued growth of Tusculum College. We are celebrating our vibrant, diverse student population, and we are celebrating the Tusculum experience shared by students today as well as our alumni from the past 219 years.
"Residence hall space has been a pressing need for the college for the past few years, as we have had to be creative with student housing due to more than 100 percent occupancy rates. With record on-campus living numbers we have utilized every resource available to us, including increasing the occupancy in existing residence halls and utilizing off-campus housing. These new residence halls will provide additional on-campus housing to accommodate the many students who want to live on campus."
Cierra Ockstadt, a junior accounting major from Portland, Tenn., said, "It is very exciting to see growth on the Tusculum campus. The new residence halls are a current need. As students we are very happy to see this project underway.
She added, "A healthy Tusculum College is good for the community and the region. The College serves as an economic development stimulant, increasing the sales potential for new companies considering the area and creating an educated and engaged population to continue the development of our community."
The residence halls are expected to be ready for occupancy by August and will accommodate 120 students. Local architect John Fisher is the designer and Burleson Construction is the general contractor on the project. First Tennessee Bank is providing the construction financing.
"Construction is the most visible sign of an institution in good health," said Kenneth A. Bowman, a 1970 graduate of Tusculum College and Chair of the Tusculum College Board of Trustees. "It shows we have a student population that has grown over the past several years and is currently thriving on our campus. The Board is pleased with progress and direction of Tusculum College and we are excited to work with President Moody and cabinet, faculty, staff and students to keep this momentum alive, well into the future."
Tusculum College, the oldest college in Tennessee and the 28th oldest in the nation, is a liberal arts institution committed to utilizing the civic arts in developing educated citizens distinguished by academic excellence, public service and qualities of Judeo-Christian character. Approximately twenty-one hundred students are enrolled on the main campus in Greeneville and three off-site locations in East Tennessee. The academic programs for both traditional-aged students and working adults served through the Graduate and Professional Studies program are delivered using focused calendars whereby students enroll in one course at a time.
USDA Rural Development invests in jobs, infrastructure, community development, homeownership and affordable rental housing to improve the economic health and increase opportunities in rural communities. During the last four years the agency has assisted more than 1.5 million Tennessee families and businesses in 158 communities, investing more than $3.3 billion into local economies through affordable loans, loan guarantees and grants.
For more information on Rural Development programs available in Northeast Tennessee contact the Rural Development Area Office in Greeneville at 423-638-4771, ext. 4, toll free at (800) 342-3149 ext. 1490 or online at www.rurdev.usda.gov/tn.