Student excellence in academics and service were recognized during Tusculum College's annual Honors Convocation Thursday, April 25.
The two top honors for students presented by the College are the President's Award and the Bruce G. Batts Award. Luis Zamora, a native of Santiago, Chile, was presented the President's Award and Billie Jennings of Mountain City, was presented the Bruce G. Batts Award.
President's Award
The President's Award is presented to the graduating senior who has contributed the most to the College and who has been the most outstanding achiever in the combined areas of academic work, athletics, campus leadership and personality. The selection is made on the basis of the student's total four-year record at Tusculum.
Dr. Nancy B. Moody, president of the College presented the award to Zamora, who is majoring in business administration with a double concentration in general management and economics and international economics with a minor in civic engagement.
Active on campus throughout his four years as a student, he is one of the founding members of the Help Me Help You program, an international non-profit organization that brings small businesses and entrepreneurs together with students to provide needed services to the owners and allow students to apply the skills and knowledge they are learning in the classroom. The program has been recognized by the Clinton Foundation for its impact on the region as well as global community.
In addition, Zamora is one of the founding members of an outgrowth of the program, the Center for Economic Development and Entrepreneurship, which is composed of seven divisions and more than 20 programs geared towards helping satisfy business-related needs and interests of small business owners, students, entrepreneurs, individuals and family members. He is a resident assistant, was a founding member of the Study Abroad and Global Awareness student organization and led the Bonner Leader student service organization as its director and Bonner senior intern.
Zamora is a former captain of the Pioneer Men's Tennis Team and has been named a Capital One Academic All-American. He has excelled academically, regularly being named to the College's honor roll lists and receiving the award of Academic Freshman of the Year in 2009-10 and the Duffield Award in 2010-11 for being the student-athlete with the highest grade point average.
The Walter R. Johnson Award and a Senior Honor Key Award for economics and international business were also presented to Zamora. The Senior Honor Key Awards recognizes students not only for academic achievement in their chosen field but also their capacities, special abilities and aptitude in their major field.
The School of Business changed the name of its award to recognize an alumnus of the College who has achieved success in business as well as been involved in service to the community. Walter R. Johnson is a 1971 alumnus who has been the head of companies in Alabama and Tennessee, served his alma mater as trustee and been involved in several community organizations. Johnson, who attended the ceremony, said he met Zamora a few years ago when the student was seeking his opinion of an idea he had to help community businesses.
In recognition of his work in the Bonner Leader student service organization, Zamora was presented the Bonner Leaders Program Award. This award is presented to a student in the program who has exhibited long-term dedication to the six key Bonner program commitments – community building, civic engagement, diversity, international perspective, social justice and spiritual exploration.
Batts Award
Presented in memory of a beloved educator at Tusculum who helped define the college's civic arts curricular focus, the Bruce G. Batts Award is presented to a student who clearly demonstrates the qualities that reflect the civic arts ideals.
This year's recipient has been active on campus throughout her years on campus. Jennings, who is majoring in English with a concentration in creative writing, is a student editor of The Tusculum Review, the campus literary journal. She has been active in the theater program, appearing in leading roles in several plays on campus. This past year she was part of the group of students that studied abroad in Barcelona, Spain. After graduation, she plans to continue her education and has been accepted into the Master of Fine Arts program at the University of Tennessee.
Jennings is a member of the Tusculum College Honors Program. She was also honored during the ceremony as the 2013 Honors Olympian as the Honors Program student who best exemplifies the ideals of Tusculum through academia success, civic engagement and service to the community. She has been consistently named to the Dean's List and the Charles Oliver Gray list for academic excellence.
The Senior Honor Key Award in English, creative writing concentration, was also presented to Jennings. The honor recognizes students' academic achievement, capacities, special abilities and aptitude in the major field. She also received the Theatre Arts Award, presented to students who have demonstrated outstanding support to the Theatre Arts at Tusculum, exemplary talent and dedication.
Student-Chosen Awards
Presented during the convocation were faculty, staff and community awards whose recipients were selected by student vote. Receiving the Outstanding Service to Students Award, a faculty honor, was Dr. Michelle Freeman, associate professor of business administration.
In presenting the award on behalf of the Greene County Partnership, Dr. Alan Corley said that "motivating, challenging, and compassionate" are among the words that students have used to describe Dr. Freeman. Known for her willingness to help students, Dr. Freeman is also a leader on campus, having served as faculty moderator and on several administrative committees.
The Staff Award was presented to Bonnie Weston, senior student life coordinator. As a student who came from Memphis to Tusculum, Student Government Association
President Steven Hollingshead said he has found staff members provide needed support for students in the absence of nearby family. Weston has been one of the staff members who is willing to help students and provide that support and has made a significant positive impact on his life and those of numerous other students.
The Community Award, which is presented to an individual, organization or business which has made a significant contribution to the Tusculum campus community,  recognized Creamy Cup and owners Eric and Lynette Price. The couple were among the participants in the first semester of the Help Me Help You program and have continued to be supportive of the program. They have also participated as vendors in the 2012 and 2013 Old Oak Festivals. Eric Price is a 2008 alumnus of the College.
Academic Honors
Senior Honor Key Awards were presented to students who have earned a 3.25 grade point average or higher in their major, shown achievement and aptitude in the major and possess strong character.  The following are the award recipients and their degree programs:
Art and Design – Pam Williams of Elizabethton;
Accounting – Beth Anne Collins of Greeneville;
Athletic Training – Erica Pomona of Pauline, S.C.;
Biology  – Cory Callahan of Bristol;
Digital Media – James Cox of Greeneville and Sarah Waddell of Cosby;
English Education 7-12: Joshua Davis of Sharps Chapel;
English, journalism and professional writing concentration – Jonathan Nash of Talbott;
English, literature concentration – Cheyenne Hartman of Louisa, Va.;
Film and Broadcasting – Ben Spillner of Greeneville;
General Management – Samantha Underwood of Muncie, Ind.;
History – Samantha Lyons of Rogersville;
Interdisciplinary Studies K-6 – Alyssa Raterman of Urbana, Ohio;
Mathematics – Alex Wiedemann of Rogersville;
Mathematics, computer science concentration – Tyler Bright of Limestone and Beth Wright of Powell;
Mathematics Education, 7-12 – Laura Rees of Kingsport;
Museum Studies – Sandy Salmons of Greeneville;
Physical Education – Lindsey Bridges of Knoxville;
Political Science – Vinton Copeland of LaGrange, Ga.;
Psychology – Kate Barford of Alpharetta, Ga., and Jenny Grant of Franklin;
Psychology Education – Joy Beeler of New Tazewell;
Sport Management – Andy Goellner of Denver, Colo. and
Sports Science – Taylor Patterson of Lexington, S.C.
Recognized as Honor Students for having the highest grade point average of their class were:
seniors – Jennifer Grant of Franklin; Tyler Bright of Limestone; Alex Wiedemann of Rogersville; Beth Anne Collins of Greeneville; Danielle Doolittle of Evansville; Samantha Underwood of Muncie, Ind., and Billie Jennings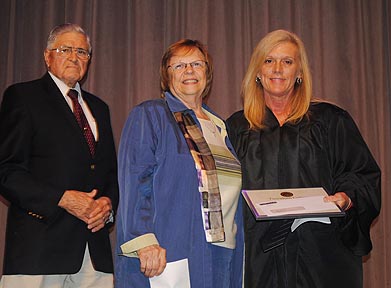 of Mountain City.
juniors –  Ryan Byars and Sarah Clabo of Sevierville and Robert Arwood of Unicoi;
sophomores –David Cooper of Greeneville; Lukas Winkelmann of Boeblingen, Germany; Nicholas Wasylyk of Mississaug, Canada, and Lief Ratliff of Fall Branch.
freshman – Samuel Davis of Harriman; Zoe Holcomb of Knoxville; Calley Lawson of Gaithersburg, Md.; Shane Lawson of Talbott, Konstantin Olie of Berlin, Germany; Troy Owens of Newnan, Ga.; Britney Turner of Morristown and Sophie Webster of Jefferson City.
Senior members of the Alpha Chi National Honor Society were also recognized. Upperclassmen ranked in the top 10 percent academically of their classmates are invited to join the honor society. Recognized were:
Christopher Armstrong of Grandview;
Cory Callahan of Bristol;
Beth Anne Collins of Greeneville;
Danielle Doolittle of Evansville;
Andy Goellner of Denver, Colo.;
Jenny Grant of Franklin;
Paige Hudson of Hixson;
Billie Jennings of Mountain City;
Kayla Jones of Jonesborough;
William Kemper of Greeneville;
Erica Pomona of Pauline, S.C.;
Alyssa Raterman of Urbana, Ohio;
Sandy Salmons of Greeneville;
Ben Sneyd of Greeneville, formerly of Erwin;
Samantha Underwood of Muncie, Ind.;
Sarah Waddell of Cosby;
Alex Wiedemann of Rogersville, and
Luis Zamora of Santiago, Chile.
The Alpha Chi Academic Excellence Award, which honors the highest academically ranked member of the junior class, was presented to Sarah Clabo of Sevierville, Tenn.
Four students inducted in the Tusculum College chapter of the Psi Chi psychology honor society were recognized. They were April Poitras of Chuckey, Bridget Conte of Chattanooga, Russell N. Matthews of Morristown and Thomas J. Bitner of Chuckey.
Students who were chosen for the 2013 Curtis and Billie Owens Literary Prizes were honored. Students submit original, creative works in the annual writing competition. Ben Sneyd of Greeneville, formerly of Unicoi, won in the poetry and nonfiction categories. J. Phillip Reed of Florence, S.C., won the fiction category. Both this year's winners have had their works published in numerous literary journals and both have received fellowships to attend graduate school. Sneyd has received a fellowship to attend Central Arkansas University and a position on the staff of Oxford American magazine.
Reed has received a fellowship and tuition scholarship to attend Washington University in St. Louis.
The Dr. Shirley Beck Award for an outstanding Master of Arts in Education major was presented to Darla Laudermilk of Knoxville. In one of her academic projects, Laudermilk worked to make students more aware of the services provided by the ARCHES program to help working adult students in their studies.
The Outstanding Education Student Award was presented to Angela Hilton of Church Hill.
Jacqueline Waddell of Greeneville and Tammy Leopper of Clinton were presented the Jean Hixon Memorial Award, named in honor of a long-time member of the Graduate and Professional Studies staff. Hixon's sister Anne Hall and her husband, James Hall, presented the award. The award recipients are chosen by Tusculum faculty as students who have demonstrated academic achievement with a GPA of 3.50 or better and dedicated community service.
The E.H. Sargent Award in Science was presented to Adam Brown of Ripplemead, Va. In choosing the recipient, science faculty members consider overall grade point average, total hours in science and variety of areas covered in the sciences.
A new award was presented in the area of sciences and mathematics. The Barnett, Conley and Davis Award in Natural Sciences and Mathematics honors Dan Barnett, associate professor of chemistry; Ron Conley, associate professor of mathematics and Dr. Robert Davis, professor of biology, who have exemplified teaching excellence during their combined 100 years of service to Tusculum. All three professors are retiring at the end of the spring semester. Alex Wiedemann of Rogersville received the award, which is reserved for a graduating senior outstanding in the combined fields of natural sciences and mathematics. The award is based on overall GPA, science and math GPA, depth of interest in science and math and academic service to the college such as tutoring and/or research.
Kristen Lane of Maryville, was the recipient of the Doug Ratledge Environmental Science Scholarship. The scholarship is awarded to an outstanding student majoring in environmental science or the field guide naturalist program.
The Theatre Award was given to Allison Harris of Franklin for her participation and dedication to the theater program at Tusculum College.
Paige Hudson of Hixson was the recipient of the David Behan Award for her contributions to the theater program. Hudson has appeared in productions, worked backstage with a variety of responsibilities and served as backstage manager during her senior year.
The Tennessee Association of Health, Physical Education, Recreation and Dance Outstanding Major Award is selected by the physical education faculty and was awarded to Alyssa Carrino of Greeneville.
The National Association for Sport and Physical Education Award was presented to Kim Brown of Scarborough, Ontario.
The Pinnacle Award for highest scores on annual comprehensive examinations taken by athletic training education majors was presented to Carol Hogan of Pelham, Ala.
Service Awards
The Service-Learning Award was presented to Vinton Copeland of LaGrange, Ga. Copeland, who is a political science major with a minor in civic engagement, has been an active student leader on campus. He is a member of the President's Society, serves as a resident assistant and started the Students for Christ Gospel Choir on campus, which has performed in local churches as well as in college events. He has served as vice president of the Student Government Association.
Recently, he coordinated an interfaith forum on campus to discuss such issues as the role of the church in the community, how churches can work together, how youth can be engaged more fully in the life of the church and how Tusculum students can become more involved in local churches. About 60 people attended the forum, which included a panel discussion of seven local church pastors and lay leaders and breakout session involving all the participants.