Tusculum College ranked in the top 20 Tennessee schools for top return on investment as ranked by AffordableCollegesOnline.org. The organization rated 185 higher education institutions in the state.
AC Online identified the Tennessee colleges and universities with the greatest lifetime return on investment. Graduates from these schools enjoy the largest earnings gap between non-degree holders over thirty years, and earn more on average than graduates from other Tennessee schools.
"Tusculum College offers a solid education and foundation for a career that will pay dividends for years to come. Our students are both prepared for graduate programs and the workforce and that is reflected in the AC Online ranking," said Dr. Nancy B. Moody, president of Tusculum College.
"These are important lists for prospective students to consider," says AC Online founder Dan Schuessler. "We've sifted through comprehensive data sources to find colleges and universities in Tennessee that offer a high quality education with consistent, long-term payoffs in the workplace."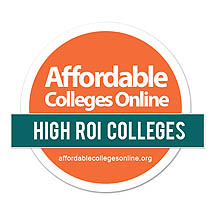 Criteria included for consideration for listing on the High ROI College list include being a fully accredited institution, could be either public or private, were four-year, degree-granting institutions, a ROI ratings on the 2013 College Value Report by PayScale.
"There are so many considerations when choosing a college home,' said Dr. Tom Stein, vice president of enrollment management at Tusculum College. "Considering value is a critical component. When you choose Tusculum College, it is an investment you make in the rest of your life."
AC Online compiled a list of schools meeting these criteria by using data sets from the National Center for Education Statistics, the Integrated Postsecondary Education Data System, the Carnegie Classification and PayScale.com's College Value Report.
"We aim to educate so that potential students are aware of their options for obtaining a degree and, most importantly, for paying for one," says Schuessler.