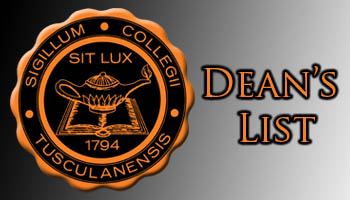 The Tusculum College academic honors lists have been announced for the spring 2014 semester.
Tusculum College students are recognized for their academic achievement through three academic honors lists.
The Dean's List includes full-time students who have earned a 3.5 grade point average or higher during a semester.
The President's List includes those students who have earned a 4.0 grade point average during the semester. These students are also included on the Dean's List.
The Charles Oliver Gray Scholars List recognizes students who have been named to the Dean's List for two or more consecutive semesters.
Below are the listings for the the spring 2014 Dean's List for the Residential (traditional) program and the Graduate and Professional Studies program for working adults. Students named to the President's List are denoted with an *. Those who are listed on the Charles Oliver Gray Scholars List are noted with a +.
Spring 2014 Residential Program Dean's List
James Lee Abbott+
Corrine Amelia Absher
Cynthia Paige Adkins+
Irim D. Aiken
Brian J. Alexander+
Andrea Jane Amettis
Benjamin A. Arnold+
Cheyene Leigh Arnold*+
Robert Britton Arrowood*+
Grace Ann Rose Arthur+
Nicole C. Arthur+
Juan Avendano Granda+
Sarah Ann Baker*+
Angela Nicole Ball
Toni Lyn Bates+
Elizabeth Ashley Bell
Patrick Allen Benson
Hannah Marie Berling+
Maggie Leigh Bernabei+
Emily Rae Bernin
Paige Nicole Bible
Thomas James Bitner+
Deaundra Pauline Bowker+
Andrew Tyler Bown*
Cheyenne Renee Bray
Katelyn Marie Brennan*+
Ashley Caroline Brooks
Kim Caroline Brown+
Alison Mae Buck+
Paige Buirch
Blakeley E. Burleson
Christopher Diquone Burns+
Justin Burnworth+
Lindsay Ann Butler
Ryan James Byars*+
Zachery Allen Carlson+
Callie S. Casteel*
Katharine Marie Chadwick
Mitchell Frank Lewis Chapman
Warren Henry Cheney
Sarah M. Clabo*+
Elizabeth Gail Coberly+
Denise Nicole Coffey+
Aisha Noelle Collins
John Zach Conlon+
Cynthia J Conte
David W. Cooper*+
Jacob William Countiss+
Tripper Denby Crisson+
Alec Cunningham+
Jarrod Daniel Cupp
Ricardo Alexandre Rodr Da Silva+
Eliza Lucille Davis+
Samuel George Davis*+
Derrian Danielle Debusk*
Kyle Joseph Dickson
Ashleigh Rose Dorrbecker+
Samantha M Durham+
Samantha Elizabeth Eldridge
Madilyn Joyce Elliott+
Joseph Elphingstone+
Brandon Joshua Evans
David Hamilton Fernandes
Hettige Joseph Michael Ruksha Fernando*+
Lia Theresa Fiore+
Lindsay Nicole Firster+
Thomas Codie Fleming+
Nicholas Larry Forsberg+
Kelsey Lynae Freeman+
Jennifer Michelle Frost+
Kaela MacKenzie Gardner+
Rachel Eileen Garnett*+
Zachary Joel Gass+
Sean Michael Gilbane
Megan Niquole Gililland
Kayla Leigh Gillispie+
Elizabeth Dawn Gray
Ashley Danielle Gregg*+
Amanda Marie Grempel+
Courtney Danielle Hackney+
Brock Daniel Hakalmazian
Carolee F Hale
Allison Marie Hall+
Macey Leann Hance+
Addie M. Hancock+
Edward Oliver Moore Hancock+
Paris Tanashia Hardnett
Shaquita Renee Harris*+
Tamara Denee Harris*+
Michala Katherine Hash+
Megan K Hasse*+
Mamie Britt Hassell+
Victoria Emily Hayes+
Logan Michael Haynes
James Owen Hensley+
Kristin Marie Hensley
Rachael Bethany Hensley
Dameon Franz Herring+
James Cameron High
Victoria Lael Hill+
Mindy Lee Hirsch
Carol Elaine Hogan
Zoe Elizabeth Holcomb+
Sarah Elizabeth Holly*+
Jacenta Chyeata Holtsclaw+
Kelly M. Horrell
Sara Chesnee Howard
Courtney Lynn Hutcherson
Katherine Grace Hutchinson+
Courtney Nicole Hux
William A. Jennings
Tyler Lynn Jinks
Jeffrey Tyler Johnson*
Martin Dan Jorgensen*+
Devon Aliva Justice+
Kristen C. Kelley+
Staci Nicole Knipp*+
Katheryn Michelle Kolodi
Alixandria Kruel
Pablo Laguna+
John Landers*+
Dustin Benjamin Lane
Kristen N. Lane*
Zachary Aaron Lane+
Bailey Nicole Lawson
Calley B. Lawson*+
Guillermo Lazcano Carrera
Lindsey Danielle Lewis+
Irene Inez Librado
Isiah Maurice Lyman
Yared W. Mamo
Miriah Elizabeth Martin*+
Chelsea Rene Masters
Russell Neal Matthews+
Melissa Raye Mauceri
Kelli Lynn McCalla+
Kristen Renee McMillion+
Craig R. Mills
Erin Ashley Mills*
James Curtis Moneyhun+
AAliyah Jada Montgomery+
Amy Leigh Morford+
Matthew James Moyer
McKayla Grace Myers*+
Jonathan Michael Nash*+
Amy Michelle Neltner+
Jacob Amiel Norris+
Dakota Lee Norton
Jonathan Ryan Norton
Hilary Grace Ann Nowatzki
Cierra R. Ockstadt+
Theodore C. Oing*+
Victor Olin+
Matthew Alan Olson+
Erin Christian Osborne+
Jordan Lynn Ottinger*+
Georgia Paturalski
Carly Jeanette Payne
Shaveen Perera+
Monica F. Perez
Jalesa Janae Perkins
John Perrucci+
Matthew Ralph Pierce*+
Roberto Pimentel+
Nicolas Planchard+
Leah Katelyn Powell
Bailee Lynn Price*+
Alisha Jean Pugh
Erica K. Ramsey+
Bryan Alonzo Ransom
Leif B. Ratliff*+
Tiffany L. Rednour*+
Chelsey Brooke Reed+
Jenna Marie Restivo
Leneice L. Rice+
Allyson Kathleen Rines+
Jeffrey Daniel Roberts
Jennifer P. Rossiter*+
Jamie L. Rossman*+
Ashley Nicole Sarmiento*+
Norman Cody Sauceman+
Jeffery Donovan Scott+
Michael Douglas Scott
Leon Seiz+
Tynan L. Shadle+
John-Austin Shepard
Roxanne Inez Shepard
Emily Grace Shipsey+
Zachary S. Shirah+
Melanie Renee Sigman
Jessyca Regina Simerly+
William James Sivyer
Christopher John Smith+
Garland Taylor Smith
John James Paul Smith+
Paige Nicole Sneed+
Gregg Aze Southerland
Perry Akeem Sparks
Jonathan Spicher*+
Danae K. Stauffer*
Kaytlin N. Stroinski+
Shannele Marjorie Sunderland
Meagan Elizabeth Talley*
Darian Dale Tipton+
Britney Nicole Turner+
Stephanie Marie Turner
Kassandra Marie Voelker+
Samantha Jean Vogt+
Rebekah Grace Voiles
Hung Jeremy Wagner
Alexandria Robin-Jean Walker+
Brooke Ellen Wallin
Courtney Lynn Ward
Jason Isaiah Ware
Nicholas Alexander Wasylyk*+
Emily Christine Waters+
Christopher Glenn Weems+
Victoria Kailand Weiss
Angel E. West+
Carly Leeanne White*+
Dorothy Shynese Whitener
Brad Michael Wight
Andrea Len Wilcox+
Ona Elisha Lynn Wilder+
Donna Nicole Wilkerson
Marissa J. Williams*+
Zachary James Williams+
Dawn Marie Winchester
Destini Shea Wingerter*+
Lukas Eiko Winkelmann+
Erica Denise Worrell+
Morgan Nicholas Wright
Rebecca Sue Wynne+
Dakota Lee Younce
Jeffery Tyler Yount
Spring 2014 GPS Dean's List
Margot Elizabeth Abbott*+
Janet De la Caridad Acosta*+
Natalia Acosta+
Brett Michael Adams+
Scott Eugene Adams
Melissa Ann Alsip*+
Lisa Nachelle Anderson+
Robert Alexander Anderson
Kellie Marie Armstrong+
Rena Belle Arwood+
Michelle M. Autry+
Steven Leighton Ayers+
Tori Nicole Bacon
Jaime Nicole Bagwell
Ashley Diane Barger+
Melissa Anne Batson*+
Candace Angelique Baxter
Christine M Bealer+
Morgan Leschae Beckler+
Gregory Dale Belcher+
Brittney Sue Bellars+
Shelly Louise Biddinger+
Adam James Bishop
Danielle Nichole Bishop
Aretha Paige Blizzard+
Matthew David Bosse
William Scott Bowman
Fredrick Eugene Brabson+
Jennifer LeeAnn Brackett
Carrie Bradley+
Mindy Dawn Bradley
Kathryn Elizabeth Branam+
Ashton Brannon*+
David M Breeden+
Stephanie Michelle Brennan+
Crystal Dawn Brewer
Nykaya Lea Britton+
James Derek Brock*+
Terry Dean Brooks+
Charles A. Brown
David Bryan Brown
Jennifer Jeanne Broyles
Joshua Adam Broyles
Megan D. Bruce
Victoria Jacqueline Bryant+
Keith Chrisopher Buch
Seth Jay Bull
Lara Gail Burchfield*+
Peggy Jill Burgner*+
Samuel Lee Burke*+
Linda Gail Burton+
Judith Cahansa Butler
Barbara Michelle Buxton
Carrie Chae Cagle+
Jeffrey David Campbell*+
Misty Davis Campbell+
Dustin Michael Cansler*+
Emily Beth Carroll+
Felicia Waynette Carter*
Heather Lynn Carty+
Ashley Carver+
Sarah Marie Cedillo+
Erika Marie Chamberlin*+
Yvonne Sue Champlin+
Nathaniel Ross Chandler
Brent Eugene Chapman*+
Cynthia Michelle Chesney
Floyd Alden Cheyne+
Seongja Song Chung
Adam Wayne Clair+
Charlene Susie Clark
Morgan Gail Clark*
Katie Lee Clendenen+
Casey Lynnice Cline*
Candace Lee Cody+
Nathan Dale Coffman
Mandy Lachelle Colburn+
Linda Darlene Coleman*+
Kody Elizabeth Collingsworth*+
Hannah Sidney-Nicole Collins
Paula Renee Conley
Mary Beth Connard
Angela Nicole Conner
Jennifer Ann Conner
Kimberly Michelle Cook
Sarah Allison Cookenour
Amber Lawson Cooper+
Mark Houston Copas
Heather Natasha Cope
Tresa Rae Cowell+
David Michael Cox+
Lacci Nicole Cox+
Michael Adam Cox+
Olivia Cox
Stephanie Lynn Cox+
Tara A. Cox+
Timothy Scott Croft*+
Charlene Artemisa Crosby
Casey Renea Cummings*+
Susan Kaye Cutshall+
Kristen Marie Dalton+
Lindsey Nicole Daniels+
Angela Ruth Daniels-Taylor
Jamie Davenport+
Heather D. Davis+
Kelly Frances Davis+
Kayla Gabrielle Dearstone
Jamie Elizabeth Depriest+
Joy Sabrina Devault
Logan James Disney
Athena Dison
Kelsey Danielle Dockery+
Sara Len Douglas
Jessica L. Drinnon+
Stanley Edward Drozdowski+
Carolyn Sue Dudek*+
Amber Christine Duke*+
Brittney D. Dye
Matthew Shane Dyer+
Emily Rebekah Elkins*+
Melissa Jeannette Emerson
Robert Patrick Espinoza
Stormi Heather Estep+
Donna Carol Ewing+
Maria Rose Farnham+
Lisa Josephine Feezell+
Kristoffer Mykell Fernandez
Hayley Elizabeth Fields+
Brian Wayne Fletcher
Elizabeth Jean Fletcher
Nichole Marleah Fletcher
April Suzanne Floyd+
Logan Brian Foust
Rachael Beth Foust+
Gary Allen Fryman
Daniel John Gagnon
Marty Beth Gamble*+
Katrina Melissa Garcia*
Angela Gibby*
Haley Lynn Glandon+
David Allen Glasscock+
Tiffany Marie Golden*
Joel Gosnell
Mendy Lynn Goss+
Trisha Lear Gossett*+
Tyler J Govert+
Michael Anthony Graves
Jill Annette Grayson*
Heather Elaine Greene+
Kristy Gail Greene+
Emily Greenier+
Christian Grumbach+
Debra A. Hall+
Jeremy Allen Hall
Michael Harry Hall*+
Christie Lynn Hamlet*
Laurie Denise Hannah+
Matthew Joseph Harrell
Ronda Kay Harrell+
Cecil Leroy Hartline+
Karen Jane Hatfield+
Jonathan Hayes
Lindsey Brooke Hayes*+
Valerie Leeann Heater*+
Eric Lee Henderson
Todd Raymond Henrich+
David Lynn Hensley
Robin H. Herbert+
Brent Aaron Hickman
Ruth Ann Hickman*
Richard Tyler Hill+
Timothy Andrew Hill*+
Amy Darlene Hinkle
Eric Lynn Hinkle
Emily Nicole Hodge
Traci Leann Hodges+
Maggie Danielle Holbert+
Zachary Hunter Holcombe+
Steven Chadwick Holder+
Tim Holseberg+
Michelle Leigh Hoskins-Slaven
Marvin Shane House
Joseph Timothy Houser+
Rachael Jeanette Howerton*+
Ryan Wesley Hudson*
Matthew James Hughes+
Lori A. Hull*+
Adam Darren Hunley+
Steven Jerry Hutson*+
Jason Michael Hykle+
Chanc Milton Jackson+
Charlotte Nicole Jackson+
Bertrane Jarvis Jennings
Kendra Danielle Jennings*+
Barbara Ann Johnson+
Eric Barton Johnson*+
Kiana Raelene Johnson
Matthew Jerry Johnson
Sarah Lynn Johnson*+
Tammy Renee Johnson+
Valerie Marie Johnson+
Frankie Kay Jones+
Jessica Briann Jones
Shawna Jones
Tammy Louise Jones*+
Will Garrett Jones+
Wesley Justice
Kerri A. Keaton+
Melissa Sue Kelley
Steven James Kelley+
Chad Cantrell Kennedy
Sarah Kenny+
Renee Eileen Khan+
William Thomas Kidwell+
Brandon Michael King
Kevin King
Toni Michelle Kingery+
Frankie Lorine Kington
Thomas Robert Kosidowski
Christie Deanna Lamb
Tatum Elizabeth Lambert
April Michelle Lane
Daniel Quentin Lane+
Jennifer Lane+
Kandi M. Lantz+
Melissa June Lanzafame
Jason Ledford+
Gera Michele Lee+
Stephanie Nicole Lee+
Margaret Lynn Lemasters+
Tracy Marie Leonard+
Gordon Anthony Lewis+
Dale Allen Linkous+
Tokena Decia Love
Yancey Britte Lynch*+
Amy Patrice Lyon
Jennifer Anne Mann*+
Ashley Nicole Marshall+
Whitney Brianna Marshall+
David Carson Mays+
Brandi Michelle McAmis
Kevin Ray McAmis
Chaunquita Lanee McCallie
Sam McClanahan*
Ryan Pete McCord*+
Josette McGaha*
Kerrie Anne McGaha
Sven McGaha
Nanette Louise McLain
Tara Mary McMurtury
Garrett Meek+
Rebecca Lashea Melton
Dana Ruth Mihovch+
Denna Lee Miller
Erica Miller+
Jessica Mitchell
Joseph Christopher Moffitt*+
Tia Moua+
Steven Donald Mull+
Tyler Pittman Neal
John Timothy Nelson+
Jody Lynn Nix+
Ryan Clifford Ogle*+
Tiffany Nichole Ogle+
Tracy Michelle Olson
Orvil Johnathan Ownby
Joel Ray Paden
Laurence James Palais+
Anthony Neal Palmer+
Ashley Dawn Palmer+
Marisa Austin Parkes
Courtney Campbell Parton*
Tever Louise Parton
Derrick Patterson
Frances Melissa Patterson+
Tonya Renae Patterson
Ashley Ann Paulson+
Christina Louise Paxton+
Courtney Leann Payne*+
Christopher Wayne Penley*+
Perna Lou Perkins+
David Jackson Perryman
Randall Steven Pettiford+
Patricia Ann Polfus+
Tommy Lee Price*+
Nancy Denise Proske*+
Marissa Lynne Pullins+
Janet Louise Purcell
Jill Elizabeth Purkey
Amber Brooke Pyle+
Roe B Rainey+
Brenden Andrew Rapp
Jessica Leigh Raxter*+
Jennifer Renee Reaves+
Justin Mark Reaves
April Danielle Renner+
Abby Caitlin Reynolds
Jeanna Edington Reynolds+
Kendra Irene Rickard+
Brandi Lea Ricker
Tammy Annette Ricker*+
Joy Daniele Riddle*
Andrea Lee Ridley
Ashley Brooke Roberts
Brian Wayne Roberts
Mark Timothy Roberts+
Sharon S. Roberts
Stephanie Wave Robinson
April Danielle Rodriguez+
Heather Juette Rollins
Regina Sue Rose+
Skyler E. Ross
Barbara Lynn Rowntree*+
Evan Joseph Rudd*+
Jessica Lynne Ruppel
Jessica Andrea Russell
Rodney Lynn Russell*
Trena R Russell
Brittany Michelle Sain
Maria Antonia Salami Tobuasiche+
Roger Grant Sams
Heather Michelle Sanders
Regina Starr Sandidge+
Joseph Christian Satterfield+
Audrey Lynn Sauls
Steven Douglas Scott*+
Jessica Nicole Seals+
Chad William Seay
Justin Grant Sewell+
Deborah Rolen Sharp*+
William Robert Sharp+
Deanna Dolores Sheffey+
Stephen Grant Sherrod*+
Mandi Suzanne Shropshire
Brandon Loyd Sizemore*+
Megan Nicole Slack
Amanda Nordman Smith+
David Grant Smith+
Johnny Max Smith*+
Joshua Cori Smith*+
Michael Jason Smith
Monica L Smith*+
Stacie Lorene Smith+
Rebecca Hildegard Smith-Gregg
Lisa Jane Snowden
Adam Tyler Solomon+
Michele Dorothy Somich*+
Jamie Wayne Spafford*+
Megan Nicole Starnes*
Ashley Steinhorst
Megan Noel Stinnett
Evelyn Rose Stone+
David Eric Stott+
Shawna Elizabeth Suggs
Elizabeth Armistead Summerall*+
Christopher Randall Sutton+
Nancy Leann Sutton
Vicki Sweeton+
Jesse Cannan Talley
Jason Tarbet
Angie Marie Taylor*
Heidi Moriah Taylor
Joshua John Taylor*+
Kenny Leon Taylor
Kristi Ann Thomas
Michelle Thomas-George
Henrietta Annette Thompson+
Malinda Beth Thrasher
Shalee Ann Tipton*+
Miranda Lin Tobler*+
Rachel Gwen Todd+
Thomas Brock Toomey+
Charles Lester Tritt*+
Taylor Rhea Turner
Tracy Nicole Vandiver*+
Angela Diane Vaughn*
Jacquelyn Clintina Waddell*+
Mary Beth Walker+
Joshua Scott Wallace
Lauren Victoria Wallace+
David George Walton
Brian Curtis Ward
Danielle Kelley Warren+
Brian Glenn Watkins+
Carrie Jane Watts+
Madison Nicole Weems+
Jessica Renee Wells
Monica Pauline Whaley*+
Brendan Phillip Whelan*+
Cara Sue Whitson+
Brooke Danielle Wilhoit+
Jennifer Williams+
Amanda Dorene Willis+
Darrin Christopher Willis
Dylan Gabe Willis+
Sheena Lachelle Wilson
Travis James Wright*+