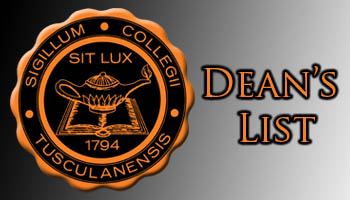 Tusculum College students in bachelor degree programs are recognized for their academic achievement through three academic honors lists.
These honors lists include the Dean's List, which  includes full-time students who have earned a 3.5 grade point average or higher during a semester.
The President's List includes those students who have earned a 4.0 grade point average during the semester. These students are also included on the Dean's List.
The Charles Oliver Gray Scholars List recognizes students who have been named to the Dean's List for two or more consecutive semesters.
As a result of changes in class scheduling, it has become possible to calculate honors for students in the Graduate and Professional Studies program on the same timeline as those calculated for students in the Residential Program.  The first honors lists for Graduate and Professional Studies students has been compiled for the fall 2013 semester and is listed below with the Residential College honors lists.
Below are the listings for the fall 2013 Dean's List. Students named to the President's List are denoted with an *. Those who are listed on the Charles Oliver Gray Scholars List are noted with a +.
Residential
James Lee Abbott
Cynthia Paige Adkins
Brian J. Alexander +
Erika L. Allison +
Ashley Nicole Anderson
Benjamin A. Arnold +
Cheyene Leigh Arnold *
Robert Britton Arrowood +*
Grace Ann Rose Arthur +
Nicole C. Arthur +
Victoria Ashley
Juan Avendano Granda
Sarah Ann Baker *
Kate Ann Barford +*
Ryan Matthew Barker +
Toni Lyn Bates
Miranda Leeann Beeler +
Hannah Marie Berling +
Maggie Leigh Bernabei +
Thomas James Bitner +
Taylor R. Boone +
Sarah Lynn Bouley
Deaundra Pauline Bowker +
Mercedes L. Boyd +
Katelyn Marie Brennan +*
Robert Herchell Bridges
Tyler Lane Bright +
Samantha Paige Brinson
Spencer Darris Brothers
Kim Caroline Brown +
Alison Mae Buck +
Tayler Beth Burchfield
Christopher Diquone Burns
Justin Burnworth +
Lawson Henry Burrow +
Ryan James Byars +*
Shelbi Breanne Cameron
Katie Elisabeth Capel +
Zachery Allen Carlson
Ethan Wayne Carpenter
Sarah M. Clabo +*
Elizabeth Gail Coberly *
Denise Nicole Coffey
John Zach Conlon +
West Thomas Connor
Bridget Conte +
David W. Cooper +*
Lydia D. Couch +
Jacob William Countiss
Tripper Denby Crisson
Mariesha Fredricka Crocker +
Emily Lynne Cross
Alec Cunningham +
Ricardo Alexandre Rodr Da Silva *
Eliza Lucille Davis
Samuel George Davis +*
Jodi Arlene Derosia *
Ashleigh Rose Dorrbecker +*
Samantha M Durham
Jonathan Alexander Edens
Madilyn Joyce Elliott +
Zackery Tres Elliott
Meagan Olivia Ellis
Joseph Elphingstone +*
Kasey Blake Fawbush
Hettige Joseph Michael Ruksha Fernando +
Alisha Marie Fillers +
Lia Theresa Fiore
Lindsay Nicole Firster
Thomas Codie Fleming +
Nicholas Larry Forsberg +
Kelsey Lynae Freeman
Jennifer Michelle Frost *
Joshua D Fuller
Paisley Paige Fultz +
Nicole Marie Fyffe +
Kimberly Elisabeth Gallentine +*
Kaela MacKenzie Gardner +
Rachel Eileen Garnett
Zachary Joel Gass
Kayla Leigh Gillispie
Coleman Thomas Glick
Ashley Danielle Gregg +*
Jennifer Leann Gregg
Amanda Marie Grempel +
Shannon Mae Grimes +
Courtney Danielle Hackney +
Jessica Laurren Hairston
Allison Marie Hall
Jama Nichole Hammontree +
Macey Leann Hance
Addie M. Hancock +*
Edward Oliver Moore Hancock +
Tony L. Hannah
Ashton Marie Hardeman +
Shaquita Renee Harris +
Tamara Denee Harris +
Michala Katherine Hash
Megan K Hasse +
Mamie Britt Hassell
Victoria Emily Hayes
James Owen Hensley +*
Dameon Franz Herring
Victoria Lael Hill
Zoe Elizabeth Holcomb +
Sarah Elizabeth Holly +
Jacenta Chyeata Holtsclaw +
Cathleen Marie Hopson
Katherine Grace Hutchinson +
Addison Lawrence Ingram +
George F. Jackson
Elizabeth Melissa Marie Johnson +
Casey Leigh Jones *
Evan Nathaniel Jones
Martin Dan Jorgensen +*
Devon Aliva Justice
Stacie Marie Justis +*
Kourtney Marie Kavic +
Adrienne Martine Kaye +
Kristen C. Kelley
Staci Nicole Knipp +*
Jessica Renea Koenig
Pablo Laguna +
Cyrus Jackson Lampley
John Landers +
Zachary Aaron Lane
Calley B. Lawson +*
Lindsey Danielle Lewis +
Tanner Joseph Maloof
Miriah Elizabeth Martin *
Russell Neal Matthews +
Jennifer Dawn Mayo
Kelli Lynn McCalla *
Courtney McDevitt
Kristen Renee McMillion +
Zaily Rodesly Mejia
Jacob Edward Mendenhall
Colleen Elizabeth Moloney +
James Curtis Moneyhun +
David Marcelo Montes +
AAliyah Jada Montgomery
Amy Leigh Morford +
Pamela Kay Morong
McKayla Grace Myers +*
Jonathan Michael Nash +*
Amy Michelle Neltner +*
Kylee Jordan Nolan +
Jacob Amiel Norris
David Nunez
Cierra R. Ockstadt +
Theodore C. Oing +
Victor Olin +
Matthew Alan Olson +
Erin Christian Osborne
Jordan Lynn Ottinger +
Robert Clayton Owens
Bonnie Joy Parks +
Ross Gregory Parsons
Shaveen Perera +
John Perrucci
Taira Nichole Peters
Matthew Ralph Pierce +
Roberto Pimentel
Nicolas Planchard *
Cody Scott Poarch
Bailee Lynn Price
Erica K. Ramsey
Haylee Lashay Ramsey
Leif B. Ratliff +*
Casey Dalton Reagan
Tiffany L. Rednour +
Chelsey Brooke Reed *
Anna Marie Louise Rice
Leneice L. Rice +
Shana Renea Dawn Rinderle
Allyson Kathleen Rines *
Brandon Lawrence Robinson
Nicholas Bryan Rodriguez
Jennifer P. Rossiter +
Jamie L. Rossman +*
Ashley Nicole Sarmiento +
Norman Cody Sauceman +*
Drew Henry Schreder
Jeffery Donovan Scott
Leon Seiz
Zachary Allen Self +
David Braswell Serodino
Tynan L. Shadle +
Emily Grace Shipsey +
Zachary S. Shirah *
David Felix Siegle *
Samantha Renee Silver
Jessyca Regina Simerly
Torrey Garth Slaven +
Christopher John Smith
John James Paul Smith
Joshua W Smith
Paige Nicole Sneed
Jonathan Spicher *
Latisha Nichole Stover
Kaytlin N. Stroinski +
Walter B. Swaggerty
Jose Maria Talegon Guerrero
Ashley Rapheal Thurman
Darian Dale Tipton
Kayla B. Tipton +
Breanna Lynn Tolliver
John Robert Topoleski
Britney Nicole Turner +
Kassandra Marie Voelker +
Samantha Jean Vogt *
Alexandria Robin-Jean Walker
Nicholas Alexander Wasylyk +*
Emily Christine Waters
Christopher Glenn Weems
Brianna Michelle Werder
Angel E. West +*
Carly Leeanne White
Timothy Dwight Whitley
Andrea Len Wilcox
Ona Elisha Lynn Wilder
Marissa J. Williams +*
Zachary James Williams
Carolyn Elizabeth Williamson +
Destini Shea Wingerter +
Jonas Burkhardt Siegfried Winkelmann
Lukas Eiko Winkelmann +*
Erica Denise Worrell +
Elizabeth Ann Kathryn Wright +*
Rebecca L. Wyatt
Rebecca Sue Wynne
Graduate and Professional Studies
Margot Elizabeth Abbott
Janet De la Caridad Acosta*
Natalia Acosta
Brett Michael Adams
Jenny Lynn Allen
Melissa Ann Alsip
Lisa Nachelle Anderson
Tonya L. Andrew
Zoe-Elizabeth Andrews*
Kellie Marie Armstrong
Rena Belle Arwood
Michelle M. Autry
Steven Leighton Ayers*
Zachary Adel Badawi
Jason Baker
Karen Lynne Baker*
Cassandra Lee Bale
Rebecca Sue Barbee*
Ashley Diane Barger
Robin Jean Barnett*
Trina Jean Barrett
John Carroll Bates
Melissa Anne Batson
Christine M Bealer
Morgan Leschae Beckler
Gregory Dale Belcher
Annette Marie Bell*
Brittney Sue Bellars
Heather Cecelia Benevento
Bryant Benitez
Shelly Louise Biddinger
Aretha Paige Blizzard
Lisa Renea Boshears
Donna Goodman Bowman
Fredrick Eugene Brabson
Carrie Bradley*
Kathryn Elizabeth Branam
Deanna Carol Branham
Ashton Brannon
David M Breeden*
Stephanie Michelle Brennan*
Tammy Yvonne Brewer*
Allysha Lindsay Rebecca Brinegar
Nykaya Lea Britton
James Derek Brock*
Amanda Day Brooks
Terry Dean Brooks*
Leah Andrea Bryan
Victoria Jacqueline Bryant
Stephen Wayne Buchanan*
Rochelle L. Buck
Lillie Ann Bullard
Linda Jean Burchett*
Lara Gail Burchfield*
Peggy Jill Burgner
Samuel Lee Burke
Linda Gail Burton*
James Allen Butler
Carrie Chae Cagle*
Kala Suzanne Caldwell*
Jeffrey David Campbell*
Jesse James Campbell*
Misty Selena Campbell
Dustin Michael Cansler
Darla Louise Carr
Emily Beth Carroll
Eric Christopher Carter
Heather Lynn Carty
Ashley Carver
Sarah Marie Cedillo
Erika Marie Chamberlin*
Yvonne Sue Champlin
Brent Eugene Chapman
Reginald Jermaine Chatman
Floyd Alden Cheyne
Adam Wayne Clair
Sabrina Darlene Clark
Tammy Denise Clark
Katie Lee Clendenen
Candace Lee Cody
Mandy Lachelle Colburn
Katie Lee Cole*
Linda Darlene Coleman
Kody Elizabeth Collingsworth*
Jessica Leann Collins
Amber Lawson Cooper*
Robert Dewayne Cowden
Tresa Rae Cowell*
David Michael Cox*
Lacci Nicole Cox
Michael Adam Cox
Stephanie Lynn Cox*
Tara A. Cox
Wendy Ann Cox
Jeremy Crenshaw
Laura Elizabeth Cribley*
Timothy Scott Croft*
Casey Renea Cummings*
Shani Lee Cutler*
Susan Kaye Cutshall
Kristen Marie Dalton
Lindsey Nicole Daniels
Kristy Michelle Daugherty
Sara Elizabeth Daugherty
Jamie Davenport
Heather D. Davis
Kelly Frances Davis
Brian Joseph Decker
Jamie Elizabeth Depriest
Kelsey Danielle Dockery
Shani Douthat
Jessica L. Drinnon*
Stanley Edward Drozdowski
Carolyn Sue Dudek
Christina Marie Dugger
Amber Christine Duke*
Matthew Shane Dyer
Tracy Michelle Ealey
Melanie Ann Edwards
Emily Rebekah Elkins
Tabitha B. Ellenburg
Beth Nicole Ellison
Stormi Heather Estep
Rockford Evan Estes
Donna Carol Ewing
Maria Rose Farnham*
Dwight John Faso
Danielle Kelley Faulkner
Lisa Josephine Feezell
Hayley Elizabeth Fields
April Suzanne Floyd
Amy Laurel Foreman*
Rachael Beth Foust
Michilene M. Francois
Jennifer Leanne Fudem
Sharon Elizabeth Galford*
Marty Beth Gamble
Stacy Lynn Gibson
Teresa Patricia Ann Gilland*
Haley Lynn Glandon
David Allen Glasscock
Mendy Lynn Goss
Trisha Lear Gossett*
Tyler J Govert
Heather Elaine Greene
Kristy Gail Greene*
Emily Greenier*
Christian Grumbach
Debra A. Hall
Michael Harry Hall*
Laurie Denise Hannah
Tracy Hardiman
Jeffrey Lee Harig
Charles Leffie Harmon
Ronda Kay Harrell
Kelly Harrison*
Cecil Leroy Hartline Jr.
Christopher Joel Hartwell
Karen Jane Hatfield
Christina Renee Hayes*
Kimberly Joann Hayes
Lindsey Brooke Hayes
Valerie Leeann Heater*
Todd Raymond Henrich
Robin H. Herbert
Amy Denise Hettmansberger
Richard Tyler Hill*
Timothy Andrew Hill
Angela Denise Hilton*
Traci Leann Hodges
Maggie Danielle Holbert
Zachary Hunter Holcombe
Steven Chadwick Holder
Tim Holseberg
Todd Hopkins
Joseph Timothy Houser
Rachael Jeanette Howerton
Cathy Ann Huff
Adam Nicholas Hughes
Matthew James Hughes
Lori A. Hull*
Adam Darren Hunley*
Gregory Mitchell Hurd*
Steven Jerry Hutson*
Jason Michael Hykle
Chanc Milton Jackson
Charlotte Nicole Jackson*
Rachel Akiko James
Sarah Ellen Jeffers
Kendra Danielle Jennings
Barbara Ann Johnson*
Eric Barton Johnson*
Sarah Lynn Johnson
Shonda Lynn Johnson
Tammy Renee Johnson
Valerie Marie Johnson
Billie Jean Jones
Frankie Kay Jones*
Tammy Louise Jones
Will Garrett Jones
Kerri A. Keaton
Steven James Kelley
Taylor Brooks Kelley
Sarah Kenny*
Gwendolyn Dee Kessinger
Renee Eileen Khan
William Thomas Kidwell
Melanie R Kimbrough
Justin Marc King
Toni Michelle Kingery
Amanda Caroline Kite
Jessica Michelle Kreis
Pamela Christine Lamb
Gregory Allen Lambert
Daniel Quentin Lane
Jennifer Lane
Kandi M. Lantz
James Adam Large
Bryan Christopher Larkins*
Lauren Nicole Lawson
Jason Ledford
Gera Michele Lee
Stephanie Nicole Lee
Margaret Lynn Lemasters*
Lina Dawn Leonard
Tracy Marie Leonard
Damon John Lerchen*
Gordon Anthony Lewis
Dale Allen Linkous
Cynthia A. Little
Michael Warren Lucas*
Yancey Britte Lynch*
Rebecca Ann Malone
Jennifer Anne Mann
Michaela Anne Maples
Ashley Nicole Marshall
Whitney Brianna Marshall
David Carson Mays
Betsy Ann McClain
Ryan Pete McCord*
Scott Douglas McGaha*
Wendy Ann McKinney
Garrett Meek
Patricia Ann Melton
Dana Ruth Mihovch
Erica Miller
William Kyle Mincey
Joseph Christopher Moffitt
George Edward Moles
John Wellington Montjoy
Jessica Lynne Moore
Jessica Paige Morgan*
David Wayne Morris
Tia Moua
Steven Donald Mull
Carla Mae Nelson*
John Timothy Nelson
Charles John Nicolls
Jody Lynn Nix
Robbie Caroll Nolan
Chelsea Lynn Norton
Lisa Blackburn Ogle*
Ryan Clifford Ogle*
Tiffany Nichole Ogle
Lori Ann Olds*
Sharon Osborne
Jacqueline M O'Toole*
Sherry Lynn Ottem
Misty Ann Owens
Kelly Lynn Ownby*
Laurence James Palais
Anthony Neal Palmer
Ashley Dawn Palmer*
Mindy Ann Palmer*
Frances Melissa Patterson
Ashley Ann Paulson
Angela Dale Paxton
Christina Louise Paxton
Courtney Leann Payne*
Christopher Wayne Penley*
Perna Lou Perkins
Randall Steven Pettiford
Patricia Ann Polfus
Tommy Lee Price
Nancy Denise Proske
Marissa Lynne Pullins
Amber Brooke Pyle
Heather Louise Raffield
Roe B Rainey
Shannon Ray Rasnick
Jessica Leigh Raxter*
Jennifer Renee Reaves*
Melissa Ann Reed
Joshua Michael Reeves
Andrea Shay Reidy
April Danielle Renner
Jeanna Edington Reynolds*
Sheena Leigh Reynolds
William Elliot Reynolds
Edie Michelle Rhoads
Jessica Katherine Rice
Cathy Renee Rich*
Craig Eugene Richesin
Kendra Irene Rickard
Tammy Annette Ricker*
Susanne Michelle Rinkel
William Scott Ritter
Mark Timothy Roberts
Lindsay Robinson
April Danielle Rodriguez
Deborah Lynn Rolen*
Regina Sue Rose
Ashley Nicole Ross
Krystal Dawn Ross
Barbara Lynn Rowntree*
Evan Joseph Rudd
Maria Antonia Salami Tobuasiche
Anna Marie Sams
Regina Starr Sandidge
Joseph Christian Satterfield*
Natalie Ruth Saunders
Mark Thomas Schotters
Steven Douglas Scott
Jessica Nicole Seals
Kent Jamison Settlemyer
Justin Grant Sewell
Kristi Leigh Seymour
William Robert Sharp
Deanna Dolores Sheffey
Heather K. Shelton
Stephen Grant Sherrod*
Diana M Showman
Brandon Lloyd Sizemore
Amanda Nordman Smith
David Grant Smith
Jamie Dee Smith
Johnny Max Smith*
Joshua Cori Smith
Megan Elizabeth Smith
Misti Nicole Smith
Monica L Smith
Robin Norene Smith
Stacie Lorene Smith*
Stephanie Leeann Snyder
Adam Tyler Solomon
Michele Dorothy Somich*
Jamie Wayne Spafford
Angela Carol Stevens
Tonyia Audreckia Stewart
Paula Renee Stokes
Evelyn Rose Stone
David Eric Stott
Amanda Carroll Strange
Larry Bruce Stroud
Kendall John Strumpf
Renea Danielle Styles
Amber Summerall
Elizabeth Lauren Summerall*
Christopher Randall Sutton
Vicki Sweeton*
Kimberly Lynn Tacker*
Russell Talley
Timothy Scott Taubert
Joshua John Taylor
Michelle Leigh Templin
Henrietta Annette Thompson
Jennifer Leann Tidwell
Shalee Ann Tipton*
Eric Jack Tobler*
Miranda Lin Tobler*
Rachel Gwen Todd*
Thomas Brock Toomey
Laura Nicole Touton
Nessa Kay Trentham
Charles Lester Tritt*
Carla Catina Turner
Lauren Michelle Turner
Jenny Rebecca Turpin
Scott Alexander Turpin
Russell James Vandermeeden
Tracy Nicole Vandiver*
Ricky Glenn Varney
Jacquelyn Clintina Waddell*
Lisa Ann Waddell*
Mary Beth Walker
Lauren Victoria Wallace
Shalynn Lee Wallace
Christina Nicole Walton*
Brian Glenn Watkins
Carrie Jane Watts*
Lindsey Nichole Watts*
Norman Weathersby*
Tiffany MacHelle Webb
Madison Nicole Weems
Monica Pauline Whaley
Brendan Phillip Whelan*
Amanda Nichol Whitehead*
Cara Sue Whitson
Brooke Danielle Wilhoit
Edward Keith Williams
Jennifer Williams
Amanda Dorene Willis
Dylan Gabe Willis
Vanessa Gail Willis
Misty Claudette Windle
Jennifer Lanier Winkler
Travis James Wright
Zackary Noah Wright*
Amy Marie Yarber
Stella Coleen Yeary*