Tusculum College kicked off a $25 million dollar capital campaign Thursday night in a gathering of college alumni and friends at the General Morgan Inn.
More than 150 people attended the dinner held in conjunction with Homecoming 2014 and the October meeting of the Board of Trustees. The campaign, Tusculum First, is designed to strengthen the college and what is offered by the institution to the community and the region.
Campaign Chairman Scott Niswonger, an alumnus of the college and member of the Tusculum College Board of Trustees, announced that to date, $18 million had been raised.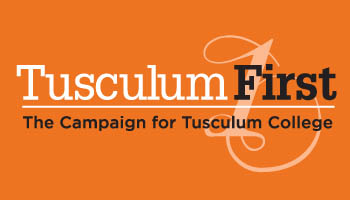 "By giving to the Tusculum First Campaign, donors will provide resources that enable Tusculum to continue to grow and thrive," said Niswonger. "To reach our goal, we are appealing to everyone in our community – alumni, students, parents and friends of the college – to join us in making our community first in education."
According to Niswonger, Tusculum First is designed to address the college's areas of greatest need including a new center for science and math, growth of academic programs, endowed scholarships, student life improvements, technology, an environmental resources and facilities center and support to the Tusculum Fund.
The campaign, which follows the college's long line of firsts, "was initiated to improve and expand Tusculum College and its programs for the benefit of both the internal and external community. It is designed to improve the areas that most affect student success and inspire them to be contributing members of society," said Dr. Nancy B. Moody, the college's president.
Moody went on to explain that the campaign is a continuing effort to keep Tusculum first, and that it will provide improved academic programs and scholarship opportunities to help students develop as global citizens. The overall goal of the campaign is to give the Tusculum community the best education environment possible.
"Tusculum College is in a state of becoming, one we hope to continue for centuries more. Tusculum First will make these transformational opportunities a reality," added Moody. "The success of Tusculum First depends on every member of the Tusculum community joining together to set the next stage of transformation."
Dr. Ken Bowman, a 1970 alumnus of the college and chair of Tusculum's Board of Trustees, told the group how proud he was to be part of continuing the tradition of firsts that is so prominent in the institution's history.
"We have a duty, a responsibility, to be stewards of what has been passed forward to us since the days our founders chose to take on the task of providing higher education to those on the frontier," said Bowman. "We are up to the task, and if we stand together, can provide for our future through what we can offer to generations to come."